New vision for saffron, the 'Queen of the Spices'
New vision for saffron, the 'Queen of the Spices'
Saffron is big business for Heray Spice, a farmer-owned co-op sourcing most of its single-origin ingredients in Afghanistan. As the company continues growth, its founders are finding fresh and innovative ways of developing new products, from saffron oil and saffron liquid to upcycling the flower's typically unused parts.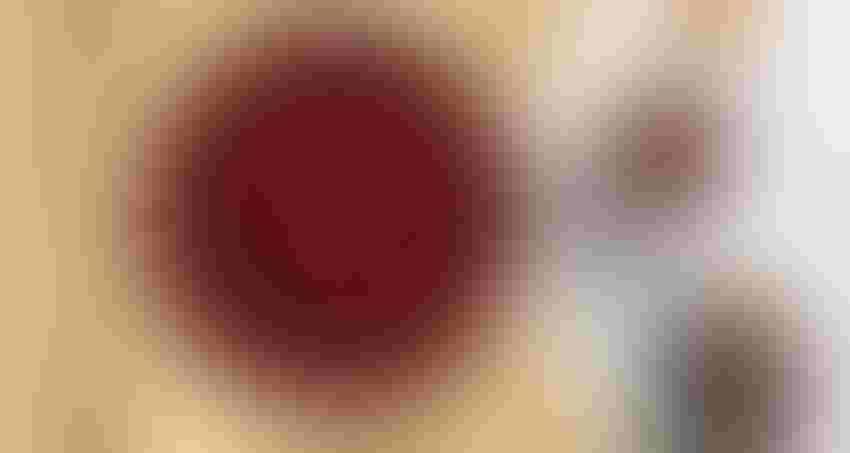 In Afghanistan, saffron is respectfully called "Queen of the Spices" or "Red Gold." That's because it's almost as expensive as gold, said Mohammad Salehi, CEO/co-founder of Heray Spice. "It's very valuable, which is why it's given that title."
Saffron and other single-origin spices sourced by companies like Heray, POKS Spices, Spice Suite, Burlap & Barrel and even McCormick remain hot global topics as consumers continue to educate themselves about traceable supply chains. From learning more about sustainable measures and ethical labor practices to human-interest stories about the growers, there's so much to consider. 
Salehi's Chicago-based Heray Spice sources approximately 95% of its ingredients from his homeland of Afghanistan. That includes wild mountain cumin, wild caraway seeds, coriander seeds and, of course, saffron. The latter is his pride and joy because along with his mother and siblings, he harvests saffron on the family farm. In all, he's assembled 33 family-owned Afghan farms to form a cooperative (24 of those farms source saffron) to harvest and sell Heray's products.
Through new innovations, successfully navigating a war-torn region and updating an antiquated food safety system, Heray Spice has mastered its supply chain structure for the benefit of its community. As a bonus, the co-op is also giving back 10% of its net income to the Heray Education Fund, which economically empowers women and educates children.
The meticulous process of cultivating Afghanistan's saffron
According to Salehi, saffron's official harvest season in Afghanistan is Nov. 20-Dec. 10. That's when the Crocus sativus, a species of flowering plant in the iris family Iridaceae, is blooming.
"They're very sensitive to sunlight and warm weather," Salehi said. "You have to harvest them early in the morning for this reason around 4 a.m." By 7 a.m., he added, the farmers must get the flowers into baskets, then bring them immediately to a processing facility in Herat, Afghanistan.
Heray is quite proud of the saffron its growers cultivate because it's not found anywhere else. Afghanistan's unique climate and soil are what sets it apart from saffron grown in nearby countries, according to the company's food science experts.
"Afghanistan has a diverse climate due to its location in Central Asia and the Hindu Kush Mountain range," Fatanah Saeedy, a food scientist at Heray, explained. "Different parts of Afghanistan experience varying climate conditions depending on their altitude and location.
"Overall, Afghanistan's climate is dry and hot during the summer, and cold during the winter. This climate, along with the country's rich and fertile soil, makes it an ideal place for growing saffron. Crocus flower plant requires a dry, hot summer to grow and develop its bulbs, and a cold winter to initiate flowering. The high elevation and mountainous terrain of Afghanistan also provide a unique environment for the saffron plant to thrive."
Additionally, Saeedy cotinued, the specific conditions of the soil and climate in Afghanistan contribute to the unique flavor and aroma of its saffron.
"The saffron grown in Afghanistan has a deep red color and a strong, sweet aroma with notes of honey and floral undertones," Saeedy said. "Its flavor is more robust and complex than saffron from other regions, making it highly valued by chefs and food enthusiasts around the world."
Salehi added that the food safety team recommended that the farmers should not water the crops at least two to three weeks before harvest. "That watering causes the saffron to diminish in color and flavor," he explained. "[The plants] are [now] redder; they're more potent; they smell better. There is a definite difference if you compare them to the last two years."
Also, according to Saeedy, Afghan farmers have traditionally used animal manure, crop residues and other organic materials to enrich the soil. "This practice has increased the organic matter content of the soil, which improves soil fertility and structure. Afghanistan is rich in mineral deposits such as iron, copper, gold, silver and lithium, which have contributed to the fertility of its soils. These minerals, when weathered, release essential nutrients such as phosphorus, nitrogen and potassium, which are crucial for plant growth."
At Heray's processing center, hired contractors are tasked to extract saffron from each flower. Because the flowers are so delicate, the contractors use their hands, never machines, to carefully pull out the three saffron strands. Food safety experts are present to observe them to ensure the entire process is sanitary and the quality of the product is top notch.
Salehi emphasized how the new procedure has made a difference for the business. "In 2022, we had a wonderful year with sales and high demand," he said. "This year, we have a fantastic product because we partnered with Herat University on food safety and supply chain in Afghanistan. And in Chicago, we partnered with the school of Food Science and Nutrition at Illinois Institute of Technology. We wanted to make sure there was food safety, food science and supply chain knowledge coming from a good research-based school."
New products make saffron more accessible
With Heray working directly with farmers, the middleman is excluded, thereby cultivating an abundance of saffron, which allows it to be more accessible and less expensive for consumers. That's what inspired Salehi to create saffron-infused oil and liquid, in 2022. Plus, he wanted to show consumers that they didn't need to use a lot of the spice to enhance dishes and beverages.
"The idea of saffron oil and liquid came up during conversations with several chefs who were looking for a cost-effective and easy-to-measure saffron product," he said. "Liquids are a more reliable form of measurement compared to a pinch, which can vary in size depending on the individual.
"For example, when a restaurant needs to determine how much saffron to use in a dish, relying on the vague instruction of a pinch can lead to wastage or an insufficient amount being used. If a chef specifies the use of 10 milligrams of saffron extraction liquid, then there is a universal understanding of how much to use.
"Saffron liquid consists of purified water with citric acid and sodium benzoate, which is a liquid base of water," Salehi explained. "You can use it to accent cooked foods as well as part of a dish you're cooking. Meanwhile, saffron oil absorbs the flavor of the saffron. It's used to cook at the beginning of the process, so the food gets the flavor of the saffron."
While it might appear like it took a simple process to develop these products, Heray's R&D team admitted that there were significant challenges while working on the saffron liquid. Their formulation is still in progress, they said.
"Two of the main challenges were testing the saffron liquid for shelf-life and extracting the best amount of flavor and color from the saffron," Saeedy said, who added that the initial R&D process took approximately one year. The time is necessary for ideation, prototyping, testing and production to ensure the products are market ready.
"We had to ensure that the saffron liquid could withstand room temperature and refrigeration while maintaining a good shelf life," Saeedy continued. "Additionally, we had to make sure that the products could be easily shipped both domestically and internationally. Shipping liquids is more delicate and challenging compared to raw materials."
The R&D team is still working to get the saffron liquid to the market, said Sohail Panah, Heray's saffron quality manager and a university instructor in Afghanistan.
"Currently, we are still working on perfecting our saffron liquid and extending its shelf life," Panah said. "After production, we send the saffron liquid for lab testing to check for microbiological contamination, chemical residues and other potential hazards before releasing it to the market."
Upcycling saffron flowers benefits environment
With upcycling being the industry's buzziest trend, Heray is mindful of waste. According to Panah and Saeedy, upcycling typically unused parts of the saffron flower can have several benefits, including:
Reducing waste. Utilizing all components of the saffron flower reduces waste and promotes sustainability in saffron production.
Maximizing benefits. The saffron flower contains several components that have potential health benefits, such as crocetin in the leaves and saffron oil extracted from the flowers. Upcycling these typically unused parts can help maximize the potential health benefits of the saffron plant.
Diversifying product offerings. Utilizing all parts of the saffron flower aids in diversifying the product offerings in the saffron industry. This can lead to the development of new saffron-based products with unique flavor and health properties.
Increasing value. Upcycling can increase the overall value of the saffron plant. This can benefit farmers and other stakeholders in the saffron industry by creating new revenue streams and increasing the overall profitability of saffron production.
A lifelong Chicagoan, Audarshia Townsend is a veteran food and beverage journalist who serves as the content director for Informa Markets' Food & Beverage Insider. She also appears regularly on local and national news program to discuss food and beverage trends. When Townsend's not on the eats beat, she's an avid yogi and meditation practitioner. 
Subscribe and receive the latest insights on the healthy food and beverage industry.
Join 30,000+ members. Yes, it's completely free.
You May Also Like
---