From fast casual to CPG: How three sisters broke into the bread aisle
From fast casual to CPG: How three sisters broke into the bread aisle
Here's how three sisters turned their restaurant concept into a CPG bakery brand—during the Covid-19 pandemic.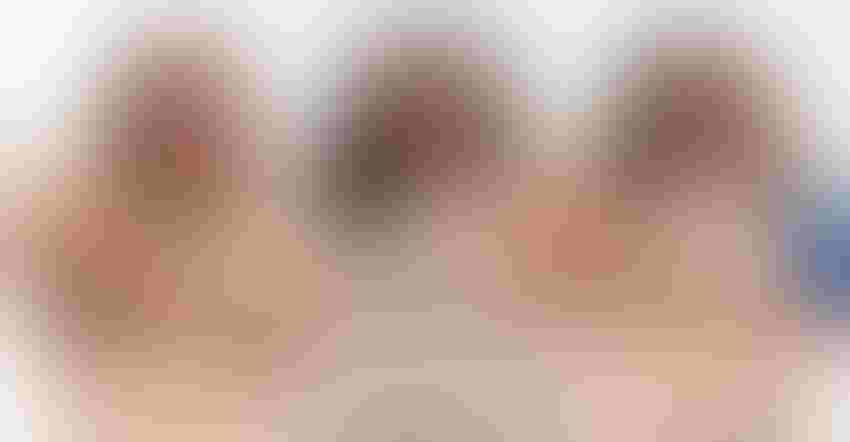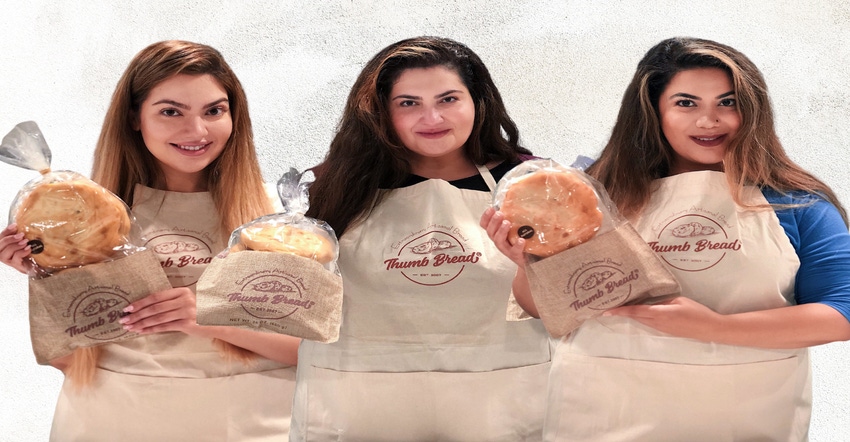 This article is a part of a special series highlighting women-owned businesses in honor of Women's History Month.
Thumb Bread was created in 2008 when three sisters—Fusun, Gonca and Arzu Esendemir—launched a fast-casual Mediterranean concept restaurant in New Jersey.
"[Arzu] was looking to create a bread that we could use across our whole menu to make sandwiches on, [for] paninis, to serve with our platters, to serve alongside our soups and our salads," Gonca, CMO and co-founder of Thumb Bread, explained. "She had a very specific type of roll in mind, but it didn't actually exist. So, she created it herself."
Arzu, CEO and co-founder, also created the concept's name and brand identity to align with its Mediterranean menu.
The sisters, whose parents immigrated to the United States from Turkey, were no strangers to the culinary world or hard work. Fusun, the eldest sister, and COO and co-founder of Thumb Bread, was working in a restaurant their father opened by the age of 12.
Years later, Fusun lost her job after their father became sick. That's when the idea to open a restaurant was conceived.
"My big sister was supporting him and my mother, and she got laid off of her corporate job for taking too many days off to take care of my parents," Gonca said. "She decided instead of going back to corporate America, she was going to start a restaurant just like we grew up in."
The opportunity
It's no secret the Covid-19 pandemic, which brought on lockdowns and calls for social distancing practices that discouraged gathering in public places, severely impacted restaurants.
For the Esendemir sisters, the pandemic presented a challenge—and an opportunity.
"During the pandemic, we, by that point, had done restaurants for about 13 years and we had been talking about doing the bread on a larger scale," Gonca explained. "We kind of were like, 'Maybe now's the time to just take a break from the restaurant industry and focus on the bread.' That's what we did and we haven't looked back yet."
Today, the restaurant's iconic Thumb Bread product is available at more than 70 retailers in a handful of states, including New York, Pennsylvania, Maine, Connecticut, New Jersey, Delaware and Maine.
The sisters also partnered with virtual kitchens, also called "ghost kitchens," to get their product to consumers.
Virtual kitchens are restaurants without dining capacity that are optimized for delivery. Many supermarkets and convenience stores, too, are offering optimized delivery services for products like Thumb Bread.
"[The virtual restaurant concept] was really taking off in the restaurant industry, and now we're seeing it take off in the grocery and c-store industries as well," Gonca said.
The challenges
The transition from fast causal to CPG wasn't without challenge. In the restaurant, they baked Thumb Bread fresh every day. In the retail environment, the bread would need to be shelf stable and fresh for days after it's produced.
"Obviously, for retail, you have to bake in bulk," Gonca explained. "Arzu tested hundreds of different combinations of enzymes to see which one worked the best and, from there, she tweaked the recipe to extend the shelf life."
The sisters' restaurant background helped their transition to CPG in areas like production and food safety. Logistics, like facilitating delivery of their product, was new territory.
"Getting the pallets and getting the trucks and getting them to their destinations was probably the one area where we did the most research because we didn't know much about that," Gonca said.
A key challenge, however, was breaking into the bakery category.
"People think, 'It's bread, so it should be easy,' but it's actually very difficult because you're competing with private label, you're competing with the massive bread manufacturers that have been around for centuries and then you're competing with their in-house bakery," Gonca said. "Being able to come in and show them, 'Hey, we can add value to your fresh bakery department,' was a little bit of a challenge."
Gaining ground with consumers in a retail setting, too, was uncharted waters for the trio.
"When you open up your restaurant location, you may be in a strip center with 10 other concepts, but you're like a self-contained identity," Gonca explained. "Then, you walk into the supermarket and you're hit with like a hundred SKUs of bread. So how do you stand out in the marketplace? How do you differentiate yourself? It's not just about putting a great product out there … You will die on the shelf if you don't tell customers about your products."
The future
On the horizon for the Esendemir sisters: growing Thumb Bread's retail presence.
"Our short-term goal is to get into about 2,000 retail locations," Arzu said. "With that, we are trying to put a plan in place to grow our equipment line, and that means raising capital. From there, hopefully we can take care of the East Coast and then move out to the Midwest and to the West Coast at some point and become a national brand."
The sisters are also releasing new SKUs, including an "Everything (But The Sesame)" variety and a smaller size of the Original Thumb Bread for some retailers. Key to innovating is ensuring new products will work within the parameters of their facility and ingredient list.
"Anything that requires a great deal of time, resources and equipment changes is usually shelved until we can revisit it," Gonca said.
But, of course, quality is top of mind. "Anything that requires us to downgrade quality or compromise the integrity is almost always a no go," she said.
Rachel Adams joined Informa's Health & Nutrition Network in 2013. Her career in the natural products industry started with a food and beverage focus before transitioning into her role as managing editor of Natural Products INSIDER, where she covered the dietary supplement industry. Adams left Informa Markets in 2019.
Subscribe and receive the latest insights on the healthy food and beverage industry.
Join 30,000+ members. Yes, it's completely free.
You May Also Like
---