Plant-based diets – going mainstream
Plant-based diets – going mainstream
Americans are opting for more flexible eating habits, while conscientiously cutting down on animal products, as more plant-based options become available in the industry.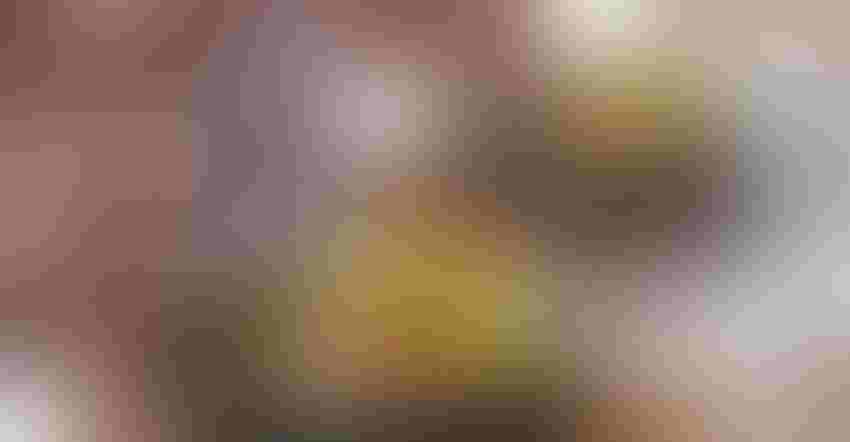 Plant-based foods and beverages are often defined as products that are derived from plants—including vegetables, nuts, seeds, legumes and fruits—that generally have few to no ingredients from animal sources. 
While plant-focused diets have been prominent in many cultures for millennia, the origin of the actual term "plant-based diet" is attributed to T. Colin Campbell, a biochemist from Cornell University who presented his diet research to the National Institutes of Health (NIH) in 1980. 
Today, plant-based foods and beverages have become prevalent in the American food culture and are offered in virtually every category, from meat to dairy to seafood, as well items such as condiments and sauces. Choices can be found in most mass market retailers, in addition to a growing number of restaurants, providing options for mainstream shoppers. In fact, Cracker Barrel recently added a vegan sausage product to its breakfast menu, highlighting the move of these products from niche natural product shoppers to the masses. 
To that end, plant-based foods are a big business, representing a $7.4 billion market in the United States, according to April 2021 SPINS retail sales data. And retail sales continue to increase, growing 6.2% in 2021 over a year of record growth in 2020. 
Understanding the attitudes and behaviors of consumers' choices in this market is key to offering successful products and continuing this growth trend. Natural Marketing Institute's (NMI's) annual Health & Wellness Trends Database (HWTD) captures consumers' opinions toward a wide array of issues related to trends in foods and beverage usage, including plant based. This study provides over 20 years of trended data, gleaned from a nationally representative sample of more than 3,000 adults per year, to provide an understanding of the attitudes, motivations and behaviors surrounding the food and beverage trends. 
Plant-based diets: From niche to mainstream 
Plant-based eating was traditionally embraced by those following vegetarian or vegan diets. While these might have at one time been considered more "fringe" consumers, clearly interest is growing in the health benefits of a plant-focused diet on both a personal level, as well as the broader environmental impact. NMI's 2022 HWTD shows that while only 4% of the general population self identifies as vegan or vegetarian, younger consumers—primarily Millennials—are much more likely to adopt this eating plan. 
Beyond traditional vegan and vegetarian diets, many consumers are opting for more flexible eating habits and are consciously cutting down on animal products while incorporating more plant-based options into their meals. Further, more than 4 in 10 consumers are actively trying to reduce their consumption of animal-based meat products. Millennials again lead this trend, with over half (54%) reporting they are currently aiming to reduce their consumption. 
Various motivations influence adopting a plant-based diet, whether focused on personal well-being or broader planetary health. In general, a plant-based diet may help prevent some chronic diseases, aid in weight reduction, provide more energy, and support a long and healthy life. Additionally, a reduction in focus on animal-based products may also help mitigate the effects of climate change, save water, promote responsible land use and enhance animal welfare, per the Good Food Institute. In fact, according to research published in the Proceedings of the National Academy of Sciences of the United States of America, a global dietary shift to a plant-based diet would save an estimated 79 million human lives and avoid 5.1 million deaths per year (2016;113[15]:4146-4151). 
U.S. consumers are most likely to cite several personal, health-focused reasons for opting to reduce their animal meat consumption, but a notable minority also place their focus on the positive environmental impacts. Additionally, in some markets, plant-based choices may be a viable alternative for those monitoring a tight budget. 
Plant-based diets offer broad options 
Of all the plant-based product offerings, milk is the category leader and driver. According to SPINS, U.S. sales of plant-based milks rose 4% in 2021, reaching $2.6 billion. Soy milk was one of the first products to enter the market back in the 1970s, and since then, the number of options has exploded, from alternatives made from nuts (almond, cashew), grains (rice, oats, quinoa), legumes (soy, pea protein) and other plants (hemp, coconut). This category also serves as a gateway to the use of other plant-based dairy products, including two of the top categories—creamers and yogurt. 
Meat substitutes have also been on the market for decades, offered as veggie "burgers" in their earliest entries. But they have quickly gained in popularity, as brands such as Gardenburger, BOCA and MorningStar Farms utilized innovations and began producing items that mimic the taste, appearance and texture of real meat products. 
Expanding beyond burgers, companies are creating plant-based sausage, ground meats, "chicken" strips and more, with brands such as Amy's Kitchen, Beyond Meat and Impossible Foods as just a few of the strong players. U.S. plant-based meat sales reached an impressive $1.4 billion in 2021, but that growth remained steady from the previous year. Time will tell if consumers continue to embrace these products with the same zeal they have in the past or if the trend has peaked. 
NMI data stated that over 40% of U.S. consumers indicated they are very or somewhat likely to purchase plant-based meat products in the next three months. Again, the main drivers of this interest are younger consumers, primarily Millennials (keeping in mind, leading-edge Millennials are in their 40s). Similar to national sales data, this level has remained approximately the same as 2021. The future of this category depends on the ability of manufacturers to provide interesting and innovative offerings that deliver the health halo many consumers desire and the requisite demands on taste and texture. Additionally, understanding the barriers that exist for older shoppers can help grow the category by expanding the consumer base.
Plant-based diets are no longer a fad, but are becoming a popular, mainstream way of eating. While many consumers (particularly younger generations) are adventurous and willing to try different plant-based dairy and meat alternatives, others may need more convincing—as well as better-tasting offerings—to make a commitment. 
Health reasons are a primary motivation for changing diets, but "hidden opportunities" also exist to influence action by highlighting the potential environmental and sustainability benefits. Older consumers and naysayers, however, may need more education about the eco-friendly benefits of a plant-based diet. Brands that understand which benefits most resonate with their target audience will be poised for success. 
Plant-based takes the stage 
Hungry for more plant-based trends and information? Join us for SupplySide West and Food ingredients North America (FiNA), Oct. 31-Nov. 4 at the Mandalay Bay Convention Center in Las Vegas. On Tuesday, Nov. 1, from 1-4 p.m., the "Plant-Based Food Technology and Future Growth" session will feature more data from NMI, as well as information on ingredient sourcing, formulation, market challenges, opportunities and more. This session and the entire education platform are also available virtually for those who can't make the show in person. 
Diane Ray ([email protected]) is VP of strategic innovation at the Natural Marketing Institute. NMI is a strategic consulting, market research, and business development firm specializing in the health, wellness and sustainability marketplace. 
Subscribe and receive the latest insights on the healthy food and beverage industry.
Join 30,000+ members. Yes, it's completely free.
You May Also Like
---