Heritage a core value at this Mexican-owned food company
Heritage a core value at this Mexican-owned food company
Notable Latino F&B companies like Tia Lupita Foods are making their impact in the industry, and as National Hispanic Heritage Month continues, their profiles are even higher.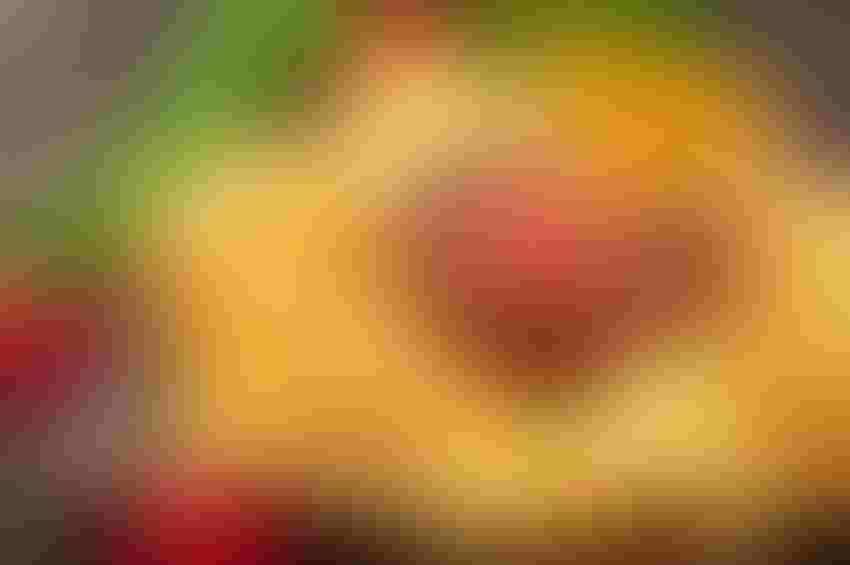 When Hector Saldivar moved to the United States from Mexico 18 years ago, his mother made sure he didn't leave the flavors of his homeland behind. She regularly sent him care packages with her signature, homemade hot sauce. In his office kitchen, the spicy, textured sauce proved to be a hit with coworkers, and for several years they begged him to get his mom to make bottles for them, too.  
"Every time I went back to Mexico to visit [my family]," Saldivar recalled, "I'd leave with more bottles until it was like 'Guys, I can't do this anymore. Custom agents are getting suspicious.'" So, he decided to make his covert hot sauce operation official: creating Tia Lupita Foods, a food-focused business named after his mother. 
Tia Lupita is one of nearly 5 million Latino-owned companies in the United States. In fact, Latino-owned companies are the fastest growing sector of small businesses, according to the SBA, and they are outpacing their non-Latino counterparts in revenue and earnings. Forbes reports that in 2020-2021 average earnings for Latino-owned companies was $162,725 versus $132,753 for non-Latino-owned firms.  
In the food-and-beverage sector, some of these companies are driving growth by leaning into a greater hunger on the part of consumers for healthier fare that's sustainably sourced and aligned with their values. One study by First Insight in partnership with the Baker Retailing Center at The Wharton School of the University of Pennsylvania found that consumers across generations were willing to pay more for sustainable goods, and that trend has been led by Gen Z. That cohort is set to overtake millennials in buying power by 2031, and if the trend holds, companies that take advantage are well positioned to grow. Saldivar has already recognized this. 
The stats on the Hispanic food consumer
"Thirty-three percent, 34% of Gen Z's are Hispanic," he said. "So, they're paying attention to the ingredients. They're paying attention to the nutritional panel. They're paying attention to attributes and certifications like non-GMO, gluten free. They're paying attention to whether there's a mission or a story behind the brand or if there's some sustainable positioning.  
"So, I thought that we could become that new, authentic, better-for-you Mexican [brand] for new generations. … We use clean, simple ingredients. We are non-GMO project certified, and all of our products are gluten free."  
Using simple ingredients like jalapeños built a strong foundation for a successful hot sauce, but it wasn't enough to support an entire business. Saldivar realized he needed to launch other products, and to do so he needed more money. Financing presented one of his biggest challenges: Latino-owned businesses are less likely to secure loans than their non-Latino counterparts, and when they do get loans, they're for much smaller amounts. For example, a Biz2Credit Latino-Owned Business Study showed that in 2020-2021, the average loan size for Latino-owned companies was $47,031, while for non-Latino firms it was $81,156. Therefore, a majority (70%) of Latino businesses, including Tia Lupita, are self-funded. 
When Saldivar decided to expand, he didn't go to a bank or venture capitalist, he turned to crowdfunding from family and friends. "It's truly reaching to your inner circle, the circle that truly believes in you," he explained. "I was getting all this traction, all this money from my friends and colleagues who wanted Tia Lupita to be successful." 
Connecting with Hispanic food consumers and beyond
As a result, he was able to launch other products, including chips made from cactus, a traditional Mexican ingredient with historic significance of being highlighted in the Mexican flag. It also has the added benefit of being sustainable.  
"We're trying to make use of products or ingredients that can contribute to help save the planet," explained Saldivar. "So, cactus, being one of them, is sustainable. We're saving water because it doesn't need water—and it's super nutritious." 
Launching new products and pivoting to an online business model helped him ride out the pandemic. Another piece of advice he offers to other Latinos wishing to start a business is to reach out to fellow business owners for help. "We are our own support system. So, if there isn't an organization in your community that helps startups, reach out directly through LinkedIn." 
During this year's National Hispanic Heritage Month, as the immigration debate turns bitter on the eve of the midterms, Saldivar isn't taking sides. Nevertheless, he points out the business advantage of embracing Latino immigrants and increasing financial support for Latino entrepreneurship.  
"The Hispanic community in the United States represents in purchasing power, the same as the GDP of Brazil," he said. "It's like the sixth or seventh largest economy in the world. It is also the most entrepreneurial, yet is the most underfunded."  
He continued, "It doesn't matter on what side of the bench you sit; you could help the U.S. economy by supporting Hispanic businesses, Hispanic entrepreneurs." 
Despite the challenges, Saldivar also has a lot to celebrate—not only his own accomplishments (Tia Lupita is having its highest-grossing year yet, set to double last year's business), but those of the entire Latino community. He'll have tributes to notable Hispanics throughout the month and is unveiling more products steeped in the rich flavors of Mexico. 
"We're really, really happy with this time period," Saldivar exclaimed. "We love that we live in a country where we get to celebrate our heritage." 
Subscribe and receive the latest insights on the healthy food and beverage industry.
Join 30,000+ members. Yes, it's completely free.
You May Also Like
---