Colors and flavors inspired by nature feed production innovation
Colors and flavors inspired by nature feed production innovation
As the trend in the food and beverage markets is for more natural, organic and clean label products, consumers are looking for products free from artificial flavors and synthetic colors.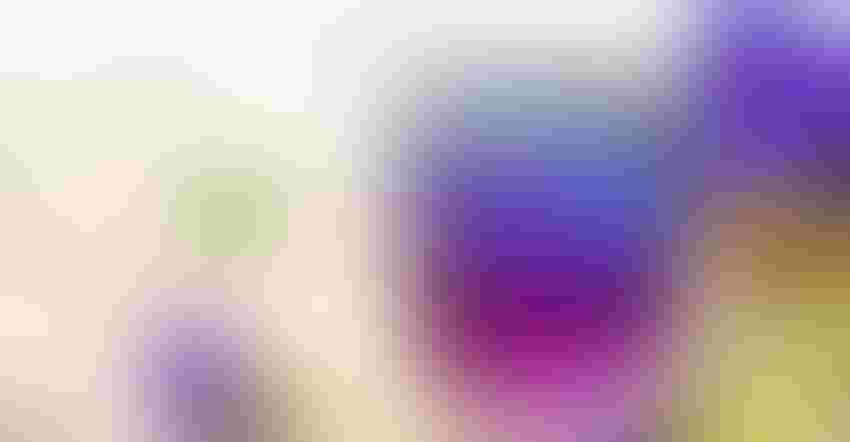 With a nod to the old TV series The Twilight Zone, imagine, if you will, living in a two-dimensional world of black and white, where people and places were boring and bland with maybe a hint of grey to spice things up. It doesn't sound very exciting, does it? The same holds true in the food and beverage world—especially when talking about colors and flavors.
How food looks can be a major deciding factor in whether a consumer will try the product. In order to increase visual appeal, product developers rely on color additives—synthetic, natural or nature-identical—to offset possible color loss, enhance naturally occurring colors or give bland-looking foods an attractive hue. In fact, adding color to food products also has been found to impact the chemosensory perception of foods and beverages, and evidence suggests that color exerts these effects through a link with emotion, according to a 2016 study published in the journal Food Quality and Preference. The same holds true for flavors. The study's authors found strong evidence that consumers have pre-existing expectations regarding the appropriate color for specific flavors and types of beverages.
As the trend in the food and beverage markets is for more natural, organic and clean label products, consumers are looking for products free from artificial flavors and synthetic colors. Fortunately, ingredient suppliers are returning to Mother Nature to provide food and beverage brands with natural color and flavor solutions that not only deliver on taste and appearance, but also satisfy consumer demand for clean label. That said, brands looking to launch products with natural colors and/or flavors should consider several issues.
Nothing is a sure thing
If 2020 has taught us anything, it's expect the unexpected. COVID-19 has affected nearly every aspect of international commerce and the global economy, and the global food market is no exception. The good news is people must eat, noted Brandon Hernandez, co-founder of Whole Brain Consulting. "Those of us in the food business need to keep pushing to make it as safe as possible and as available as possible. The continued resiliency of the food and beverage industry is amazing. Large, medium and small brands are rallying and supporting each other, and that gives me optimism," he said during a Food & Beverage Insider video chat.
While Hernandez was referring to the overall food and beverage space, the same holds true for ingredients such as colors and flavors. Each year, ingredient suppliers and brands are tasked with predicting the next "hot" trend and delivering innovative healthy products that feed consumer interest and spark bountiful sales. Colors and flavors are key to those trends, so it's no surprise that brands rely heavily on color and flavor houses for inspiration.
For more than 20 years, the Pantone Color Institute has set the bar for colors that influence product development and purchasing decisions in multiple industries—from fashion and home furnishings to food and beverage products. In 2020, Pantone declared "Classic Blue" as the color of the year, calling it an "enduring blue hue that instills calm, confidence and connection and highlights our desire for a dependable and stable foundation on which to build as we cross the threshold into a new era." (Looking back at the year, Pantone would have been better to go with a muddy brown.)
In the world of colors, the natural palette is expanding, and product developers are using plant-based ingredients such as turmeric, beetroot, annatto, red wine extracts, hibiscus and butterfly pea flower to replace artificial colors.
In terms of flavors, 2020 predictions ran the gamut—from citrus to botanicals, spicy to refreshing. We've also seen natural flavors suppliers growing their international selection with flavors like ube, churro and yuzu, noted Dave Mortemore, product development manager, Bubbies. This continued interest in flavors is only gaining ground due to the COVID-19 pandemic that has forced people around the globe to retreat to their own kitchens to prepare meals. Many are experimenting with internationalcuisines as a means to stamp their virtual passports with tasty culinary destinations.
Philip Caputo, marketing and consumer insights manager at Virginia Dare, noted certain ingredients that invoke flavors associated with health and well-being are on the rise. Dark berries such as açaì, elderberry and goji are recognized as rich sources of antioxidants, while ginger and mushrooms are known for anti-inflammatory properties. By integrating wellness flavors into their applications, brands can underscore their focus on targeted nutrition categories such as immunity, brain health, aging and digestion, he said.
Understand formulation challenges
Product developers have myriad natural colorants and flavors to choose from, but achieving the desired outcome is no easy feat since colors and flavors are influenced by pH, temperature, light, moisture, packaging, processing and more. Natural ingredients also can be more expensive, more volatile, and have a shorter shelf life than artificial counterparts. With these considerations, natural flavors and colors can require longer research and development (R&D) timelines and investment to validate the formula and meet consumer and retail needs.
Consider the natural color palette where technical considerations vary depending on both the product and the color. Natural colors are more sensitive to pH as well as fading due to light and to heat during processing; therefore, product developers must choose natural colors that will maintain intensity throughout processing and on the shelf. Despite these challenges, certain methods such as masking agents and packaging with a UV barrier can protect the integrity of the product when formulating with these colors.
"For example, pH can have a significant impact on reds, purples and pinks, but yellow, orange and brown hues aren't affected," said Jeannette O'Brien, vice president, GNT USA. For spirulina-based colors, minimizing heat exposure helps ensure maximum color retention. Nathalie Pauleau, global product manager, Natural Colors, Naturex (part of Givaudan), agreed, noting the same natural red pigment used for making a strawberry ice cream cannot be used in a red fruit juice drink due to different pH levels.
Flavors also present unique challenges, especially when working with proteins and botanicals that can bring off-notes and bitterness. Long or harsh cooking processes also can cause flavors to break down. As noted in Kim Decker's article, natural flavors may deliver comparable functionality, and the parity gap with synthetic flavors is closer than ever before; however, heat-intensive processing can still be especially brutal on natural ingredients.
"Natural flavors often contain components that are especially degradation-prone, volatile and expensive," explained Bill Aslanides, chief flavor chemist at Synergy Flavors. Such is the case with profiles based on green notes, sulfurous tropical notes and other volatiles that are notoriously vulnerable to processing degradation.
When these natural flavors flash off, formulators need to strengthen and otherwise manipulate the final flavor formulation to work with the application. "A flavorist will carefully rebalance these notes after evaluation, almost always leading to increased flavor cost," Aslanides added. "But care is taken to adjust in a manner that keeps cost-in-use in check."
Identify your target consumer
Pushing the boundaries of colors and flavors and venturing well outside the norms will keep feeding the consumer desire to try out a product, engage with a brand digitally and share on social media. In her article, Euromonitor International's Karine Dussimon said as COVID-19 pushes health and comfort further to consumers' front of mind, snacks manufacturers can address these demands using flavors and colors that revolve around the quality of ingredients and their nutritional benefits. Appealing to consumers' geographical identities through local flavors should also be perceived as added value. The future is increasingly digital; connecting with consumers online through riveting colors and bold, novel flavor concepts will be key, particularly to Millennials and younger generations.
In his article, Will Cowling, marketing manager at FMCG Gurus, noted consumers want flavors and coloring they deem to be "green and clean," a trend that will intensify in the wake of COVID-19 as greater emphasis is placed on product safety. He suggested any natural coloring and flavoring needs to be directly linked to product purity in order to position products as being healthier, more sustainable and, crucially, better quality. He emphasized that transparency and authenticity is key when promoting natural colors and flavors because consumers are becoming increasingly skeptical about the practices and policies of brands and believe they can be misleading when it comes to claims.
Keep an eye on costs
Natural colors and flavors carry a higher price point than their synthetic counterparts, mainly due to sourcing and extraction costs. When deciding whether to go natural, brands must consider cost-in-use, especially for products that carry a low price point. What's more, going natural depends a lot on Mother Nature, and supply chains can be disrupted by adverse weather conditions such as hurricanes, freeze and flooding.
Given how COVID-19 has upended sourcing, supply chains and logistics, formulators and CPG brands alike are having to keep their eyes on the markets as they attempt to satisfy consumer demand for natural flavors and colors. And as Lloyd Sapra, chief operating officer at Edlong, pointed out, that's not always easy.
"We've seen an impact on the supply chain, for sure," he said. "At times, we're paying premium prices because of constraints on supply and demand, especially getting extracts and ingredients originating from China and India." However, he emphasized, "Flavor companies and ingredient suppliers have made significant strides in procuring materials, so as to reduce any negative impact."
To read more about advancements in colors and flavors for healthy food and beverage applications, check out the "Winning strategies for natural colors and flavors" – digital magazine.
Subscribe and receive the latest insights on the healthy food and beverage industry.
Join 30,000+ members. Yes, it's completely free.
You May Also Like
---