Business briefs – Ingredion – SunOpta – Diageo – CP Kelco – Vegan Essentials
Business briefs – Ingredion – SunOpta – Diageo – CP Kelco – Vegan Essentials
Who said business is boring? Food & Beverage Insider has the 411 on key industry moves affecting innovation and product development.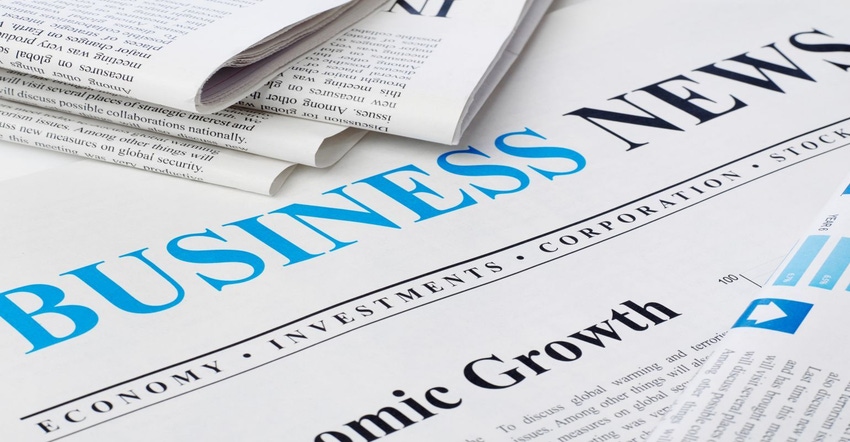 PepsiCo, Ingredion partner to reduce carbon emissions, improve water quality
PepsiCo Inc. and Ingredion entered a partnership with Soil and Water Outcomes Fund to help farmers adopt conservation practices that generate verifiable carbon reductions and water quality improvements. In 2021, the partnership will encompass a target of 20,000 acres of cropland in Northern Illinois, an important supply-shed territory for both corporations.
The Soil and Water Outcomes Fund provides financial incentives directly to farmers who transition to on-farm conservation practices such as no-till and cover crops that yield outcomes like carbon sequestration and water quality improvement. The resulting verified environmental outcomes are sold to a diverse group of public and private beneficiaries, including corporations like Pepsi and Ingredion, municipalities, state departments of agriculture, and the federal government.
"Ingredion is committed to making a meaningful difference as we work to make life better, so it is fitting that we focus our sustainability initiatives on practices that make a positive impact on the world," said Andy Utterback, senior manager of sustainability at Ingredion. "By collaborating with our customers and stakeholders, Ingredion can assist growers in adopting regenerative agriculture practices that increase the resiliency of their operations and ensure the stability of our agricultural supply chain."
PepsiCo recently accelerated its science-based climate goals, including a focus on its agricultural value chain, and announced an ambitious commitment to spread the adoption of regenerative farming practices across more than 7 million acres by 2030. Ingredion continues to prioritize agricultural sustainability and water management as part of its 2030 All Life sustainability strategy to make life better.
PepsiCo and Ingredion join Cargill and Nutrien Ag Solutions as pioneering companies working to "inset" corporate emissions by partnering with the Soil and Water Outcomes Fund to empower farmers in key regions to mitigate climate change, regenerate soils, and improve water quality. In 2021, the Soil and Water Outcomes Fund plans to expand to more than 100,000 acres of cropland across Iowa, Ohio, Illinois and the Chesapeake region. This expansion will significantly increase opportunities for farmers to be compensated for implementing conservation practices that produce verified environmental outcomes.
The Soil and Water Outcomes Fund is a partnership of AgOutcomes, a subsidiary of the Iowa Soybean Association, and ReHarvest Partners, a subsidiary of Quantified Ventures.
SunOpta acquires plant-based brands Dream and WestSoy for $33 million
SunOpta Inc. announced the $33 million acquisition of the Dream and WestSoy plant-based beverage brands from The Hain Celestial Group Inc. The Dream and WestSoy brands add to SunOpta's Plant-Based Foods and Beverages segment, further accelerating growth in the competitive sector.
The Dream brand is the No. 2 brand of shelf-stable, plant-based milks, originally launched in 1982. SunOpta currently produces approximately 50% of the Dream product portfolio and has done so for over a decade. The WestSoy brand is the only branded shelf stable soy beverage with a USDA organic certification and the American Heart Association certification of a heart-healthy product. SunOpta currently produces the entire WestSoy product portfolio.
Diageo acquires Loyal 9 Cocktails
Diageo has acquired Loyal 9 Cocktails, a Rhode Island-based ready-to-drink (RTD) spirits brand, from Sons of Liberty Spirits https://www.loyal9cocktails.com/Co. Launched in 2018, Loyal 9's vodka-based RTD cocktails combine full-flavor lemonade with high-quality ingredients and 9% ABV. Loyal 9's canned cocktails are gluten-free, produced with 100% fruit and available in three flavors— Lemonade, Mixed Berry Lemonade, and Watermelon Lemonade.
With a retail sales value of more than US$7.8 billion in 20191, ready-to-drink (RTD) is the fastest growing category in total beverage alcohol in the United States, growing 20% between 2016 and 2019.2 RTDs have increasingly gained momentum in the United States over the last year, driven by consumer interest in enjoying cocktails at home and demand for a range of drinks in convenient formats that are ideal for casual and at-home occasions.
Diageo's spirits-based RTD portfolio includes recently launched spirits-based RTD innovations such as Crown Royal Ready to Drink Cocktails, Tanqueray Crafted Gin Cocktails and Ketel One Botanical Vodka Spritz.
CP Kelco launches online resource focused on innovation, power of nature
CP Kelco launched a new multimedia resource—"Innovation … Powered by Nature"—designed to help manufacturers in the food, beverage, home and personal care segments understand market trends and navigate a changing industry landscape through problem-solving and collaboration.
Using nature-powered innovation, CP Kelco's portfolio is evolving to help meet consumer expectations—from clean label and sustainability to the plant protein megatrend and even the economic impact of the pandemic. CP Kelco also looks at what manufacturers need to have their eye on to pivot for the future including enhanced focus on health and wellness; new processes and technologies; sustainable sourcing and production; and new functional ingredients and applications.
"The industry needs partners to be agile, growth-minded and passionate about anticipating market needs," said Jérôme Béra, senior vice president, Global Marketing. "Innovation happens when we're collaborating with customers to envision what's ahead and can tailor solutions to develop new products that meet—and even exceed—consumer expectations. Our new resource is focused on helping companies remain competitive in today's innovation-driven business landscape."
Vejii to acquire Vegan Essentials
Vejii Holdings Inc., which operates ShopVejii.com, a leading North American online vegan marketplace, has signed a $1.4 million definitive agreement to acquire Veg Essentials LLC, which operates VeganEssentials.com, one of the largest and most established vegan marketplaces in the U.S.
Vejii's management team intends to enhance operational efficiencies, margins and begin to launch paid advertising programs for Vegan Essentials to further scale the business. It also expects to see several synergies across both Vejii and Vegan Essentials by leveraging combined purchasing, resources, technology and warehouses leading to lower shipping and transportation costs.
The proposed transaction will provide Vejii with an established platform for continued expansion within the U.S. plant-based market that is complementary to its current e-commerce marketplace. Vegan Essentials has one of the longest digital presences and established domain authority in the U.S. for vegan search terms, which Vejii plans to leverage to support marketing campaigns for both brands leading to increased marketing awareness and rankings.
Commenting on the deal, Kory Zelikson, Vejii CEO, stated: "We believe that Vejji's acquisition of Vegan Essentials provides an established asset to accelerate growth within the growing plant-based market and will solidify Vejii as the market leader for online plant-based sales within the US. Vegan Essentials joins the Vejii family with a loyal customer base, established supplier relationships, and distribution channels that will not only enhance Vejii's ability to continue scaling in the US, but also help grow Vegan Essentials' reach with Vejii's enhanced tech stack, and marketing experience"
Vejii's management team brings extensive experience in the leading and scaling of online platforms. Following the successful completion of the transaction, the Vegan Essentials management team will continue to support the transition, driving consolidated distribution and day-to-day operations.
Subscribe and receive the latest insights on the healthy food and beverage industry.
Join 30,000+ members. Yes, it's completely free.
You May Also Like
---