Coloring low- and no-alcohol beverages, naturally
Coloring low- and no-alcohol beverages, naturally
New studies evaluating the stability of naturally derived colors for alcoholic beverages and mocktails yielded promising results.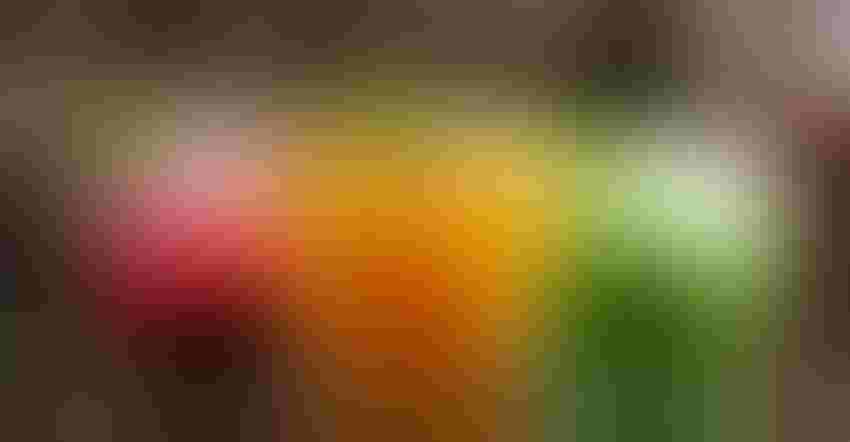 Many consumers want to be healthier, and they're even looking to beverages to help them get there—including alcoholic beverages. That means natural ingredients, and in the case of boozy beverages, less or no alcohol.
According to data from Nielsen, consumers spent $3.3 billion on no- and low-alcohol beverages in 2021 at retail. What's more, 22% of consumers said they're cutting back on alcohol for various reasons, including because they want to live healthier lives.
"As part of this new dietary trend, consumers who choose no- or low-alcohol are actively looking for better drink options, leading them to the growing mocktail and hard seltzer market," Caroline Schroeder, marketing communications manager at Lycored, said. "To appeal to the masses, these 'no proof' and low-alcoholic alternatives must be clean label yet have the visual and taste perception appeal of their full-calorie, high-alcoholic-content counterparts."
Tapping natural colors is a particular challenge for clean-label beverages, but a must for health-conscious consumers. 
"This [trend] is challenging food scientists and mixology experts to find color ingredients that can fulfill the healthy lifestyle logic behind the popularity of low-alcohol and mocktail beverages and can handle the necessary processing, storage and shelf-life conditions," Schroeder said. That means sourcing natural colors options that can maintain color stability in challenging pH, light and processing conditions—a feat that's challenging for even the most well-honed artificial colors. 
Lycored's naturally derived colors, GoldHold A Dry and ResilientRed A, may help natural alcoholic cocktails and mocktails achieve that goal, per recent internal studies by Lycored evaluating the stability of the colors in such beverages.
The studies evaluated the stability of defined dosages of the colors in alcoholic beverages at various alcohol levels (1.2%, 5%, 15% and 37.5%) over shelf life to determine how much of each color is needed to achieve typical color in alcoholic beverages.
The studies found low-dosage levels of GoldHold A Dry had good stability in alcoholic beverages with alcohol levels of 5% and less, and very good stability for higher dosage levels in alcoholic beverages with alcohol levels of 15% or less. Low-dosage levels of ResilientRed A had good stability in alcoholic beverages with alcohol levels of 5% in colored bottles, cans or sleeved bottles.
Both colors require ascorbic acid for optimal stability.
ResilientRed A was also tested to compare the color and stability achieved against red cabbage, a natural color option commonly used in alcoholic beverages. Compared to anthocyanins like red cabbage, which are dependent upon pH levels to determine shade, per Schroeder, ResilientRed A can offer uniform color across various pH levels "due to pH independence."
Naturally derived colors also face the challenge of imparting odors of the original source. "Odor is also a differentiating factor, especially when considering delicate flavor profiles," Schroeder explained. "Strong odors, like those omitted from red cabbage, have the potential to impact flavor, requiring additional material to mask."
The colors, which derive from lycopene and beta-carotene, are odorless and tasteless.  
More beverage trends
From sugar reduction to functional ingredients, Food & Beverage Insider's "Healthy beverages: Always in season" digital magazine spills the tea on the latest trends affecting beverages. Click the link to access the complimentary issue.
Rachel Adams joined Informa's Health & Nutrition Network in 2013. Her career in the natural products industry started with a food and beverage focus before transitioning into her role as managing editor of Natural Products INSIDER, where she covered the dietary supplement industry. Adams left Informa Markets in 2019.
Subscribe and receive the latest insights on the healthy food and beverage industry.
Join 30,000+ members. Yes, it's completely free.
You May Also Like
---