Functional beverage innovation: fringe is in
Functional beverage innovation: fringe is in
Functional beverage ingredients cascara, aronia berries, CBD and cacao are still on the periphery, but have potential to gain widespread appeal.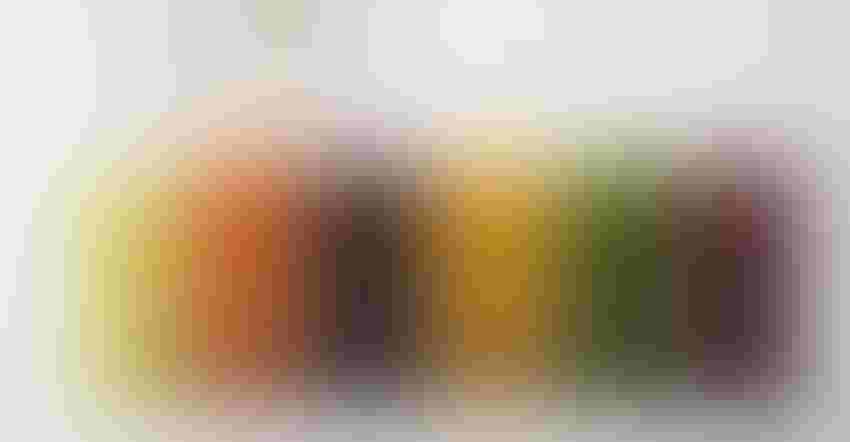 Consumers demand food and beverage products that deliver a wide range of benefits and address health and wellness needs on the go. In addition to convenience, food movements (i.e., veganism, vegetarianism, paleo, etc.) and sustainability advocates are contributing to the growth of functional food and beverage. Awareness of novel ingredients such as maca, reishi mushrooms and medium-chain triglyceride (MCT) oil is on the rise as consumers turn to foods, as opposed to medications, for health and wellness benefits. Some of these trending ingredients are newly discovered, e.g., mushroom protein, and others are rooted in ancient wisdom and are now being used in novel applications, e.g., matcha. In many cases, the less traditional and less known now has a new consumer appeal. In other words, fringe is in.
Consumer dietary preferences, such as low- or no-meat intake, protein-rich food, or only grass-fed and free-range products, are shaping the types of products that hit the marketplace. In these often nutrient-dense products are brands' best guesses as to what the next "turmeric" will be.
Cascara: Cascara has been on the radar since Starbucks launched its cascara latte in January 2017. Cascara, an ingredient made from the dried leaves of the skin of the coffee fruit, has potential to grow in popularity, as it aligns with several consumer values. In addition to being associated with health benefits including aiding with gastrointestinal (GI) health, liver health and weight loss, it's an ingredient that has historically been discarded. One brand, Caskai, a sparkling cascara infusion from Austria, calls out cascara as "one of nature's true superfoods." For more on cascara, check out: Lazy Bear Tea, Slingshot Coffee Co. and Venice Cold Brew.
Aronia berries: Also known as chokeberries, these are rich in antioxidants, including vitamin C and anthocyanins, and are grown throughout North America. While not present in many beverages on the market, a recent novel use of these berries is in a lemonade.; the brand Poppilu claims it's "bold on citrus not on sugar."
With increased scrutiny on high-sugar beverages, brands are looking for ways to add value or a modern twist to grab consumers' attention. Consumers are willing to look past some sugar content, especially if it's not added sugar, and the product offers additional benefits beyond hydration. Check out these brands to see how they use aronia berries: So Good So You, ax-water and Karuna.
Cannabidiol (CBD): This cannabis compound, often made into an oil, is non-psychoactive, but is suggested to have other inherent benefits including nausea and pain relief, and reduction of anxiety. According to Forbes, the global market for CBD-derived ingredients is expected to grow by 700 percent to US$2.1 billion by 2020, so we can deduce that more brands will be leveraging this ingredient that only contains trace amounts of THC or none at all. PLNT Water is already using hemp-derived CBD oil, and claims its products offer more than just the benefits associated with CBD. Its waters include other trending botanicals including several that are thought to deliver a variety of health benefits, such as turmeric, ginger, cayenne pepper and chamomile. Other beverage brands with CBD include: Habit, Cannabinoid Creations and KickBack.
Repurposed Ingredients: One manifestation of sustainability that is occurring more frequently is the repurposing of previously discarded ingredients, or upcycling. In the natural and organic space, one ingredient that has seen a recent surge in popularity is cacao (the unprocessed plant that yields a global favorite, chocolate). Repurposed Pod is looking to introduce cacao juice to consumers. Its website boasts the benefits of cacao: It's "a good source of magnesium, energizing B vitamins" and it "delivers polyphenol antioxidants." Its suggestions for this multi-purpose product include using it in green smoothies, making innovative cocktails or as a syrup substitute in recipes. Other brands building their business with upcycled ingredients include Snact, The White Moustache and Misfit Juicery.
Using plant parts that have previously been discarded (cascara, cacao juice, pulp, greens) will continue to be a priority for brand owners because of growing consumer demand for sustainable products and the "waste not" trend. Additionally, the advancement and increased sophistication of supply chains allow for easier access of exotic ingredients, which consumers appreciate not only for the benefits, but also for being able to experience less familiar cultures and cuisines.
With an expected CAGR of 7.8 percent through 2021 for the functional food and beverage market, according to Technavio, there are sure to be winning ingredients to watch out for.
Ilana Orlofsky joined Imbibe to help expand the marketing initiatives of the boutique, Chicago-based beverage development company. Since the onset, she found her passion for following market trends, developing product and flavor concepts and conducting ideation sessions. In addition to presenting at national conferences, she has written about many industry topics including beverage trends in retail and food service, functional food and beverages and ingredient trends. Her trend insights and articles can be found in several print and online publications. She has a B.A. from Washington University in St. Louis.
Subscribe and receive the latest insights on the healthy food and beverage industry.
Join 30,000+ members. Yes, it's completely free.
You May Also Like
---