Robust colors, flavor combinations dominate beverage trends this season
Robust colors, flavor combinations dominate beverage trends this season
Candace Smith-Lee, senior category scientist of beverages at ofi, writes that consumers are increasingly seeking vibrant, refreshing drinks with tropical ingredients and hints of botanicals and florals, especially during spring and summer.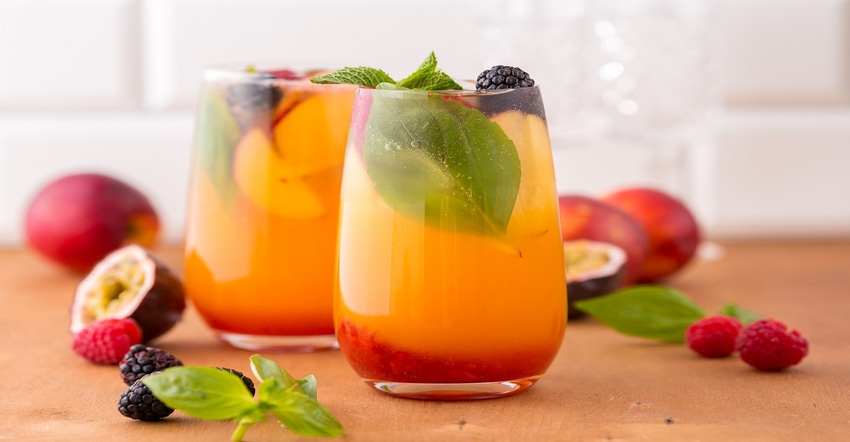 Spring and summer have traditional standards of identity in our minds, deeply rooted in nostalgia. Nostalgia is a fun way to revisit wonderful memories, but with each trend generation, or cycle, consumers have a desire to experience beloved trends in a new way, or "newstalgia."
According to Whole Foods' 2023 Foods Trend Report, nostalgia and retro food items are making a major comeback. As an older Millennial, I grew up in the 1990s. For the past two years, the 1990s have made a comeback. Trends in all spheres are cyclic and build on earlier inspirations. Fashion during the 1990s was influenced by the 1970s—and the brightly colored patterns of those eras, which are reminiscent of spring and summer, still remain popular today.
In food and beverages, consumers are discovering new ways to enjoy traditional spring and summer flavors due to their colors and complementary flavors.
The top trending flavors within citrus, stone fruits, florals and botanicals are grapefruit, tangerine, yuzu, mango, passion fruit and guava. The perceived functions due to their chemical makeup are renewing interest and appreciation in these flavors.
In college, I studied chemistry and prior to ofi I spent two years training to be a flavorist. Flavor chemistry is a fascinating study of the individual flavor notes within a flavor profile.
Citrus flavors are bright and refreshing, but also rich in sulfur and green flavor notes, which can be used as bitterness maskers. Likewise, the sulfur and green notes in sweet and complex tropical flavors can be used to mask protein off-notes in sports nutrition beverages.
According to Tastewise's 2023 top flavor & ingredient trends report, consumers are interested in premium taste experiences and health benefits of florals and botanicals. Ylang ylang, vetiver, cherry blossom, hibiscus and elderflower are trending in the floral category. In the botanical space, vanilla, mint, ginger, rosemary, cinnamon and basil are popular.
What also attracts consumers to florals and botanicals are their characterizing colors. Many psychologists and marketing executives have studied colors and mood management as it pertains to consumer preferences. Just as certain smells evoke memories, unconsciously colors may evoke emotions, inspire reactions and change modes of thinking. This year is filled with oranges, blues, pinks and purples.
Summer is peak vacation time. During the Covid-19 pandemic, consumers fulfilled their travel needs through tasting foods from future vacation destinations or reminiscing about the foods they'd tried during past vacations. Post-pandemic, consumers are still traveling through trending cuisines but in a new way by adapting traditional world cuisines to American tastes.
Mango, with its vibrant and energetic orange shade, is a trending and versatile fruit and flavor used across many cuisines.
For example, mangonada is a popular Mexican frozen dessert gaining in popularity in the United States. Traditionally, it features mangoes, chamoy and a chili lime-candied tamarind garnish. Not only the flavor, but the oranges and reds are a feast for the eyes. Working with ofi's chef who specializes in Mexican cuisine, we adapted the ofi Veracruzin spice blend for a new but authentic chili experience. The spice blend was mixed into a strawberry mango smoothie with chamoy flavor, diced mangos and additional spice blend as a rimmer.
Also, mango lassi is a popular Indian and Pakistani yogurt drink. In my plant-based work, I developed a plant-based, mango cashew almond lassi using mango juice, ofi cashew milk and ofi Warm Sedona Sunset spice blend that is rich in turmeric, cinnamon, ginger and cardamom, which add a punch of spicy flavor and deep orange color.
Spring and summer flavors, while nostalgic and traditional, may also provide consumers with new functions, taste experiences, travel inspirations and mood management.
Candace Smith-Lee is the senior category scientist of beverages at ofi with 15 years of beverage applications experience. She oversees the company's beverage segment ingredient portfolio, provides technical expertise for customer solutions and drives development for future innovative solutions. Her career includes 10 years at Kerry, where she was the senior beverage applications scientist specializing in beverage emulsions and applications for juice, energy, soft drinks and flavored waters, as well as three years as a flavor compounder at Agilex Flavors & Fragrances.
Subscribe and receive the latest insights on the healthy food and beverage industry.
Join 30,000+ members. Yes, it's completely free.
You May Also Like
---