Younger generations opt for global flavors in nonalcoholic beverages
Younger generations opt for global flavors in nonalcoholic beverages
The wide range of nonalcoholic drinks available on the market—including juices, energy drinks, mocktails and smoothies, just to name a few—as well as their rising consumption, are influencing beverage producers to launch new flavors.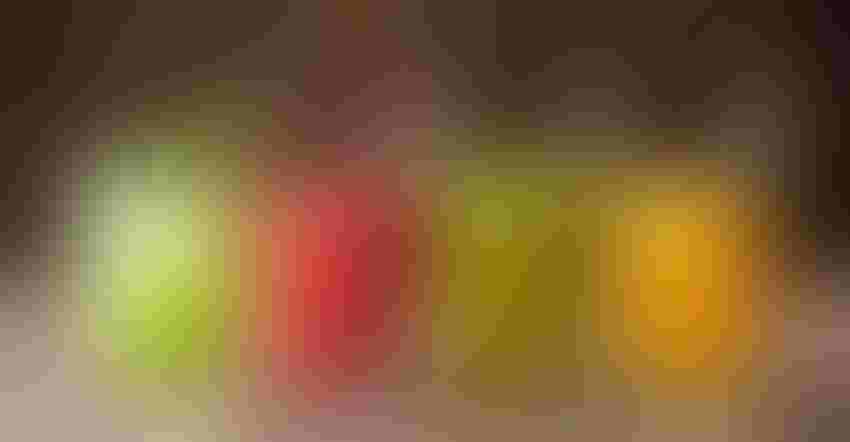 Taste has long been regarded as one of the most significant human senses, evolving in response to changes in dietary choices. This has now led to shifting consumer preferences toward innovative global flavors. The availability of a wide range of nonalcoholic drinks—including juices, sparkling beverages, energy drinks, mocktails, flavored milk, smoothies, alcohol-free cocktails, tonic water, spiked sodas and spirits—as well as their rising consumption, are driving beverage producers to launch new flavors on the market.
According to Future Market Insights' research, the global beverage flavoring market is expected to garner a steady compound annual growth rate (CAGR) of 5.8% from 2023 to 2033. As more consumers experiment with clean flavors, plant-based flavors or botanicals, these markets are evolving. Beverage manufacturers should keep an eye on why people are moving toward botanicals, how consumers are choosing flavor pairings, and the nuances of providing innovative seasonal flavors.
Botanical flavors: A greenfield opportunity
Clean label has moved from trend to expectation in the food and beverage industry, but it is particularly creating a boom among Millennials and Gen Z. After the Covid-19 pandemic, more health-conscientious consumers emerged, resulting in more attention being paid to natural or better-known botanical flavors. These natural plant flavors are being used by manufacturers to create beverages that taste as well as feel natural. A subtle combination of citrus and spice, herbal and earthy, flowery and sweet is created carefully with selected botanicals.
Botanicals function as "bridges," allowing access to other ingredients and a large range of fragrances and flavors. Since most herbs have a potent flavor, beverage companies use a variety of techniques to mask them. This includes carefully altering the level, picking a base and flavor system that complement each other, blending with specially designed flavor systems that take into account a few of the existing flavor notes and using masking flavors.
For example, Synergy Flavours introduced a line of natural, water-soluble and entirely colorless plant extracts. The range satisfies the expanding market for lightly scented, plant-based, clean and natural beverages that are frequently thought to have extra health benefits. Drinks with zero proof and hints of rosemary, geranium, pink peppercorn or nutmeg are anticipated to grow more popular as Millennials become more receptive to nontraditional ingredients.
Innovations via flavor and ingredient pairings
The change to nonalcoholic beverages has encouraged the industry to explore distinctive tastes and ingredients that provide customers with the enjoyment they desire while still providing functionality and performance, as well as other health-focused attributes. This frequently results in unusual taste combinations that combine well-known favorites with bold herbal, floral and spicy tones.
The beverage industry has witnessed a significant push over the past two years for creative combinations that maintain excitement and intrigue without using excessive amounts of sugar or even artificial sweeteners. A common practice in the creation of ready-to-drink (RTD) beverages is to add a spicy note or herbal component to a long-time favorite citrus or other fruit flavor. This is a trend that was previously exclusive to the cocktail market.
The traditional watermelon taste is one such fruit that has consistently made an appearance in product development as well as foodservice menus over the years. Watermelon has recently emerged as the fruit of innovative drinks due to its strong relationship with summer and customers' strong sense of nostalgia. According to McCormick's 2023 Flavor Insight Report – Watermelon, market insight and research experts from Mintel and Datassential found that watermelon is increasingly popular on restaurant menus, with casual dining as the key restaurant segment and beverages accounting for 81% of all watermelon-flavored menu items.
The fruit is packed full of nutrients, per USDA Agricultural Marketing Resource Center, with 1 cup of diced, fresh watermelon providing 21% of the daily value (DV) for vitamin C; 18% of the DV for vitamin A; and significant levels of vitamin B6, lycopene, antioxidants and amino acids.
Even more than other rapidly gaining favorites like mango, passion fruit and pineapple, watermelon offers a clear potential for beverage producers to tap into an appreciated fruit for innovative product development. Although these fruit tastes have a longstanding experience in cocktails, they are becoming more common in retail nonalcoholic beverages, particularly RTD tea, enhanced sparkling waters and juice products.
Beverage players attract consumers with limited flavor experiences
In general, the generations of Millennials, Gen Y and Gen Z are more daring and are always looking for new pleasures. They need to be captivated and satisfy their social media requirements, in addition to satisfying their need for an exclusive experience. Due to this, the demand for limited-edition or exclusive flavors has increased dramatically in recent years.
The Pumpkin Spice Latte from Starbucks is the best-known example of this. Although the recipe for the drink does not call for any seasonal ingredients, the fact that it is only available once a year has helped it become one of Starbucks' most recognizable beverages among younger people.
Additionally, almost all significant beverage producers have introduced at least some limited-edition drink archives to increase their consumer exposure. For instance, as part of its entrepreneurial marketing campaign, Coca-Cola introduced a noncommercial and exclusive line of fantasy flavors including Dreamworld, whereas Pepsi produced a S'mores Collection (Toasty Marshmallow, Graham Cracker and Chocolate varieties) to give away to 2,000 lucky fans.
Some marketing gimmicks, like Doritos-flavored Mountain Dew, are purely publicity stunts to get the press. A large cult of fans who constantly seek out rare, shelved flavors to brag about has developed as a result of these flavors' insatiable fan demand.
Beverage market implications
Apart from these exotic flavors for nonalcoholic brands, what remains a constant is a desire for natural flavors. The pandemic brought attention to yet another aspect of society's concern for health and well-being across all generations.
Additionally, consumers are searching for healthier alternatives to manufactured, packaged beverages that bear the "no preservatives" as well as "all natural" labels. To market their beverages in a healthier, more natural way, numerous fruit juice brands nowadays are concentrating on juices that are "made from real fruit" or "not from concentrate."
Herbal flavors and beverages are also expanding alongside these other categories. These include some exotic drinks that have been consumed throughout history by numerous cultures and are valued for their therapeutic and healthy qualities. Among the most popular drinks in this category are matcha, kombucha and yerba mate.
In addition, various therapeutic plants like hibiscus, turmeric, ginger and lemon grass are now being added to traditional drinks like tea, fruit juice, and more. With all these new flavors seeping into the market, the demand for global and innovative flavors is only expected to meet new heights in the coming years.
Nandini Roy Choudhury has more than seven years of management consulting experience. As lead for FMI's food and beverages practice, she has vast functional expertise within food ingredients, health and nutrition solutions, animal nutrition and marine nutrients. She is also well-versed in the pharmaceutical, biotechnology, retail and chemical sectors. Choudhury's core expertise lies in corporate growth strategy, sales and marketing effectiveness, acquisitions and post-merger integration and cost reduction. She has an MBA in finance from MIT School of Business and a bachelor's degree in electrical engineering from Nagpur University in India.
Subscribe and receive the latest insights on the healthy food and beverage industry.
Join 30,000+ members. Yes, it's completely free.
You May Also Like
---