Vivid colors, formulator-friendly flavors – digital magazine
Vivid colors, formulator-friendly flavors – digital magazine
The push for all things natural in food and beverages continues, and that includes colors and flavors. Part of the revolution is because consumers are avoiding the artificial—shunning controversial ingredients like titanium dioxide and Red dye No. 3 in favor of natural options that support new must-have clean labels. The natural path is not without challenges, though, as formulators look to colors sourced from plants, botanicals, fruits and vegetables, and exotic global flavors to keep consumers' eyes and palates engaged in a better-for-you way.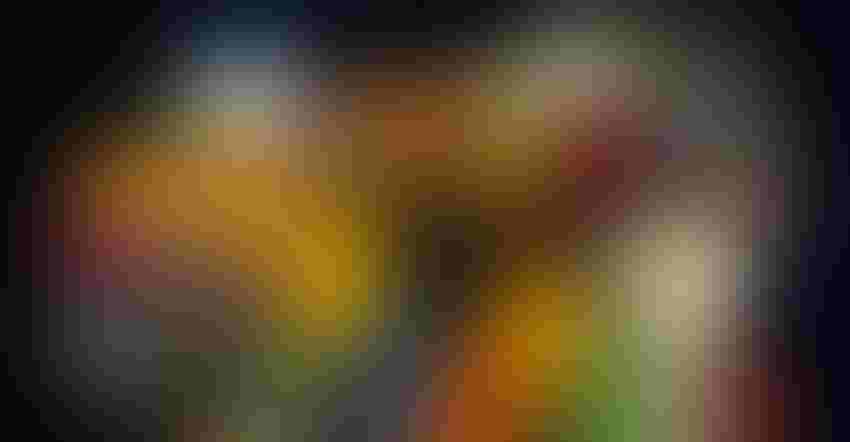 Eating is—at first—a visual experience. An ideal food or beverage initially satisfies the eyes before pleasing the palate.
So, food and beverage formulators have the unique challenge of finding bright and appealing colors as well as taste-bud-tingling flavors, all while maintaining the natural and clean labels consumers are requiring in their food and beverage choices.
The natural profile is important for several reasons. Many artificial colors and flavors have been linked to health problems like allergies, hyperactivity and cancer. Not to mention the fact that many artificial colors and flavors are derived from petroleum-based chemicals … hardly a sustainable or eco-friendly option.
Pivots from increasingly scrutinized ingredients like titanium dioxide can be tricky, though, as evidenced by the search for appealingly opaque or brilliant shades of white. New ingredient technology now can accomplish a range of whites from natural sources, including native corn starch, and can be used when developing confections, coatings, icings, beverages and other food products.
It's one example of many of industry innovations being developed as natural solutions to complicated formulation challenges when it comes to colors and flavors. Read more about the sweet, salty and sour successes in this free digital magazine. The articles include:
Viewpoint: It's all about that taste—and colors, too
Distinct global flavors, like Caribbean jerk, are on the leading innovative edge as more R&D teams utilize spices, seasonings and healthier sauces to make "better for you" foods and beverages taste better. Content Director Audarshia Townsend makes an example of the zero sugar and low sodium Pescavore Ahi tuna jerky strips, which stand out with unique flavor profiles like Smokey Poke and Island Teriyaki.
Finding true-blue (and red, and pink…) natural color options
Technology is finding new ways to color foods in a rainbow of shades, as strides are made in natural red, white and blue food colorings and additives. The solutions are just in time, as consumers increasingly demand clean ingredients and legislatures look to ban problematic artificial colors, as reported by Cindy Hazen. She found out ADM's patented, naturally derived blue color was developed from the Amazonian huito fruit, and spirulina can be used in dairy products, frozen desserts, confections and ready-to-mix (RTM) beverages, among other discoveries.
Trending flavors: Coming in hot
Flavors from all over the world—particularly South America, Asia and Africa—are hot. So much so that they are finding their way into formulations of new snack and frozen food options, as well as nonalcoholic and alcoholic beverages. Heather Carter relays the global taste trends, which include sesame seed, ginger, jerk, spicy honey, miso and tahini.
Nuances in natural flavor formulation
When clean, short ingredient statements are the order of the day, it's especially important to anticipate how a flavor will perform not only when using natural flavors, but also when layers of supportive ingredients are stripped away. Mint and vanilla are examples of the diversity of flavors available within a single moniker, Cindy Hazen found.
The natural advantage: Plant-based colors and flavors
Experts from three clean label brands—The Cumin Club, Niramaya Foods and Wonder Juice—discuss the importance of developing products with natural and adventurous flavors and colors, and the impact of consumer clean label demands. Among the experts' conclusions: authenticity and a natural profile are key, looking for non-GMO is a good indicator of a quality natural product, and real foods and real flavors are having their moment right now.
Examples of colors and flavors takeaways for your business include:
Almost three-quarters of consumers prefer new and unusual flavors in their food and drinks, and half find new flavors to be healthier than the tried-and-true, according to FMCG Gurus. And, one-third of consumers shy away from new and experimental colors because they don't associate them with being natural.

Red dye No. 3 is in legislators' crosshairs. But while it's possible to successfully replace Red 3 in most beverages, UHT (ultra-high temperature) shelf-stable milk drinks, such as ready-to-drink (RTD) strawberry nutritional shakes, are particularly challenging.

In a powdered flavor system, such as a powdered beverage sachet, a dry delivery system protects flavor components from reacting with oxygen, avoiding what consumers may experience as stale notes.

In a liquid flavor system, emulsions can protect flavor components from acid or alcohol found in the base components of certain beverage products like juices or RTD cocktails.

Subscribe and receive the latest insights on the healthy food and beverage industry.
Join 30,000+ members. Yes, it's completely free.
You May Also Like
---