Chewy candy sales continue to climb
Chewy candy sales continue to climb
Gummies and jelly candy markets are still growing thanks to increased product diversity and enthusiasm from consumers.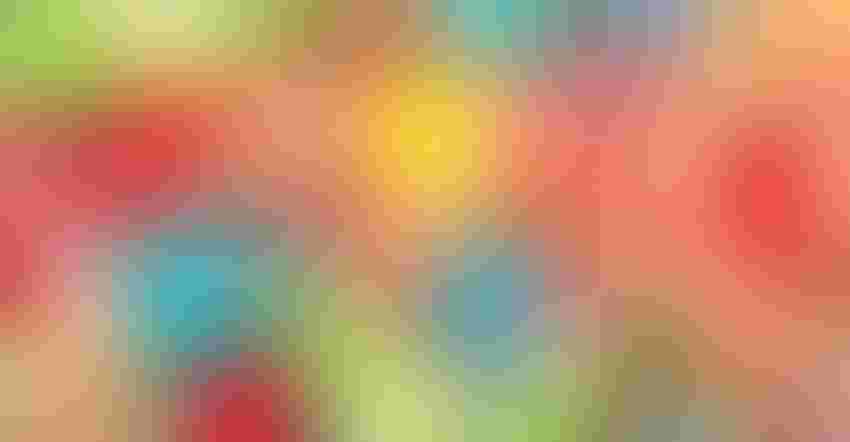 Gummy and jelly brands dominate the market when it comes to non-chocolate candy. In the year ending May 15, 2022, the segment is up 13.7%, with sales totaling $4.83 billion according to an IRI report. The top two companies in gummy candy are Mars Wrigley, who owns nearly a quarter of the market share, followed by Ferrara with 15%. Another quarter of the market share is made up of the three other companies in the top five: Mondelēz International, Haribo of America and Perfetti Van Melle. 
The gummy candy market is particularly fruitful for new products. Multi-textured products, in particular, are drawing interest. "Texture and flavor go hand-in-hand in the confectionery space, you really can't have one without the other," said Greg Guidotti, chief marketing officer for Ferrara. In 2020, Ferrara 2020 launched Nerds Gummy Clusters, featuring a fruity, gummy center coated in the classic, crunchy Nerds candy. The product has been well received, and the company introduced a Very Berry flavor extension at the Sweets & Snacks Expo in May, receiving the 2022 Most Innovative New Product Award in the Non-Chocolate category. 
Established, familiar candy brands are also expanding into the gummy space. Starburst and Skittles, two Mars Wrigley mainstays, both added gummy offerings to their product lines in 2021 after 60 and 40 years on the market, respectively. In May 2022, Bazooka Candy announced new gummy products including a gummy version of its iconic Push Pop–Push Pop Gummy Pop-its–in Strawberry, Blue Raspberry, Berry Blast and Watermelon flavors. 
The wellness movement continues to expand, finding its way even into our sweet treats. The New York Times reported that gummies have entered the wellness market in the form of gummy supplements–marketed similarly to gummy vitamins–as well as "better-for-you" gummies that are presented as candy but made with healthier ingredients such as pectin, less sugar, or added fiber. Oschner Health identified a number of gummy products that are low- or no-sugar and naturally colored. Lily's and Katjes are two companies who recently stepped into the market, advertising their plant-based, keto-friendly gummies as a healthier alternative. 
Gummy candies are even being marketed according to their functional properties. A 2018 study in Addiction identified that cannabidiol (CBD) may be a valuable tool in smoking cessation, and an array of CBD gummies aimed at smoking cessation have cropped up. 
Social media is reflecting the continued fascination with gummy candy in addition to highlighting its cross-generational appeal. TikTok has an active subculture of users, both young and old, who refer to themselves as Candytok where users post videos of gummy candies being unwrapped, eaten or noisily poured into various containers, ASMR-style. One video from Hello Sweets Candy recapping the five most popular candies of 2021 in their store has over three million views.  
The popularity of gummy candy shows no signs of slowing, as evidenced from the growing market diversity to the social media enthusiasm of fans.
Subscribe and receive the latest insights on the healthy food and beverage industry.
Join 30,000+ members. Yes, it's completely free.
You May Also Like
---