Monitoring the European confectionery market
Monitoring the European confectionery market
Confectionery is enjoyed globally, with European trends including functional and plant-based ingredients, as well as organic certification.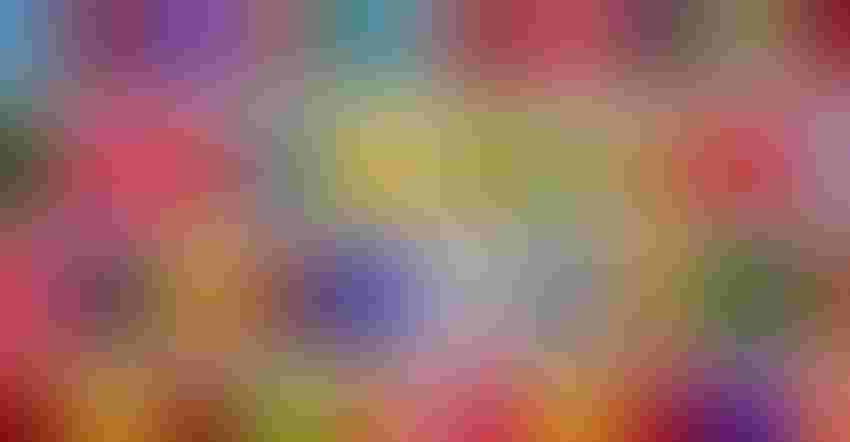 Around the globe, the COVID-19 pandemic found consumers seeking indulgence as well as enhanced nutrition; however, challenges in supply chain and impulse buying had an impact on sales trends in multiple categories. Confectionery was not immune, as functional confectionery is poised to deliver great taste and added nutrient value, but only with appropriate market development.
In a recent confectionery market report, Allied Market Research noted "medicated" confectionery holds the strongest growth potential to 2027, with an anticipated compound annual growth rate (CAGR) of 4.1%. According to the firm, increased interest in consuming active ingredients such as vitamins and herbal extracts in more friendly formats than traditional supplements, coupled with the growth of the geriatric population seeking easier-to-consume options, are among the driving forces.
What are consumers seeking in their functional confectionery? In its "Functional Confectionery Market" report, Transparency Market Research segmented the ingredient categories into protein, omega-3 and -6 fatty acids, vitamins/minerals, probiotics and "others," which includes the breadth of herbal and botanical offerings. Further, while the U.S. and Europe will continue to generate the majority of revenue, greater growth is expected to be seen through the Asia-Pacific and Latin American regions.
At the same time, Europe is also seeing the plant-based trend driving the confectionery segment. Innova Market Research saw vegan confectionery launches rise 17% between 2016 and 2020, compared to only 2% CAGR of total launches. The firm cited the rise of gelatin-free sugar confectionery using "veggie" terminology, as well as dairy-free launches featuring prominent vegan claims and certifications.
Whether plant-based or traditional, chocolate continues to dominate consumers' tastes and share of wallet. Western Europe dominates the chocolate market, but across the continent, there is greater demand for higher-quality cocoa and premium chocolate, noted a European confectionery market report from Market Reports World. Organic is particularly strong, with 14% of Italian chocolate eaters buying organic chocolate, and product launches with an organic claim increasing 6% year over year, with Germany reporting 23% of chocolate launches with an organic claim.
Interestingly, chocolate sales in the U.K. didn't benefit from the same boom during the pandemic as many others. Reporting for The Grocer, Daniel Woolfson noted chocolate only saw a 0.7% increase in volume sales, potentially attributed to a lack of impulse purchasing at the checkout counter and closure of nonessential retail over several holiday periods. However, production challenges may also be to blame, as Mars Wrigley faced "mechanical breakdowns" for shortages of many popular treats including Maltesers and Galaxy.
Mars' loss was Mondelez's gain, as Nielsen reported Cadbury Dairy Milk sales rose 12% in the U.K., even as Maltesers dropped 20%. Mondelez recently announced a US$15 million investment in its Bournville U.K. site to consolidate a good portion of its U.K. manufacturing of Cadbury Dairy Milk, increasing production efficiencies and maintaining competitiveness in the U.K. market; certain products will continue to be made in Europe for "technical and capacity reasons." Those reasons could connect to Brexit, as 60% of U.K. manufacturing companies are reporting significant disruption in their supply chain—either importing from or exporting to the EU, according to MAKE UK, a U.K. trade organization.
To read a companion article on the U.S. market, along with a range of related editorial, download the "Permissible indulgence: Strategies for better-for-you confectionery" digital magazine.
Heather Granato is vice president of content for health and nutrition at Informa Markets.
Subscribe and receive the latest insights on the healthy food and beverage industry.
Join 30,000+ members. Yes, it's completely free.
You May Also Like
---