Dairy-free options just keep getting better
Dairy-free options just keep getting better
Plant-based alternatives to traditional cow's-milk yogurts, beverages, creamers, cheeses and more are a bona-fide phenomenon, crowding shelves and reshaping the dairy category.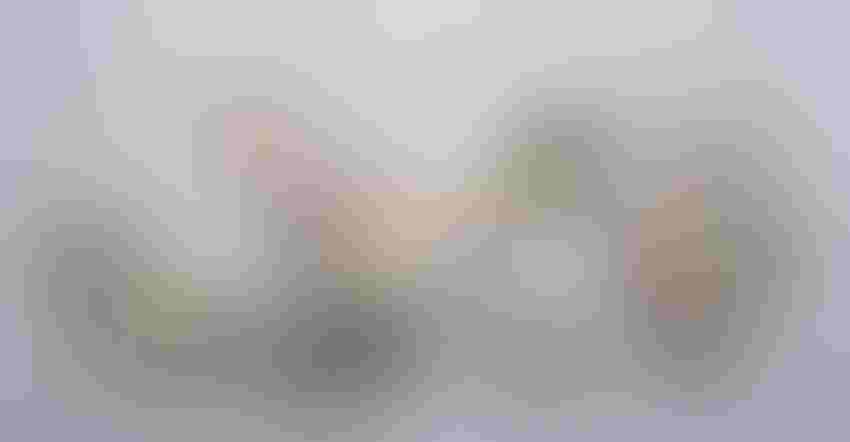 Glance at a grocer's dairy case and the first thing you notice may not even be dairy. That's because plant-based alternatives to traditional cow's-milk yogurts, beverages, creamers, cheeses and more are a bona-fide phenomenon, crowding shelves and reshaping the dairy category—not to mention how consumers eat and drink.
Dairy alternatives are even reshaping where investors place their bets. According to Food+Tech Connect's "2018 U.S. Food & Beverage Startup Investment Report" (produced in partnership with Ryan Williams, director of finance and special projects, RISE Brewing), the alternative-dairy category captured 14% of all 2018 investment dollars allocated to food and beverage startups—more than $200 million—putting it atop the list of food and beverage investment targets.
Consumers and investors aren't the only ones going all-in on alt-dairy. "You can see the investment that retailers have made over the past few years in expanding store layouts to include more refrigerated and frozen space to accommodate this fast-growing sector," said Sarah Diedrich, customer marketing manager, Synergy Flavors.
As the pool of plant bases widens, consumers will have even more milks to choose from.
Suzanne Hagener, director, brand marketing, nondairy products, Blue Diamond Growers, said her company's Almond Breeze beverage hit the scene in 1998. "Since then, the almond-milk category has exploded, because consumers have found that the product meets their health and taste needs," she explained. Almond milk has a healthy halo, too, she said, and it offers "a clean taste that doesn't require 'maskers' like some plant-based beverages."
But do plant-based patrons even want alt-dairy to duplicate "the real thing"?
"On one hand," argued Anne Marie Butler, R&D applications manager for Europe at Edlong, "you have vegan or vegetarian consumers, or those who don't like dairy. For them, an exact dairy replica is likely unimportant, or even undesired." But for flexitarians, she continued, "The desire for alternative-dairy products to be close to the dairy counterpart is key."
Christine Addington, senior dairy technical service specialist, Cargill conceded it's hard to please all consumers all the time. But while some alt-dairy customers are tougher than others, "To go mainstream, we must address the taste and mouthfeel gaps often associated with dairy-free formulations," she insisted. "Ultimately, if a product doesn't deliver on taste, texture or visual appeal, it doesn't matter how trendy or nutritious it is."
"Advances in flavor masking, functional ingredients and fermentation are coming together to overcome many of the remaining challenges," Ivan Gonzales, marketing director, dairy, Ingredion Inc., said. "It won't be easy, as dairy taste and function are unique. It's taken several decades, if not centuries, of research and innovation to get the products we have nowadays. Plant-based dairy is just starting out, but what we've learned about dairy is being adapted and applied to these new products." And it's making them better.
To read this article in its entirety, check out the Formulating for success in the dairy alternative aisle – digital magazine.
Kimberly J. Decker is a Bay Area food writer that has worked in product development for the frozen sector and written about food, nutrition and the culinary arts. Reach her at [email protected]. 
Subscribe and receive the latest insights on the healthy food and beverage industry.
Join 30,000+ members. Yes, it's completely free.
You May Also Like
---