Improved ingredients, technologies give fats and oils new life
Improved ingredients, technologies give fats and oils new life
Certain fats and oils have moved from villains to heroes, now pairing with terms like healthy, good and clean.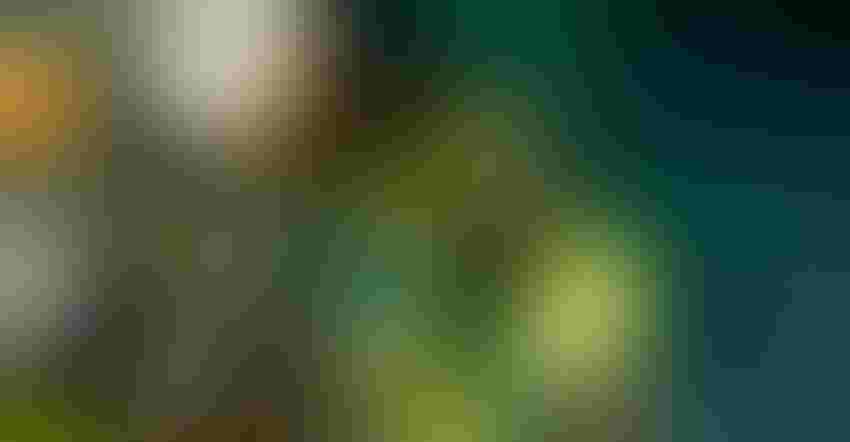 Fats and oils are having a comeback.
For decades, fat was treated like a dirty word in the food world, with consumers avoiding it seemingly at all costs. Links between fats and disease states, as well as mainstream guidance predominantly shunning excess fat consumption, led to a flurry of low- and no-fat diets.
But the tide is turning. Fats and oils are becoming better understood by consumers, as are the differences between types and sources of dietary fat. Carbohydrates, sodium and sugar have overtaken fat on consumers' do-not-eat lists; the most recent International Food Information Council (IFIC) Food & Health Survey showed sugars (24%) and carbs (24%) were chosen over fats (16%) as sources of calories most likely to cause weight gain. Consider that in 2010, the same survey had 28% of respondents choose fat as the source most likely to cause weight gain. The 2020 version also showed ketogenic diets–which are high in fat–are the third-most popular among consumers, trailing only intermittent fasting and the broad category of "clean eating."
It's not just consumers beginning to make these distinctions. USDA's 2015-2020 Dietary Guidelines for Americans (DGAs) took a different approach than its predecessors by differentiating between saturated and unsaturated fats, suggesting limited intake of the former (10% of daily calories) but encouraging consumption of the latter in the form of nuts, seafood and other sources. On July 10, 2020, the 2020 Dietary Guidelines Advisory Committee (DGAC) released its report of recommendations to inform the 2020-2025 DGAs. In it, the committee reiterated its advice to replace saturated fats with unsaturated fats to reduce the incidence of cardiovascular disease (CVD). The report noted the current mean intake of saturated fats was around 12% of daily calories, meaning there is room for Americans to further replace "bad" fats with "good" ones.
This growing understanding that not all fats are created equal, and that even "bad" fats can't all be lumped together, has given formulators and finished goods brands a new arsenal of ingredients and technologies that can provide the taste, texture and overall eating experience consumers seek while still conforming to the clean label trend being seen across the industry.
According to Cargill's recent global FATitudes survey, consumers are increasingly monitoring and understanding their fat intake. The survey showed 68% of consumers closely monitor the type and amount of oil and fat in the foods they purchase, with 61% avoiding certain types, specifically saturated and trans fats. The same survey found olive oil tops the list of perceived healthy sources of fat and oil, followed by avocados, fish, coconut and flaxseed. As consumers continue to focus on clean label ingredients, recognizable sources like sunflower and non-GMO canola continue to make headway, while less "clean-sounding" ingredients become things of the past.
As Kimberly Decker points out in her article, "Greasing the skids: Fats and oils formulators can feel good about," this better understanding of fats and oils extends beyond consumers to regulating bodies, resulting in the phasing out of partially hydrogenated oils (PHOs), once "a key modification technique that the fats and oils industry used for decades." However, as PHOs generated considerable trans fats, their GRAS (generally recognized as safe) status was revoked in 2015, with guidelines that all artificial trans fats were to be removed from food manufacturing by 2018, and, ideally, phased out of the food supply entirely by 2021. Even palm oil, which is still the most produced type of oil in the world and a natural replacement for PHOs, is being eschewed in favor of more sustainable—and versatile—options thanks to new ingredients and technologies.
On the technology side, Cargill has worked to make palm oil more effective and more sustainable. The company's PalmAgility bakery shortenings reduce the brittleness and improve the temperature tolerance of traditional palm oil-based shortenings. As noted by John Satumba, Ph.D., research and development (R&D) director, global edible oils, North America, Cargill, the PalmAgility shortenings generate smoother and creamier textures in baked goods than standard palm oil. Cargill has also committed to more sustainable palm oil offerings, including its Roundtable on Sustainable Palm Oil-certified mass-balance palm oil. As Jamie Mavec, marketing manager at Cargill, put it, "In today's competitive marketplace, it's no longer enough to create a great-tasting product … It's the compelling story that captivates consumers."
Cold pressing is another technological leap elevating healthier fats and oils. Top Health Ingredients has begun offering sunflower and canola oils that utilize the cold-press technique. These cold-pressed oils, according to Brittany DeMarco, manager, marketing and communications, Top Health Ingredients, do not exceed 60 degrees Celsius during production, allowing them to maintain nutritional properties like tocopherols, phytosterols and polyphenols not found in more traditionally produced oils.
Novel ingredients are also finding their way into formulations to maintain clean label attributes without skimping on taste and texture. Hemp heart oil, high in omega-3 fatty acids and ideally balanced with omega-6 fatty acids (approximately a 3:1 ratio) could be primed to stand out in this field. IFIC's Food & Health survey found more than 60% of consumers perceive omega-3s to be healthy, compared to under 40% believing the same of unsaturated fats and less than 20% with saturated fats. As noted by Brian Zapp in his article, "Big opportunity for hemp heart oil," hemp heart oil is also rich in vitamin E and beta-sitosterol, and contains none of the eight most common allergens. Additionally, hemp is a highly sustainable crop, allowing brands to build on Mavec's idea of a compelling story to captivate consumers.
Avocado, already a popular food in its own right, is also seeing new life as an oil ingredient; in our Brand Roundtable, "Is fat the new protein? Experts weigh in," all three companies represented—Conagra Brands, Primal Kitchen and Southern Recipe Small Batch—mentioned avocado oil being on their radar. Like sunflower, avocado has the advantage of already being perceived as healthy; Mark Sisson, founder, Primal Kitchen, noted avocado has the added benefit of being extremely stable and boasting a high smoking point, making it ideal for preparations such as frying and sautéing. 
A closer examination of the types of fats and oils being consumed has also given rise to coconut oil, despite its high percentage (about 90%) of saturated fats. Unlike animal protein, coconut oil's saturated fats are made up of more than 50% medium-chain triglycerides (MCTs); it is the most abundant natural source of the MCT lauric acid. Though its low melting point makes coconut oil unsuitable for some applications, it can be found in products ranging from nondairy ice creams and creamers to protein bars and confections.
Companies like Balchem are taking full advantage of the rise of avocado and MCTs. "We are pretty excited about our Insta-Blend MCTs and VitalBlend Avocado Oil-based products going into keto-friendly products now," said Tracy Snider, marketing director, human nutrition and health, Balchem. The company is also utilizing new and improved technologies to elevate its healthy fats and oils. "Balchem utilizes continuous and batch agglomeration technology to make ingredients or finished food products less dense, more free-flowing and dispersible in liquids," Snider said. "Agglomeration creates a uniform particle size and distribution which reduces dustiness and improves mouthfeel."
Clearly, fats and oils are no longer the villains they once were; sugar, sodium and carbohydrates have largely taken that mantle. But this doesn't mean consumers are laxer about the types of food they eat; quite the opposite, in fact. To successfully utilize even healthy fats and oils in finished goods requires the right ingredients, technologies and compelling story to back it up.
Ingredients like PHOs and animal fats are being replaced with natural, recognizable oils and shortenings from well-known and healthfully perceived sources like avocados, olives, sunflower, grapeseed and coconut. Formulators, however, must be aware that not all sources are created equal, nor are they interchangeable. High-MCT coconut oil, for example, may be perfect to give texture and flavor to a nondairy ice cream, but unsuitable for more intensive processing involved in bakery snacks. Palm oil may be cost effective and devoid of trans fat, but some consumers may prefer the more sustainable story behind hemp heart oil instead.
In today's clean label world, even the ingredients utilized to preserve and maintain healthier fats and oils are under scrutiny. As Chandra Ankolekar, Ph.D., technical manager, bakery, dressings and oils, Kemin explained, "Consumers are demanding a switch from traditionally used synthetic antioxidants like TBHQ [tertiary butylhydroquinone], BHA [butylated hydroxyanisole] and BHT [butylated hydroxytoluene] to cleaner label additives like rosemary extract and green tea extract for extending oxidative shelf life." Mary Joe Fernandez—in her article "Polyphenol-rich botanical antioxidants extend shelf life of fats and oils naturally"—noted other ingredients replacing synthetic antioxidants include polyphenol-rich botanical extracts such as bilberry, grapeseed … lychee, resveratrol and pomegranate extracts." For brands looking to clean up their labels, healthier, more natural fats and oils alone aren't enough if the antioxidants preserving them don't follow suit. 
Clean label, as a term, is difficult if not impossible to completely and succinctly define. But as a movement, its core comes from consumers' increased desire to know and recognize the ingredients used to make the foods they eat—as well as their increased knowledge about those ingredients' origins. While this has led to the villainization of sugar and carbs, it has also led to a renaissance for fats and oils; the global market for edible oils, according to Euromonitor, surpassed US$100 billion in 2019. If a brand can differentiate and elevate its ingredients even further with an organic or non-GMO claim, all the better. Cargill's FATitudes survey showed 53% of respondents view "non-GMO" as a healthful declaration, while Euromonitor data show 10% of all edible oil SKUs (stock-keeping units) online contained an organic claim in 2019. As the market becomes more crowded, these additional seals and certifications will help to further position certain healthy fats and oils above the crowd.
For brands looking to produce tasty, indulgent treats that tick all the boxes—taste, texture, shelf life, visual appeal, compelling story, etc.—the answer is no longer to avoid fats altogether, but to use healthy, natural, sustainable sources consumers increasingly recognize and trust.
This market analysis was based on the Innovating with healthy fats and oils – digital magazine. Click the link to read the issue (as well as select articles noted above) in its entirety.
Subscribe and receive the latest insights on the healthy food and beverage industry.
Join 30,000+ members. Yes, it's completely free.
You May Also Like
---