USDA confirms glyphosate residues on organic chickpeas
USDA confirms glyphosate residues on organic chickpeas
A spokesperson for the U.S. Agriculture Department said "glyphosate is never permitted on organic production" since it is a "synthetic pesticide" that the agency's organic regulations prohibit.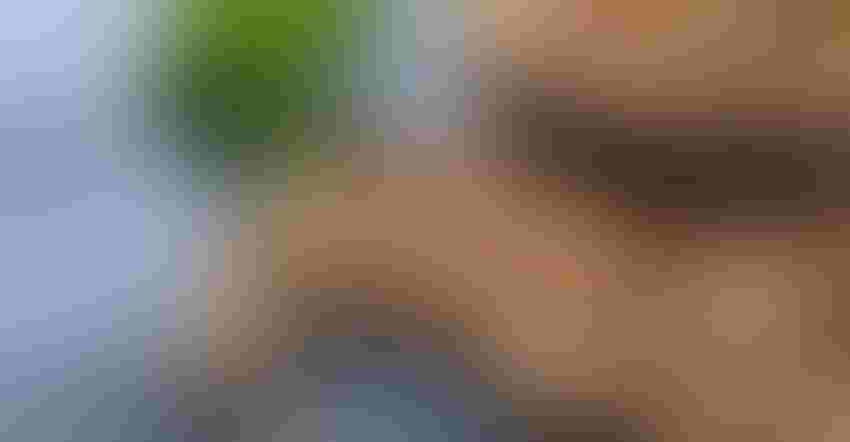 The U.S. Department of Agriculture recently verified an advocacy group's complaint that a brand of organic chickpeas tested positive for residues of glyphosate.
USDA's organic certification program guidelines forbid spraying glyphosate on organic crops, according to the Environmental Working Group (EWG), which brought the complaint.
In a June 24 letter sent via email, a USDA official, Keyana Francis, said the agency confirmed EWG's allegations that Harris Teeter Organics brand chickpeas/garbanzo beans tested positive for glyphosate.
USDA's "NOP (National Organic Program) investigated the supply chain for this product and confirmed that organic chickpeas supplied to Harris Teeter retail stores [were] handled by an operation currently certified by Organic Certifiers Inc.," Francis wrote to Alexis Temkin, a toxicologist with EWG. "The operation has modified its practices to prevent cross-contamination of organic products."
According to Organic Certifiers' website, the certification organization was among the first accredited to the USDA NOP standard in 2002. The certification entity did not immediately respond to requests for comment.
Subject to certain exceptions, under the NOP and USDA organic certification, organic operations cannot use synthetic substances during the production and handling of organic crops.
In an email, a USDA spokesperson said "glyphosate is never permitted on organic production" since it is a "synthetic pesticide" that the agency's organic regulations prohibit.
"Synthetic pesticides are permitted in other forms of agriculture as long as they comply with the Environmental Protection Agency's (EPA) established tolerances," the agency spokesperson added. "In general, EPA has established that residues of glyphosate on any food or feed item are safe for consumers if they fall under the tolerances."
In the summer of 2020, the issues raised by EWG were brought to the attention of Harris Teeter, a grocery chain and wholly owned subsidiary of The Kroger Co.
In October 2020, Harris Teeter eliminated from its product mix organic dry chickpeas in a bag, as well as organic garbanzo beans in a can.
"Product integrity is of the utmost importance to Harris Teeter," Danna Robinson, a spokesperson for the company, said in an email. "These items [targeted by EWG] were eliminated from our inventory more than eight months ago, in October 2020."
According to EWG, glyphosate is the world's most widely used herbicide. For years, EWG and other critics of the herbicide have asserted it can cause cancer and other health problems—as highlighted by a mountain of litigation against Bayer's Monsanto, whose Roundup weedkiller incorporates glyphosate.
Bayer continues to assert Roundup is safe. As part of a recent five-point plan to address litigation, the company disclosed it planned to create and promote a website with scientific studies relevant to Roundup's safety. The company quoted a brief filed recently with a U.S. appeals court, in which EPA asserted glyphosate "poses no human-health risks of concern."
EWG's complaint with USDA was filed after the advocacy group commissioned independent lab tests of Harris Teeter Organic Brand chickpeas. According to a news release from EWG, the tests showed an average glyphosate residue level that far exceeded EPA's legal limit for glyphosate on conventional chickpeas.
"The investigation further underscores why it is critical the USDA hold organic farming operations to a higher level of transparency – to best protect consumers from dietary exposure to glyphosate, as well as protecting the integrity of its own organic certification," Temkin said in the news release.
She added, "Those who choose to purchase organic chickpeas, hummus and other foods do so primarily to avoid toxic pesticides, which is why both the organic industry and the USDA should take every precaution possible to ensure these products are free of crop chemicals linked to cancer and other serious health problems."
Subscribe and receive the latest insights on the healthy food and beverage industry.
Join 30,000+ members. Yes, it's completely free.
You May Also Like
---