How an authentic Salvadorian delicacy found its way to the frozen food section
How an authentic Salvadorian delicacy found its way to the frozen food section
Fueled by her inability to find the traditional foods she grew up eating in local grocery stores, Cindy Duran launched Xinca Foods. In a short span, she transformed her vision into a successful business to honor her heritage.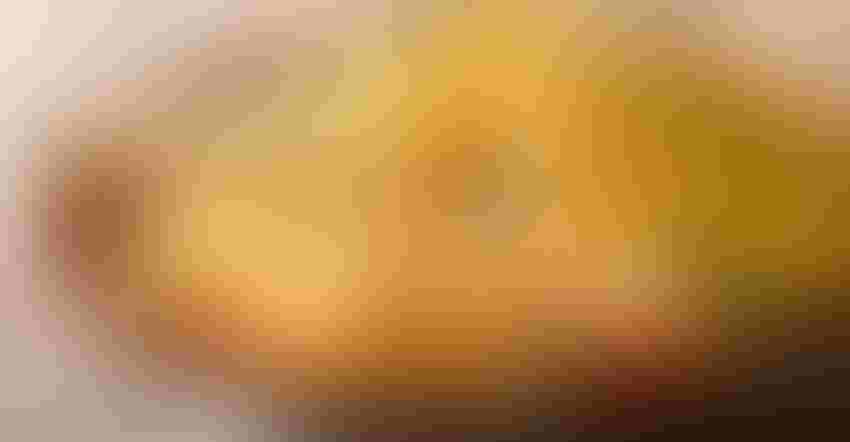 For Cynthia Duran, connecting with her Salvadorian roots and preserving the culture of small indigenous groups in Central America is at the heart of her family-owned company Xinca Foods. She launched the CPG brand after discovering the foods she grew up eating were not in  the frozen food aisles of local stores. In less than three years, Duran channeled all of her energy into a thriving business, which earned her recognition as 2023 New Hope Network NEXTY finalist for Best New Frozen Product.
Inspired by her love for Salvadorian delicacies, Duran crafted a line of frozen pupusas, which have been declared the national dish of El Salvador. Pupusas are thick, handcrafted corn tortillas traditionally filled with cheese, beans and/or meat. The tortillas are made from masa harina (dried corn dough) and flattened and shaped by hand before being cooked on a hot griddle.
The brand pays homage to the Xinca, non-Mayan indigenous people of Mesoamerica, with communities in southern Guatemala and its neighboring country El Salvador.
"The Xinca had their own language and their own food," Duran explained. "A lot of indigenous people are going extinct. I feel like because  [Salvadorans] are a small group of people, El Salvador is a small country and pupusas are our staple, why not use the Xinca name?"
Latin American flavors and ingredients are hot, according to Flavorchem's 2023 Flavor & Trend Forecast, which reported that they "will shift to the spotlight as consumers show greater interest in culinary exploration and flavor origin."
As the demand for culinary exploration increases among consumers, store favorites like Fila Manila, known for its Filipino fare, and Ayo Foods, which specializes in classic West African dishes and sauces, are standing out, inspiring newer, global brands. This trend aligns with the forecasted growth of the global ethnic food market, which is expected to reach $98.06 billion by 2028 with a compound annual growth rate (CAGR) of 10.33%.
The key ingredients
According to Duran, a good pupusa relies on the key ingredients, including a diverse range of cheeses, vegetables, beans and meats (commonly fried pork belly, otherwise known as chicharrón).
Ingredients in Xinca Foods' pupusas range from loroco (Fernaldia pandurata), a vine with edible flowers that is native to Central America, to curtido, a lightly fermented cabbage relish typical in Salvadoran cuisine. The company's popular bean-and-cheese filling uses refried beans without any lard, a healthier alternative to the traditional recipe.
"It's hard to replicate an authentic pupusa," Duran explained. "It all depends on the filling, and it's been a struggle to find authentic international markets [in Washington state]."
Incorporating unique and culturally authentic ingredients like loroco and curtido in pupusas allows Duran to share a piece of her culture with the public. Loroco, with its delicate sweetness and earthy aroma, is commonly used as a filling or topping in Central American dishes such as tamales and empanadas. It can also be added to salads, soups, or used as a garnish. With low calories and fat, loroco is a natural ingredient with versatile uses.
Curtido, meanwhile, adds distinctly tangy and slightly sour notes to pupusas, enhancing their flavor profiles. The crunchy condiment complements savory flavors and is packed with fiber, vitamins (including vitamin C and vitamin K) and minerals.
Despite the challenges posed by availability, Duran takes special care in selecting ingredients like lentils, red bell pepper, cheese and chipilin (Crotalaria longirostrata)—a flavorful herb derived from a leafy spinach-like plant in Central America. Chipilin adds a unique herbal and citrusy note to the pupusa filling, reflecting the true essence of traditional Salvadoran cuisine.
Pupusas also include natural non-GMO masa, vegetables and spices, plus no artificial preservatives. These ingredients allow pupusas to maintain their distinct flavor and freshness for a shelf life of up to six months without unhealthy preservatives.
To ensure Xinca Foods' pupusas maintain the intended shelf life, they are flash frozen. By freezing food quickly, nutrients, texture and flavor are locked in, preserving the quality of the food, Duran said.
"I freeze them to ensure that we can preserve a lot of the product for a longer period instead of having to throw it away," Duran explained.
Sweet treats are on the way for Xinca
Duran's sustainable mission drove her to overcome the challenges of sourcing fresh ingredients by prioritizing a local and minority-owned company. "I actively collaborate with multiple women and minority-owned businesses. From my packaging, website, logo and nutritional labels to all the materials I use for food shows, they all come from women-owned businesses."
Xinca Foods' processors in their Washington facility, meanwhile, contribute to sustainability by utilizing 85% renewable energy and implementing automation to reduce waste, but many of the company's products are made by hand to ensure the highest level of quality. "We're committed to cutting down on food waste and making sure that our goods are not only tasty but also good for the environment," Duran said.
What's up next for Xinca Foods? A few new products are scheduled to launch in 2024, including gluten-free dessert quesadillas made with rice flour and sugar.
"That's how they make [them] in El Salvador, and I want to stick to the authentic version of the recipes," Duran said. "They will be frozen as well, and more of a take-and-bake product because the aroma is mesmerizing."
Tedi Delashmet is the content producer for Food & Beverage Insider at Informa Markets. Her experience includes feature writing and production, as well as an internship covering Chicago's culinary landscape. She is based in Los Angeles.
Subscribe and receive the latest insights on the healthy food and beverage industry.
Join 30,000+ members. Yes, it's completely free.
You May Also Like
---