Devil's Foot Beverage's new program puts a fresh spin on imperfect fruit
Devil's Foot Beverage's new program puts a fresh spin on imperfect fruit
The founder of the North Carolina-based company created Full Fruit Life Program, a new upcycling initiative to supply otherwise discarded fruit components to local food and beverage brands.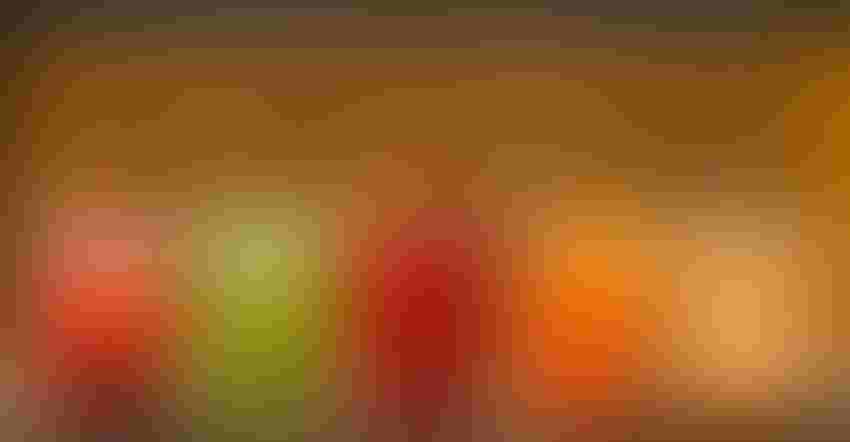 Take a look at the ingredients in a typical can of soda, and high fructose corn syrup or sugar leads the list, followed by a slew of unpronounceable ingredients. Ben Colvin, co-founder of Devil's Foot Beverage, set out to change that narrative with a farm-to-can business model that brings locally sourced, natural ingredients directly to the consumer with far less sugar.
His foray into the nonalcoholic beverage space came about when he and his wife were expecting and decided to celebrate at a local brewery with friends. The only problem: There was literally nothing his pregnant wife could drink besides water. As Colvin sat amongst friends at the brewery, it sparked his desire to develop a craft beverage that complements beer. That's when he and Jacob Baumann, Devil's Foot Beverage's co-founder, decided to collaborate.
Colvin and Baumann also took a more sustainable approach to their beverages (i.e. flavored lemonades, limeades and ginger beers) by using the entire fruit. This ethos led to Devil's Foot Beverage's Full Fruit Life Program, in which fruit byproducts that are typically thrown out, like cherry pits and citrus zest, are repurposed by other companies. It's a practice commonly known in the F&B industry as upcycling.
Colvin explained how it works. "We make a blueberry lemonade, a peach lemonade, a cherry limeade and that full-fruit life still comes into play. Sometimes, we're getting every bit out of that fruit, and other times the pits sometimes keep you from getting everything out of the cherries. So, we'll take those and vacuum pack them and save them for brewers, and after they've made a lager or something, they'll go and throw our cherries on the ferment at the end that gives them this kind of pink color and a little bit of this cherry flavor to it."
In terms of the citrus fruits, the arduous process of zesting—which early on included cheese graters or hand drills—has been made far easier with the purchase of an industrial zester. "It zips it off and it often almost looks like big like spaghetti of lemon zest," he explained. "My guys keep zesting and get a couple cases ahead of time, then start juicing while they're still zesting and get multiple things going at once. And the next thing you know I've got five-pound bricks of lemon zests vacuum packed and frozen." The process also seals in flavor because (the fruit components haven't) been dehydrated. Brewers, distilleries and tea companies then use that in their own products.
Some of the local companies participating in the Full Fruit Life Program include Asheville Tea Co., Archetype Brewing and Well Seasoned Table.
Colvin, who worked in conservation for many years, believes the Full Fruit Life Program also dovetails with the company's business philosophy. "If we're putting all the care and effort into bringing in really great product and caring to pay local farmers and people that make really great things, you should respect those things and use them as best you can," he said. "It's also a lack of respect for the product and details of sustainability that we work under to be losing a big chunk of product that has use."
The program also ensures that revenue isn't being wasted, but Colvin noted how Devil's Foot Beverage isn't doing it for the money; in fact, the program is just one part of a diversification strategy that they leaned on during the Covid-19 pandemic. "You're putting all your eggs in one basket and a pandemic hits and affects that basket, you're in trouble," he said. "If you've got some classic distribution of your cans, plus onsite sales, plus onsite venue, it works." The latter just received a big boost with the opening of the company's new 15,000-square-foot facility last summer—a significant upgrade from its original 2,500-square-foot space. The business is currently producing 20,000 cans each week, with the capacity to churn out up to 4 million cans a year.
The front half of the facility is being used as an event space and taproom, which is also where they're experimenting with new alcohol-free beverages and cocktails. Colvin stressed though that he remains committed to the nonalcoholic community; this is another way to diversify and provide a better, less-syrupy drink.
Kizzy Cox is an award-winning multimedia journalist and native New Yorker. As a freelance journalist, she covers everything from lighthearted films to deep-dive enterprise stories. Her work has appeared on TV and radio for the BBC, where she continues to freelance.
Subscribe and receive the latest insights on the healthy food and beverage industry.
Join 30,000+ members. Yes, it's completely free.
You May Also Like
---