Meal support flavors go global – article
Meal support flavors go global – article
From street food to mashups, more consumers are traveling the world from their home kitchen, while brands try to keep up with demand for new flavor trends.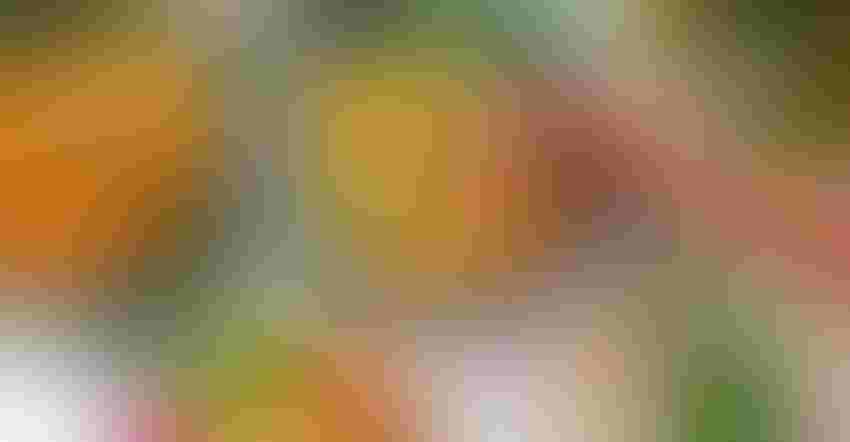 The meal support trend was growing well before the events of 2020, but as grocery sales took off at an exponential pace, so too did the sales of food bases, marinades, sauces, spice mixes and even meal kits. Sales of monthly meal kits doubled through mid-April of 2020, reaching $100 million, according to Nielsen, while the Organic Trade Association reported record growth of 44.8% in ethnic sauces, 51.4% in spices, and 31.2% in condiments. While cooking at home, people increasingly looked for new innovative comfort food options, and convenience as cooking fatigue set in. With restaurants closed, consumers also created their own culinary adventures—stirring up foods that would let their palette travel the globe from their kitchen. "Consumers are seeking an escape from everyday cooking with new global forms and flavors," says Chef John Stephanian, vice president, Culinary Innovation at ADM.
Although accelerated by the pandemic, this elevated at-home cooking trend is not expected to dissipate any time soon. IRI recently reported that 53% of Americans who are creating more meals from scratch intend to continue post-COVID. Combine this with the fact that as North America becomes more culturally diverse, consumers are expressing a desire to understand and experience authentic products that have the potential to expand their knowledge of various global trends. Shoppers are showing an increasingly adventurous attitude in their purchasing decisions with the Hartman Group reporting that 70% of Gen X and Millennials say they enjoy trying food from different cultures and countries.
Ultimately, what this means for brands is that as their customers become bolder and more curious in their eating habits, new product opportunities abound to spice things up across categories. Sauces, spice blends and marinades are all vehicles for flavor and provide an opportunity for new culinary experiences at home.
"The opportunity to excite consumers with new flavors, global food favorites and products is growing at an exponential rate," says Stephanian.
Yet, just because consumers are ready for more than taco seasoning or teriyaki sauce, doesn't mean all brands are in a position to serve their needs. For brands, being on top of these consumer trends, and even more so, able to meet the demand for new flavors, means having the right development partner, one who is at the forefront of innovation and powered with chef shortcuts, culinary creations and expertise designed to get them to market fast.
The Global Stage
As taco spices have given way to chimichurri and traditional Asian flavors have moved from teriyaki and curry to sriracha and Korean (Bulgogi) meat, it's clear that authentic products don't just come from cookbooks—they derive from street food and known national dishes alike. For instance, Italian-inspired creamy Calabrian chili dip is made from a base of chili peppers that originate from the Calabrian region of Italy. Or, romesco covered roasted potatoes use a tomato-based sauce originating from Valles, Tarragona, Catalonia and which is typically made from any mixture of roasted tomatoes, garlic, toasted almonds, pine nuts, hazelnuts, olive or sunflower oil and nyora peppers. And, Korean (bulgogi) meat, also referred to as "fire meat," is made of thin, marinated slices of beef grilled on a barbecue or a stove-top griddle. The meat is tender and juicy, seeping with mildly sweet, savory, smoky flavors from the soy, sesame, garlic and ginger marinade.
Collette Perozzi, director, Culinary Marketing for ADM states that food innovation starts by using its propriety research and an extensive network of global trend-spotters to identify emerging market opportunities. It then combines these global trend insights with its "real chefs, real food, real results" focus to bring these flavors to life, or for brands, to bring these flavors to consumers in a range of forms and formats. "Beyond our trend-spotters and research, ADM has a global network of chefs, mixologists, baristas, and food scientists, who understand how to turn trends into disruptive culinary solutions," says Perozzi.
Beyond Trendspotting
"Disruptive culinary solutions" is one way of putting it. For certain, being innovative goes beyond just bringing authentic products to new tables. It also means mixing ingredients and food types that might have once seemed like an unlikely pairing. For instance, while consumers tend to crave comfort food during times of upheaval, comfort foods 2.0 are leaner and more flavorful, updated with exciting ethnic flavors and ingredients that provide some functional benefit. "Think tomato sauce updated with blistered red peppers and smoked gouda cheese, creating a vegetable-forward comfort food with an ethnic-fusion twist," explains Chef Bill Cawley, director, Culinary Innovation at ADM.
Taken one step further, mashups are becoming common on menus as the new fusion dish. As their name suggests, mashups bring together food cultures and flavors that aren't necessarily obvious partners. Think Korean and Jamaican, Dutch and Indonesian, Mexican and Mediterranean. Pagu restaurant's lobster roll made with brioche, avocado, Asian pear and black sesame or the Cambridge, Mass restaurant's mushroom tortilla with tamari aioli are yummy examples. Similarly, Chicago's Vermilion serves up Indian and Latin-based mashup dishes such as Brazilian seafood stew with fenugreek and South Indian tomato rice, or its street food-inspired Spanish artichoke "pakoras," an appetizer of Indian fritters served with a coconut eggplant chutney. Yet, mashups don't have to be global as shown by Hawaii's Morning Glass Coffee, which offers mac & cheese pancakes complete with bacon and maple syrup or New York City's Red Farm's pastrami egg rolls made with pastrami from Katz's Delicatessen.
Back to the Basics
Food innovation also doesn't have to be dramatically different. It can simply be new flavors added to old favorites or classics. These are seemingly little changes with a big influence. Think of chili oil for instance—65% of consumers who have tried chili oil love or like it reports Dataessentials. Generally consisting of oil infused with chili peppers, it's a simple concept that has grown 42% on menus over the past four years and is expected to have staying power. Similarly, poised to be the next sriracha, hot honey is another twist on a longstanding classic. According to MenuTrends Infinite, hot honey has grown 176% on menus over the past 4 years. Already available on retail shelves and menus, it has the potential to be the next big flavor in retail snacks.
Trend to Reality
While a lot of trends have the potential to be the next big thing, turning research into real food requires expertise. "We're at our best when we're on the cusp, working as partners, co-creators and instigators to bring game-changing ideas and innovations to our customers," says Chef Kim Reichert, director, Culinary Innovation at ADM. Yet, when pushed further, it's clear the key is all about keeping things "real." "It's real people, making real food, based on real insights—that's really the company's secret sauce. Following trends is one thing, being able to predict, innovate and stay on top of this market is another. And then there's the need to translate these trends into foods that excite and capture the attention of consumers."
Subscribe and receive the latest insights on the healthy food and beverage industry.
Join 30,000+ members. Yes, it's completely free.
You May Also Like
---