From flavor to health: A guide to making tart cherries a go-to ingredient
From flavor to health: A guide to making tart cherries a go-to ingredient
The crimson super fruit is increasingly being used as a key ingredient due to its sour taste, which aligns with the growing consumer preference for less-sweet options and functional products. Find out why tart cherries stand out from the crowd.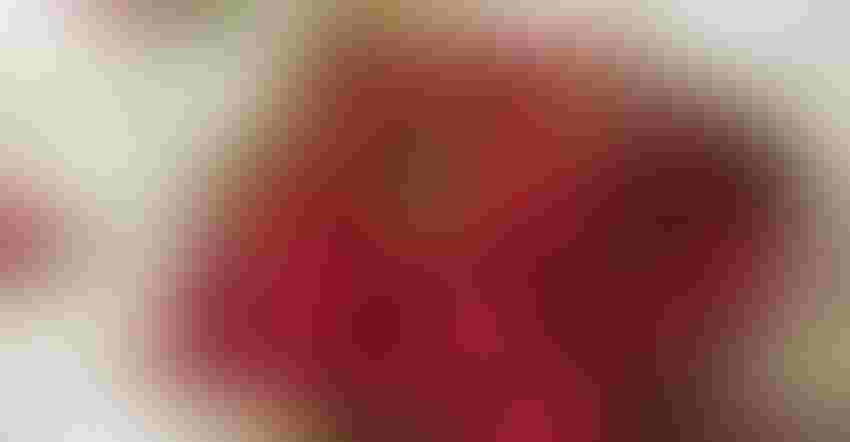 Tart cherries (Prunus cerasus) are staple ingredients in decadent pies and syrupy sodas, however, times are changing. Over the last six years, the number of new tart cherry products introduced in the F&B market surged by 94%, according to Mintel's 2022 Global New Products Database. Product development teams are getting creative and launching a myriad of snacks and beverages targeted toward health-conscientious consumers.
"Survey types of new products with tart cherry, and ask yourself, 'Is it functional/wellbeing, snack, meal incorporation?'" Alexandria Wyandt, food product developer and "culinologist" for Culinex, said. "Then understand what flavors are trending and what would pair well with the cherry. Next would be to focus on the type of cherry ingredients available and brainstorming how each would fit into the different platform styles."
According to custom research conducted by Datassential in November 2022, there has been a growing preference for sour, less-sweet flavors, as well as an increased desire for functional products in the food and beverage industry. The market research firm surveyed 1,500 consumers and found the popularity of the sour taste is closely linked to the pursuit of health and wellness.
"With 80% of tart cherries' top-growing claims related to a functional benefit, there is an opportunity to create a product that is functional and flavorful," Nate Chesher, marketing director for the Cherry Marketing Institute, said.
Montmorency tart cherries stand out from the crowd. They are cultivated on small family farms in North America and are known as "The Cherry With More," according to the Cherry Marketing Institute. Their deep red color can be attributed to their high concentration of anthocyanins, which possess antioxidative and antimicrobial activities, improve visual and neurological health, and protect against various noncommunicable diseases, per scientific research.
By incorporating Montmorency tart cherries in food and beverage products, product developers can align themselves with the current trends that consumers are increasingly drawn to. Whether it's the demand for clean labels, rise of plant-based products or the search for less-sweet functional foods and beverages, tart cherries are a versatile ingredient.
Functional properties. Drinking a glass of tart cherry juice may provide an added benefit, scientific research shows. "According to Nutrition Business Journal, sleep and relaxation is a fast-growing category of functional foods and beverages, with 13.7% growth from 2020 to 2021," Chesner said. "Cherries are one of few fruits that naturally increase melatonin." Tart cherries, in particular, have been highlighted in studies to potentially reduce the risks of stroke, heart disease and diabetes, and manage weight loss.
Versatility. In the realm of flavor trends, tart cherries are elevating a diverse range of product applications. With zesty acidity, cherries are applicable in sweet and savory culinary creations, making them a go-to ingredient for flavor innovation. Their unique flavor profile pairs well with cayenne, chipotle, habanero, ancho, serrano and other chili peppers. Due to their lower natural sugar content, tart cherries have also gained popularity as a key ingredient for keto-friendly desserts and snacks, including jerky.
Sustainability. Cherry growers actively engage in initiatives aimed at enhancing cherry production through the implementation of effective management practices. They prioritize a cautious approach to minimize pesticide usage and associated risks. The industry has embraced Integrated Pest Management practices to mitigate potential hazards for growers and the environment, ensuring the delivery of high-quality and uncontaminated fruit. Additionally, the adaptability of tart cherry trees to their local environment optimizes resource utilization, reducing the need for excessive irrigation and fertilization.
A fun fruit. Tart cherries have expanded beyond the traditional baking aisle and are now being creatively incorporated into various products. Examples include Tart Cherry Chai Spice made from cherry puree, vinegar-based beverages like shrubs, condiments such as Ghost Pepper Tart Cherry Korean BBQ Sauce, tangy tart cherry relishes and dried cherry jerky.
Tedi Delashmet is the content producer for Food & Beverage Insider at Informa Markets. Her experience includes feature writing and production, as well as an internship covering Chicago's culinary landscape. She is based in Los Angeles.
Subscribe and receive the latest insights on the healthy food and beverage industry.
Join 30,000+ members. Yes, it's completely free.
You May Also Like
---