Indulgence, sustainability highlight latest almond innovation
Indulgence, sustainability highlight latest almond innovation
Affordable indulgence and sustainable farming highlighted trends presented at the 2020 Almond Conference presentation, "Innovating with Almonds to Satisfy Today's Consumer."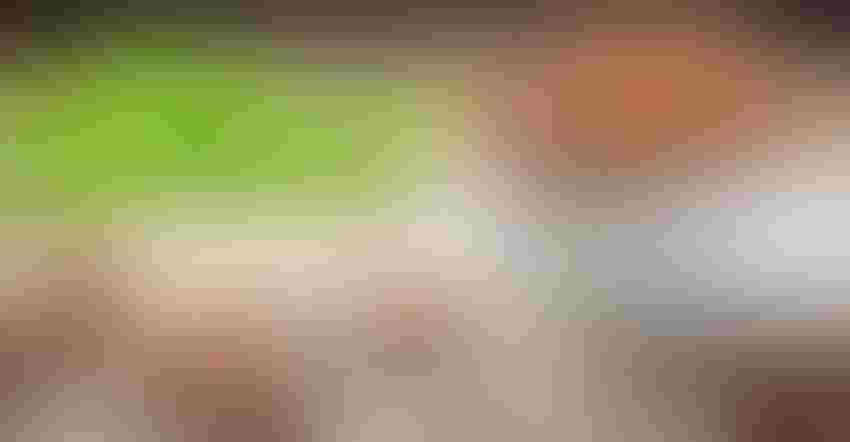 The Almond Board of California (ABC) held its (virtual, of course) 2020 Almond Conference this week. Though, like much of 2020, the event had a rather different look and feel than years past, one familiar constant was the wealth of information if offered. The past year has been difficult for everyone, but if the conference's "Innovating with Almonds to Satisfy Today's Consumer" is any indication, both the present and future are bright for almond consumers, growers, processors and finished goods brands alike.
The conference, chaired by ABC associate director of trade marketing and stewardship Harbinder Maan, featured three speakers: Lu Ann Williams, director of innovation at Innova Market Insights; Emily Lafferty, who leads strategic sourcing at Simple Mills; and Shawn Houser-Fedor, senior director of chocolate and packaging research and development for the Hershey Co.
Williams spoke first and highlighted the latest trends in food and beverage, all of which were bullish for almonds as an ingredient. The rise in popularity for almonds has been largely driven by the popularity of the plant-based movement, Williams said. From 2015 to 2019, food and beverage with a plant-based claim which included almond as an ingredient—think creamers, beverages, snack bars and more—increased 60%. Almonds' combined natural positioning and functional properties such as vitamins and minerals and protein content were especially popular with today's ever-health-conscious consumers.
That increased focused on health and wellness, according to Williams, also led to a soar in popularity among probiotic products with almond as an ingredient, such as plant-based yogurts. Vegan and other "mindful consumption" claims, such as traceable ingredients and environmental awareness, were also popular.
In this COVID-19 era, consumers are also looking for what Williams called permissible indulgence. This includes experimentation with flavors and textures, as well as what she described as "affordable premium."
Hershey's Houser-Fedor echoed those sentiments, noting an increased popularity in chocolate products including almonds. She noted in particular how Hershey's consumers desired not just almonds, but whole almonds specifically. As an example, she presented Hershey's move from whole to chopped almonds in its signature bars to give consumers almond in every bite. Consumer complaints skyrocketed, and eventually the company returned to whole almonds in its bars; when it did, in Nov. 2018, sales increased 24%.
Both Houser-Fedor and Lafferty spent considerable time discussing the almond industry and its customers' focus on sustainability efforts. Houser-Fedor called it "doing well by doing good" when describing Hershey's sustainability goals, which include demand for meaningful action against climate change, a commitment to reducing greenhouse gasses in accordance with the Paris Climate Agreement and ensuring fair farming practices. Lafferty discussed the importance of regenerative agriculture and a focus on improved soil health, increased biodiversity and empowerment of farmers. She also noted the Almond Board's 2025 sustainability goals, especially related to reductions in water usage.
That focus on both how and by whom almonds are grown isn't just ethical, either; it's what consumers demand. According to Williams, 60% of consumers indicated an interest in learning more about how and where their food is grown, and 75% believe companies should invest in sustainability initiatives.
Over the course of the hour-long presentation, the themes of innovation and responsibility became clear. And if 2020 is any indication, 2021 should bring continued improvement in both areas to the almond industry and larger food and beverage market.
Subscribe and receive the latest insights on the healthy food and beverage industry.
Join 30,000+ members. Yes, it's completely free.
You May Also Like
---