Recent study claiming veganism is waning disputed
Recent study claiming veganism is waning disputed
While a 2022 report shows interest in vegan-focused lifestyles are on the decline, new vegan products continue to hit the market, according to Mintel trends expert Lynn Dornblaser.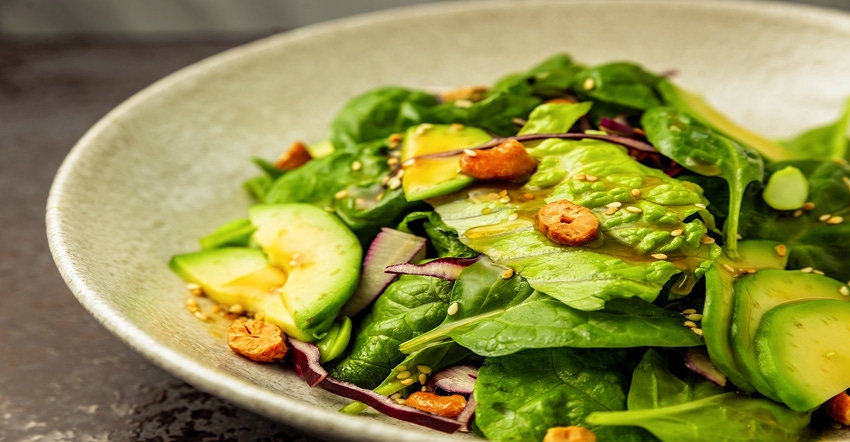 A 2022 report by Chef's Pencil analyzing Google Trends data shows interest in veganism may be dwindling. A market expert, however, contends the category surges ahead with steady growth.
The study used Google Trends data to analyze the global popularity of vegan-related search terms from April 2021 to April 2022. The data measured search popularity terms such as "veganism," "vegan restaurants near me," "vegan recipes," "vegane rezepte" and "vegan essen."
Google Trends determines the relative popularity of search terms based on a score of 0 to 100, with 100 indicating a high level of search interest. Google Trends data can be segmented by time and location.
To determine relative popularity, the search term is compared against all searches that were conducted within the designated time range and location. Importantly, regions that show the same search interest for a term don't necessarily have the same search volume. Chef's Pencil also released veganism popularity reports in 2020 and 2021.
Compared to its previous studies, Chef's Pencil's analysis of the data showed a marked decline for vegan-related search terms in Q1 of 2022 compared to Q1 of 2021 and Q1 of 2020. The decline, the report indicated, started in 2021.
Per Google Trends data spanning 2017 to 2022, global veganism search popularity peaked in Q3 and Q4 of 2019 with a score of just over 80. In Q1 of 2022, the global score for veganism popularity dipped below 60.
The trend was similar in the United States, with a peak score of more than 80 in 2019 and a gradual decline to about 60 in Q1 of 2022. Some countries, such as Australia, saw more extreme declines in popularity—from a score of more than 80 in 2019 to slightly above 40 in Q1 of 2022.
According to Lynn Dornblaser, director of innovation and insight at Mintel, new vegan product launches indicate demand for vegan foods and beverages remains steady, and even growing.
Vegan claims, in fact, are most popular among products with vegan- or vegetarian-related product claims, appearing on about 10% of all product introductions, per Mintel data. Vegetarian claims only appear on about 2% of all product introductions.
Similarly, plant-based claims have increased every year since 2018, Dornblaser said, appearing on 4.75% of product introductions in 2022, compared to 1.6% in 2018.
"It also should be noted that vegan claims were much lower in 2018 and earlier; similar with plant-based," Dornblaser explained. "Vegetarian, however, has been relatively steady over a longer period of time. That indicates that vegan and plant-based are the popular claims that seem to convey values that consumers are looking for."
Meat and meat substitutes categories have seen increases in vegan offerings, Mintel data show, as well as sauces and seasonings, dairy and ice cream, and bakery. Vegan bakery offerings, Dornblaser noted, are "almost without exception … products that make other statements regarding healthy formulations. And many of those bakery products are cookies and crackers."
The meals, side dishes and snacks categories have seen declines in vegan claims, according to Mintel data.
Dornblaser said the vast majority of consumers (85%) eat animal-based foods at least sometimes. These consumers, she added, self-identify as omnivores, carnivores or flexitarians.
"The total percent of those consumers has stayed relatively the same over the last few years," Dornblaser said, "but we have seen shifts within those three designations, with fewer consumers in 2022 saying they are carnivores, and more saying they are omnivores or flexitarians. This indicates to me that more consumers are experimenting with foods that are meat- or dairy-free."
Younger consumers like Gen Z and Millennials are more likely to claim a noncarnivore eating style, she added, "indicating that it is these generational groups that are driving vegan product introductions and 'buzz.'"
Dornblaser expects interest in alt-animal products will continue to increase as more younger consumers enter the market "and as companies find ways to make alternatives that are 'cleaner' (in terms of simple formulation), and have increasingly good taste, texture and performance."
Rachel Adams joined Informa's Health & Nutrition Network in 2013. Her career in the natural products industry started with a food and beverage focus before transitioning into her role as managing editor of Natural Products INSIDER, where she covered the dietary supplement industry. Adams left Informa Markets in 2019.
Subscribe and receive the latest insights on the healthy food and beverage industry.
Join 30,000+ members. Yes, it's completely free.
You May Also Like
---