Natural colors and flavors are worth the challenge, experts say
Natural colors and flavors are worth the challenge, experts say
The growing trend of natural colors and flavors has prompted companies to develop healthier alternatives to artificial copycats.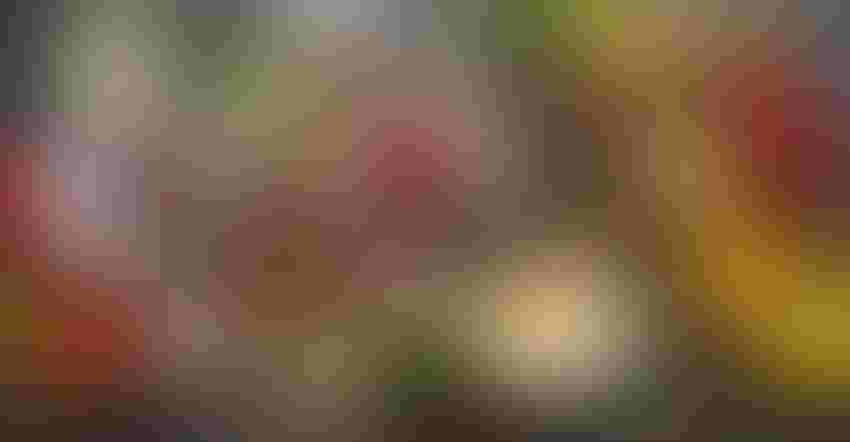 Since the early days of mankind, how a food looks has had a significant influence on whether someone wants to eat it—which could be why some scientists say it's likely no coincidence that the mouth is situated close to the brain in most animal species.
People today have many more mouthwatering images at their disposal than ever before, whether on TV, in a celebrity chef cookbook or on social media, and it's driving up the standard for what's enticing.
At the same time, consumers are beginning to understand artificial ingredients might not be the healthiest, which also applies to the substances that color (and flavor) these bright, fun products.
In 2021, a report by the California Environmental Protection Agency's Office of Environmental Health Hazard Assessment (OEHHA) linked artificial food dyes to hyperactivity and other behavioral issues in children. "Natural" food colorants such as cochineal extract have also been linked to potential allergic reactions. These findings, along with a general trend toward prioritizing natural ingredients, have set the stage for natural colors and flavors to appeal to clean label consumers across the board. The good news? Brands and ingredient suppliers are dedicated to finding the brightest, tastiest natural ingredients so that consumers of all ages can still enjoy the eating experience they expect.
Experts from three brands—Dr. Praeger's, reHarvest Provisions and Sambazon—talked with Food & Beverage Insider about the growing natural colors and flavors market, trending ingredients and what they wish they knew about these sometimes-finicky ingredients when they started.
Food & Beverage Insider: Why are consumers focusing on natural colors and flavors?
Manu Johnson, senior director of innovation and commercialization, Sambazon: The wish for more natural and organic foods has now become mainstream when shopping for whole foods such as fruits and veggies; however, a growing number of consumers are now hyper aware of how synthetic additives, artificial flavors and colors may in the long run generate discomfort such as headaches, stomachaches, mood swings and, in some cases, even trigger or exacerbate existing allergies. As a result, we are starting to see consumers with no specific food intolerances shy away from anything that sounds like chemistry and opt for all-natural ingredients in the first place. This aspect is even more relevant when it comes to kids' nutrition.
Dana Hill, SVP of R&D, Dr. Praeger's: Natural colors and flavors are very on trend, and vegetable, fruit and naturally derived colors continue to gain momentum. This is driven by consumers' desire for cleaner ingredients and eliminating chemical/artificial ingredients from their food. The advances in natural color development now allow for a wider variety of vibrant colors that are not only clean label but also deliver on shelf life and are more process tolerant. This means we will see more natural color options in our food.
Food & Beverage Insider: What natural ingredients are trending or emerging in the colors/flavors space?
Kathryn Bernell, founder and CEO, reHarvest Provisions: Right now, we are seeing superfoods, adaptogens and pre/probiotics reigning supreme as key ingredient inclusions, and brands are working to multipurpose certain superfoods as colorants. For example, rather than employing food dyes, brands are starting to pull in superfoods like blue spirulina or turmeric (which is what we at reHarvest Provisions use) to serve up color, flavor and additive benefits.
Johnson: I would say that anything that resonates with immunity and gut health will remain a major attention grabber in 2022 and beyond. In addition, we are seeing the emergence of brain health, sleep and relaxation benefits as strong asks from consumers who are seeking calm and relief from the rather uncertain time we are living in. This is where omegas (also found in açai berries), adaptogenic herbs and mushrooms such as ashwagandha and reishi will play an ever more prominent role in the years ahead, thanks to their balancing and modulating properties on mind and body.
From a color trend, we will continue to see lots of warm yellow and orange from citruses and pineapples, which again reconnect to the immunity claim. From a flavor perspective, roots like ginger and tangerine will keep adding a kick of warmth and delicate freshness to foods and drinks across categories. Another source of flavor inspiration will come from botanicals because they are perceived as "better for you" in some ways. We will see a growing use of unusual flavors from flowers such as hibiscus and herbs like lavender infusing a variety of foods, especially beverages.
Food & Beverage Insider: What are some lessons you've learned along the way about using natural colors and flavors?
Bernell: I find that organic and naturally occurring colors operate vastly differently from chemical compounds; there are entirely different shelf-life and flavor impacts when you incorporate a more bioactive ingredient/color like blue spirulina than if you employed blue food dye. I wish I had a better understanding of the interactions these ingredients would have when I began but have found that over the course of building our assortment, I've come to see the nuances to these types of inclusions.
Hill: Not all natural colors and flavors are created equal. The naturals tend to be more sensitive than their artificial counterparts and will not always be a direct substitution. When selecting natural colors and flavors, developers must consider many factors—including but not limited to how the natural color or flavor is produced or processed, shelf life before and after conversion into a finished product, and most importantly, knowing what your consumer expectations are related to color and flavor delivery in your final product at time of consumption.
Melissa Kvidahl Reilly (melissakvidahl.com) is a freelance writer with more than a decade of experience covering the natural products industry, from food and beverage to personal care, from research developments to market trends. Her work appears in a number of industry publications, including Natural Products Insider, Food & Beverage Insider, Natural Foods Merchandiser, Delicious Living and more. She lives and writes in New Jersey.
For additional related content, check out the "A vibrant alternative: Advances in natural color & flavor" digital magazine.
Subscribe and receive the latest insights on the healthy food and beverage industry.
Join 30,000+ members. Yes, it's completely free.
You May Also Like
---