Study links synthetic red food dye to gut inflammation
Study links synthetic red food dye to gut inflammation
A new study in mice suggests synthetic red food dye disrupts the gut barrier and increases serotonin in the gut, increasing the susceptibility to intestinal inflammation.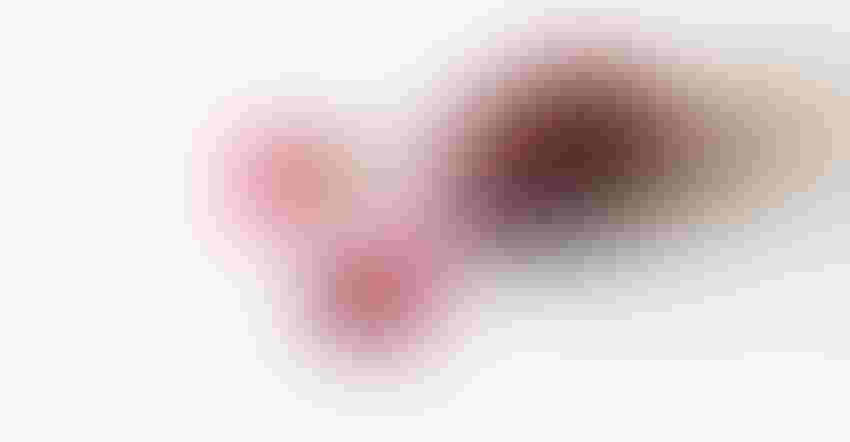 Long-term exposure to a synthetic red food dye could trigger inflammatory bowel diseases (IBD), according to a new study (Nature Communications. 2022;13:7617). The red food dye—known as Allura Red, FD&C Red 40 and Food Red 17—is commonly used to color food and beverage products such as candy, beverages, dairy products and cereals.
For the study, published in Nature Communications, researchers set out to understand how long-term exposure to the red dye affects gut health and, specifically, a type of intestinal inflammation called colitis. The study was conducted in rodents.
"Despite being highly prevalent in our diet, it is poorly understood how [Allura Red] influences intestinal inflammation," researchers wrote.
The researchers fed mice either a normal diet or a diet with Allura Red dye for 12 weeks, followed by 3.5% dextrane sulfate sodium (DSS), used to induce colitis, for seven days. The amount of dye fed to the mice was calculated based on the acceptable daily intake in humans.
The results showed the synthetic dye disrupted gut barrier function and increased the production of 5-hydroxytryptamine (5-HT, or serotonin), a neurotransmitter found in the gut.
"...Our findings indicate colonic inflammation by [Allura Red] exposure was associated with higher colonic 5-HT levels," the researchers wrote. "It has previously shown that 5-HT directly downregulates the intestinal epithelial barrier proteins, suggesting that increased 5-HT levels may exacerbate the effects of [Allura Red] exposure in the impairment of the epithelial barrier function."
This, subsequently, alters the composition of the gut microbiota and causes increased susceptibility to colitis.
In recent years, synthetic food dyes, including Red 40, have come under fire by consumers and advocacy groups, which contend the food ingredients cause hyperactivity and behavioral issues in children. Add to that a broader move by consumers toward natural products with clean labels, and it's no surprise that demand for natural colors in food and beverages has picked up in recent years.
In fact, data from from Mintel showed more than half of consumers (52%) said they feel that products positioned as "natural" are healthy. Similarly, proprietary data from ADM showed more than 60% of consumers avoid artificial coloring in foods and beverages.
Natural colors, however, come with unique challenges not shared by their synthetic counterparts, such as flavor imparted by the natural source, sedimentation and cloudiness, and sensitivity to light and heat.
Ingredient and product developers alike have taken strides to create solutions that meet consumers' demands for naturally colored products. Read more about natural color solutions for food and beverages in Food & Beverage Insider's "A vibrant alternative: Advances in natural color & flavor" digital magazine.
Subscribe and receive the latest insights on the healthy food and beverage industry.
Join 30,000+ members. Yes, it's completely free.
You May Also Like
---