Day 2 at Food ingredients Europe: Women's Networking Breakfast
Day 2 at Food ingredients Europe: Women's Networking Breakfast
The seventh-ever event included power networking, plus panelists challenged global food systems and how they can be more inclusive for female-led farms and other businesses.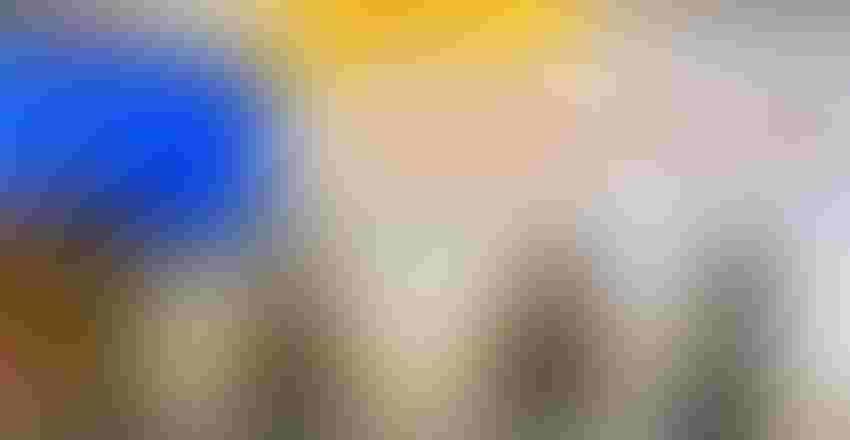 A sure sign of how far women have come in the food & beverage world was the sold-out Women's Networking Breakfast at the Food ingredient Europe show in Paris. Held on the second day of the in-person program for the 10-day conference, the empowering, early-morning session attracted a diverse roomful of women representing many facets of the food world. [Here are highlights from day one of the conference.]
The seventh-ever gathering was more than a social affair as its purpose was to candidly discuss women's roles in building sustainable food systems and businesses. This occurred during two panels, with the first moderated by Niamh Michail, senior content editor, Fi Global; and second by Heather Granato, partnerships and sustainability, Informa Markets.
Michail's panel assembled an all-star cast of characters driving change as global food systems face uncertain futures. It was comprised of Mathilde Jakobsen, CEO/co-founder, Fresh.Land; Eléonore Lafonta, associate, Five Seasons Ventures; and Chhavi Jatwani, head of design innovation, Future Food Institute. Michail set the tone for the discussion by asking them what sets women apart from their male counterparts as they strive to make more purposeful changes industrywide.
Mindfulness over materialism
For Jakobsen, whose business serves as a global digital marketplace for farmers to sell fresh products directly to retailers and consumers, that means looking beyond the bottom line. It's a more mindful approach that first considers the farmers and their well-being. Additionally, her business model has eliminated the middleman, which means there are no warehouses and produce does not go to waste.
"When you're dealing with the farmers, you're dealing with the source of the food industry," Jakobsen explained. "I really think that if we want to drive purpose, we need to go to the root of the food system, which is the farmers, and see what are the issues that we can solve for them."
Being more mindful is a trait more women carry than men as they conduct business, said Jatwani, whose Future Food Institute helps sustainable food companies innovate and communicate effectively.
"At the Food Institute, we have so many women in positions of business development and project management because we can be the champions of [these companies]," she said. "We're talking about a very complex system that requires going to the root cause, that requires understanding the nuances. With that flexibility, open mind and agility that women possess, we are in great positions to be the eco-system builders and relationship builders that are needed to create the fabric for innovation and change."
To wrap up the discussion, the panelists talked about how female farmers/small-scale farmers, female consumers and female founders/CEOs could possibly join forces to bring about sustainable change in the food industry.
Jatwani stated that "activating small scale experimentations to drive change and connectivity" should be considered.
"You start by creating learning environments that lead to learning communities of change and that leads to emerging innovations," she continued. "It's a little bit of a longer process, but we need to create a culture that can create the right innovation and we need to create the right innovation that will be accepted by culture. … we need to get creative at not just the product level, but also the supply chain level, the model level."
Using technology to add a level of transparency 
Meanwhile, Jakobsen maintained that technology is key to the future of food.
"Technology has the advantage that it creates transparency," Jakobsen said. "The problem in the food industry is that there's a lack of transparency. Consumers don't know what they're actually buying. They don't know that they're buying four-months-old oranges, and farmers don't know how to [properly] get their oranges to market. Ultimately, the technology is what can bridge the ones developing the product with the consumers."
Following a 20-minute networking opportunity where guests socialized with the panelists and each other, Granato took the stage with the second session. Building a sustainable food business with inclusivity and diversity was the topic, and her expert guests were Elizabeth Hirschbichler, VP of strategy, innovation, marketing and transformation, DSM Food & Beverage; Marion Bazille, program manager, Big Idea Ventures; Neha Na, gender lead (Asian region), Solidaridad Network; and Jon Poole, director, Step Change Development.
Leveling the playing field for female-owned farms, businesses
Granato could not stress enough how much businesses thrive when they embrace inclusivity and diversity.
"It's a really critical topic," she said. "People are really struggling with issues of how to have a more inclusive culture, how to have more diversity because of the benefits it brings to our businesses and industry."
The group explored topics such as paying female farmers better; supporting and investing in more female-led food businesses; considering the challenges women face in the c-suite and how they should be better supported; and looking at the food system's full value chain as it concerns women.
For example, as far as the global food system, Na said, it all comes down to being more mindful when sourcing ingredients. She believes that it's key for companies to ask questions about their origins. Some of the people who are paid the least are doing the bulk of the work, she explained.
"Don't just take it for granted when you have your ingredients," Na said. "Ask your supplier, 'Where are you sourcing? From whom are you sourcing?' And you can ask those questions so you can tell the story of diversity and how important it is and how women are actually carrying the weight of the food system at the very bottom. We need to make them more visible in the system."
Hirschbichler agreed, adding that over the past few years more DSM customers are indeed asking more questions about the origins of the ingredients. "There is an enormous amount of interest from our customers, which I think is a very good thing. We are very happy to and willing to be very transparent about how we are actually sourcing and producing our [ingredients]," she said.
"It's time for us to realize that wherever you are in the supply chain, you have the shared responsibility for sustainability," Hirschbichler continued. "The value that's being added throughout the chain has to be shared back to the source to pay farmers a decent price because only that way will they be able to invest in sustainable production of the foods we are all enjoying."
The farming topic also had the group discussing whether female farmers are being empowered in the work they do.
"Women's voices in smallholder settings are not being heard," Na said. "You have to create a space for them. One strategic way to do it is to have them on boards of farmers' organizations. Another is to set up female farmer organizations. That sometimes provides a better space, and then they can perform better because they'll have more force than being one or two [female voices] on a male-dominated board."
There's one more day of activities at Food ingredients Europe. Look for the wrap-up of the week right here soon.  
Subscribe and receive the latest insights on the healthy food and beverage industry.
Join 30,000+ members. Yes, it's completely free.
You May Also Like
---