Culinary star Padma Lakshmi promotes traditional Indian yogurt beverage
Culinary star Padma Lakshmi promotes traditional Indian yogurt beverage
The popular "Top Chef" judge drops by the annual Natural Products Expo West show to debut 7-ounce grab 'n' go bottles of DAH! lassi and discusses how the classic Indian drink is a probiotic wonder.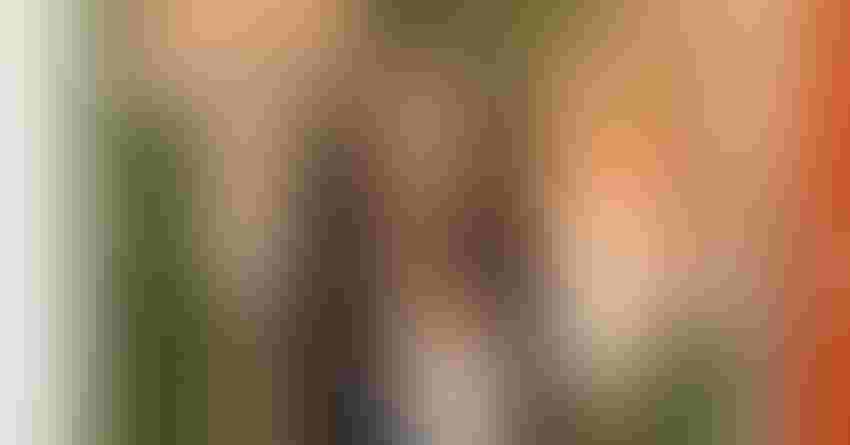 This article is a part of a special series highlighting women-owned businesses and achievements in honor of Women's History Month.
Padma Lakshmi knew she had a hit on her hands when the special treats she'd brought home to sample were immediately devoured by her daughter and nephews. One of the original judges on Bravo's hit culinary competition series "Top Chef," she is often inundated by food and beverage brands with products. Of course, they all want a piece of her star power as an endorsement.
In the case of DAH!—best known for Indian-inspired yogurts—it was an easy persuasion for two reasons: Lakshmi's family loves them and the company promotes healthier snacking. DAH!'s lassi, a drinkable blend of yogurt, water, spices and fruit popular in India, took her back to her roots, when, as a child, she drank it often punctuated by fresh mango or cardamom. It's right on trend with what's in store for international flavors for 2023, which lists Indian products hot items for global pantries.
In her role as brand partner, board advisor and culinary explorer at DAH!, Lakshmi is more than just "the face" selling the product. She helps shape the company's overall direction and lends her expertise in crafting and testing new products and flavors. She also makes a point to go behind the scenes with the R&D team to observe how they make lassi to scale. Here, it's crafted with natural ingredients and slow cultured for flavor, richness and high probiotic content.
"I really love how it tastes like a treat, yet has very low sugar," Lakshmi said at the recent Natural Products Expo West show, where she was debuting DAH!'s new 7-ounce grab 'n' go bottles, which join the line's existing 32-ounce containers. "It has 15 billion [CFUs, or colony-forming units, of] probiotics [per serving] because of a proprietary strain originating from India. They're live. That helps optimize all the other probiotics in [the drink]."
She added that what DAH! is doing is "just a larger version of what millions and millions of middle class [Indian] families have been doing at home."
"I come from a culture that is used to making yogurt every morning," she continued. "And the way Indians culture their yogurt is a slower process that takes a little bit longer at a lower temperature. The reason why that's important is because it preserves more of the nutrients and probiotics. It's better for you not to kill them off with heat."
Probiotics are great for digestive health, of course. DAH!'s lassi is also gluten free and natural.
Lassi in classic Indian flavors
The product's authenticity includes the flavor profiles as well, which are presented in Alfonso mango—a smaller, more flavorful mango native to India—and vanilla cardamom. These are classic Indian flavors, Lakshmi said.
"Our mango lassi is a very traditional, classic flavor; it tastes pure," she said. "It's made with real fruit. There's nothing synthetic or artificial [in it] and you can taste that.
"Cardamom is a very classic Indian spice, and I love cardamom. Cardamom and vanilla pair really well together—and it's really good for you … That pairing of vanilla with cardamom makes the flavors more complex; it has depth to it. It doesn't taste like some cloying, sweet, one-note [product]. This is one of my favorite flavors of the lassi."  
DAH!, which developed the lassi, has been recognized several years in a row by New Hope Network's Natural Food Merchandiser for Beverage Category Innovation.
Photo: Startraks/Michael Simon
A lifelong Chicagoan, Audarshia Townsend is a veteran food and beverage journalist who serves as the content director for Food & Beverage Insider. She also appears regularly on local Chicago television news programs to discuss food and beverage trends. When Townsend's not on the eats beat, she's an avid yogi and meditation practitioner. 
Subscribe and receive the latest insights on the healthy food and beverage industry.
Join 30,000+ members. Yes, it's completely free.
You May Also Like
---