Business Bites: Erythritol linked to heart attack and stroke, FDA on plant-based milk, vegan cold cuts go global
Business Bites: Erythritol linked to heart attack and stroke, FDA on plant-based milk, vegan cold cuts go global
On this week's plate: Erythritol linked to heart attack and stroke; FDA issues recommendations on the labeling of plant-based milk alternatives; Miyoko's Creamery founder and CEO replaced and sued by company; and much more.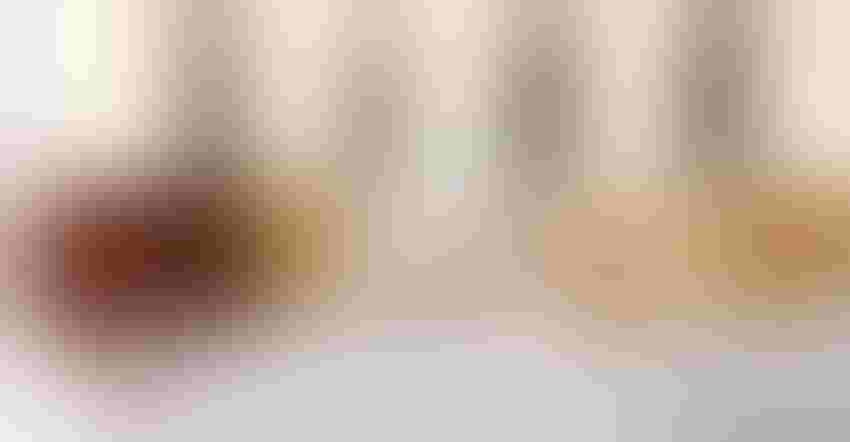 Plant-based meats have come a long way from the early days of "chicken" nuggets and veggie burgers. In this week's Business Bites, we've uncovered some global innovations in plant-based bacon (think fatty and lean), as well as cold cuts like pepperoni and ham. Plus, find out how FDA's labeling plant-based milk alternatives and more.
FDA releases draft guidance on labeling of plant-based milk alternatives
Since plant-based milk alternatives entered the F&B market, animal-derived dairy companies have been pushing to differentiate their products from them. FDA recently issued draft guidance—not legally binding requirements—for plant-based milk alternatives products to ensure their labels are clearly marked as milk alternatives. FDA recommends including a voluntary nutrient statement on these products, which clearly conveys how they compare to their milk-based counterparts based on USDA's Food and Nutrition Service (FNS) fluid milk substitutes nutrient criteria, in an effort to help consumers make more informed purchasing decisions and better understand the differences in nutritional content of dairy and nondairy milk options. One expert thinks this is the move in the right direction. Heather Fairman, CEO of DF Guardian Consulting Inc., said FDA's goal of making it clearer for the consumer lies in the hands of the plant-based milk alternatives producers, putting "the primary responsibility on the industry to ensure accurate and non-misleading label information, product compliance and quality, and without question, product safety. This avoids adverse events with consumers and unnecessary recalls for companies."
Popular zero-calorie sweetener erythritol linked to stroke, according to new study
New research from Cleveland Clinic claims that erythritol, a common replacement for table sugar in low-calorie, low-carbohydrate and "keto" products, is associated with an increased risk of heart attack and stroke. Findings were published in Nature Medicine. "Our study shows that when participants consumed an artificially sweetened beverage with an amount of erythritol found in many processed foods, markedly elevated levels in the blood are observed for days—levels well above those observed to enhance clotting risks," said Dr. Stanley Hazen, chairman for the Department of Cardiovascular & Metabolic Sciences in Lerner Research Institute and co-section head of Preventive Cardiology at Cleveland Clinic. He concluded that there needs to be "more in-depth research into their long-term effects."
Miyoko's Creamery founder under fire
Plant-based food manufacturer Miyoko's Creamery recently announced an "executive transition," removing founder and CEO Miyoko Schinner from the company's day-to-day operations and replacing her with company CFO John Blair as it searches for a new "highly qualified, passionate and mission-driven leader." The same day as the announcement, the Petaluma, California-based company took further action in federal court by filing a civil lawsuit against Schinner for allegedly stealing company property, including its trade secrets and confidential information. Schinner confirmed in a LinkedIn post that she was terminated as CEO in June 2022 as "conflict grew around the best path forward for future growth," but also noted that she remains a director on the board.
Novotaste acquired by OC Flavors
OC Flavors is expanding its global footprint. The California-based manufacturer of liquid and powdered flavors for F&B acquired Canadian-based provider of natural and organic flavor solutions Novotaste to better serve the industry in the Northeastern U.S. and Canada. Marking OC Flavors' second acquired company within its flavor platform, the business will now have access to a state-of-the-art customer-facing facility with a test kitchen and sensory lab. The acquisition will also aid the company's production capabilities, flavor developers and professionals, and access to the U.S. and Canadian markets.
Meat substitutes continue to flourish
Fatty yet lean, plant-based bacon that sizzles? Thrilling Foods is breaking the mold when it comes to plant-based meat alternatives with its new patented Bakon, which the company said provides the genuine flavor and texture of traditional bacon. The company noted its proprietary use of "protein-bound fat streaks that alternate with ultra-lean meaty layers," as well as curing, make Bakon stand out from the sea of vegan bacon products on the market. The low-carbohydrate, high-protein product is made using non-GMO soy milk, sustainably harvested palm oil, yeast extracts, sea salt, maple syrup, citric acid, black pepper, and natural food colors from radish and paprika—all with the look and packaging of traditional bacon.
The global launch of vegan cold cuts
Foodtech developer of plant-based alternatives Vgarden is setting big goals for 2023. The company partnered with Israel-based supermarket chain and meat delicatessen producer Tiv Taam to jointly manufacture its vegan line of deli meats, expanding on the success of its global launch in Australia in 2022. Tiv Taam will exclusively produce a series of kosher pea protein-based meat alternatives—including pepperoni, ham, chicken, turkey and other cold cuts—at its new manufacturing facility in Haifa. Vgarden's soy-free, low-carb, non-GMO vegan offerings can be cold stored for up to six months.
Heather Carter is the associate editor of Food & Beverage Insider at Informa Markets. She has worked in trade publishing for nearly a decade, covering a variety of topics, from tile to bedding. Reach her at [email protected].
Subscribe and receive the latest insights on the healthy food and beverage industry.
Join 30,000+ members. Yes, it's completely free.
You May Also Like
---