Better-for-you trends spotted at Summer Fancy Food Show
Better-for-you trends spotted at Summer Fancy Food Show
At the annual event, which featured more than 2,200 exhibitors, Food & Beverage Insider sought out products with a healthy halo.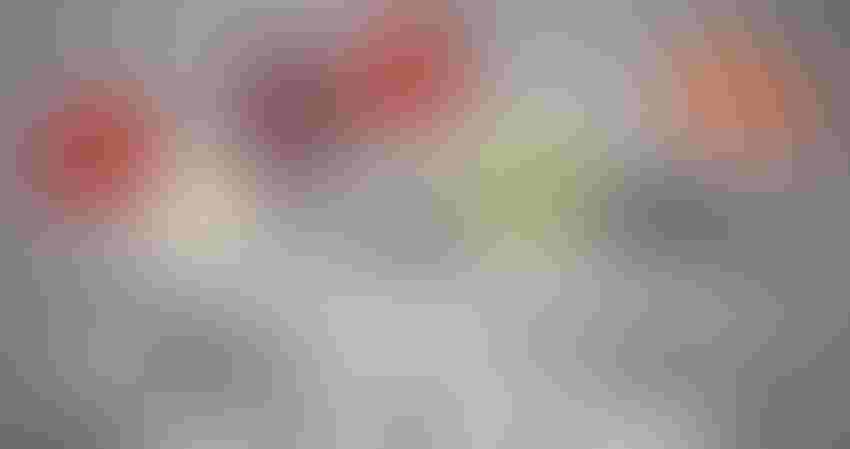 The Summer Fancy Food Show is a wonderland of specialty oils, sauces, cheeses, meats—and all sorts of other gourmet treats and beverages. The 67th edition, held June 25-27 at the Javits Center in New York, featured more than 2,200 domestic and international exhibitors, earning its designation as the largest specialty food industry event in North America.
We were on a mission to find the healthier, better-for-you food and beverage products. Though few and far between, the plant-based options we encountered were impressive as well as the functional and nonalcoholic beverages formulated with sugar alternatives and ingredients such as botanicals and herbs.
Below are a few standout categories, with innovative products that delivered on taste, texture and nutritional value.
Plant-based meat
While not new to the scene, plant-based meat has evolved dramatically since its introduction. Among the many alt-protein companies that exhibited, a handful exceeded expectations.
Ensemble Foods' plant-based chicken bites made of wheat and chickpeas closely resembled poultry in appearance, taste and nutrition, with 15 grams of protein per 3-ounce serving.

Assi, a Korea-based food company, introduced a frozen Korean BBQ-flavored, plant-based galbi. With 16 grams of protein per 3.3-ounce serving, the tender short rib-inspired strips tasted fresh, not frozen.

U.K.-based company Unconventional showcased plant-based burgers, hot-dog style sausages and chicken fillets, which were developed in Italy. The burgers and sausages are made using soy protein, coconut and corn oils and vegetable citrus fiber. The chickenless breasts feature pea and wheat protein, sunflower and coconut oils, plant fibers (bamboo, citrus and psyllium), and carrot and pumpkin concentrate. The sausage boasts a slightly higher protein content with 16 grams per 3.5-ounce serving, while the burgers and chicken fillets feature 15 grams of protein.

Woman-founded company Kitchen & Love delivered with its hearty, organic jackfruit chili. The ready-to-heat chili is packed with spices and flavors, as well as fiber (13 grams per 8-ounce single-serve package).

The organic plant-based ground pork CHi-Rizo from CHi Foods was tasty and high in protein, with 11 grams per half-cup. The product is created using the company's organic texturized CHi protein comprised of water, sacha inchi (Plukenetia volubilis) protein and faba bean protein. It also includes CHi nuts (sacha inchi seeds and sea salt), cacao butter, sunflower oil, tomato paste, yeast extracts, lemon juice and spices.
Plant-based snacks
Vegan snacks needed a category of their own because of the momentum they've gained in the marketplace. From natural sweeteners to fruit-based jerkies, there were new innovations on display that pushed boundaries in a successful, tasty way.
Founded by four dieticians, Zing showcased plant-based mini protein bars, which were developed for children, yet also loved by adults. The 100-calorie bars are offered in four flavors: dark chocolate coconut, peanut butter chocolate chip, dark chocolate peanut butter and dark chocolate mint. With 5 grams of protein each, they feature prebiotic tapioca syrup and fiber, almond and rice proteins, agave nectar and monk fruit.

B'cuz Snacks' granola bites are gluten-free, nondairy and plant-based, with clean ingredients. The Strawberry-mallow flavor was loaded with oat clusters, dried strawberries, vegan marshmallows, soy and pea proteins, and Medjool dates.

Amazin'Graze USA, a women-founded company that creates tropically inspired plant-based snacks, debuted flavor-forward nut mixes sweetened with coconut sugar and allulose, which are hand-baked in small batches. The company also launched a line of granola in four flavors, with potential functional benefits. The hazelnut chocolate and banana bread flavors feature lion's mane (Hericium erinaceus) mushrooms and the matcha green tea and pandan (Pandanus amaryllifolius) caramel varieties include prebiotics.

Fig salami was something unique spotted at the show. Specialty Greek food importer Hellenic Farms exhibited this innovation, a log-like product comprised of dried Greek figs, herbs, spices and nuts. Three flavor combinations were presented: figs, smoked paprika and pepper; figs, pistachio and cinnamon; and figs, tikka masala and onion.

Though not technically a snack, one of the coolest plant-based items discovered was ready-to-eat watermelon seed protein powder from New Jersey-based ingredient importer and supplier Onset Worldwide. Developed for use in snacks, baked goods, protein bars, baking mixes, and protein and drink mixes, the ingredient is made by cold-pressing watermelon seeds to extract the oil that is then milled into a powder.
Nondairy cheeses, offerings
Nondairy cheese has come a long way since its introduction decades ago. With all the technology available, vegan formulations are contending with and sometimes surpassing their animal-derived counterparts.
Armored Fresh is pioneering this category with almond milk cheese products made via fermentation. The American cheese, used to make grilled cheese sandwiches at the show, was one of the most impressive nondairy cheeses to date. The meltable slices were perfectly tangy and salty, with a comparable flavor profile to household classics like Kraft cheese.

In the cream cheese category, Vitalite showcased creamy plant-based cream cheese in a dill pickle dip. Made with soy, the cream cheese offers 2 grams of protein per 1-ounce serving, comparable to its dairy counterpart.

Plant Ahead, which specializes in the production of plant-based cheeses, unveiled a new addition to its lineup. The plant-based cheesecake, offered in three flavors, was created using the brand's existing vegan cream cheese featuring chickpea protein—which evoked the flavors and denseness found in a traditional cheesecake.

Vevan Foods' new Snax mixes serve as the perfect, go-to treats, with cubed vegan cheeses that taste like the real thing, accompanied by dried fruits and nuts. Two flavors are offered: P'Jack Snax and Lemon Poppyseed Snax. The latter featured the company's vegan mozzarella cubes, dried blueberries, and roasted and salted cashews.

Vegan pretzel company Stellar Snacks is another company with perfectly portioned snacks for every age. Its uniquely shaped pretzel braids are offered in four flavors—Simply Stellar, Maui Monk, Bold & Herby and Sweet & Sparky—which are infused with vegan butter, sweetened with monk fruit and flavored with different types of seasonings.
Functional beverages
Spirit-free is all the buzz in the beverage industry, which was apparent when perusing the new products section, as well as the beverage pavilions.
Spare Tonic, which exhibited in the first-ever upcycled pavilion—organized by Upcycled Food Association (UFA)—debuted a new flavor of fermented beverages. Joining a lineup of three other flavors, the Passion Fruit & Yuzu probiotic sparkling tonic contains approximately 90% upcycled whey and only three other ingredients (passion fruit juice, honey and yuzu juice).

Black-owned functional beverage company Yoro, which exhibited in the diversity pavilion, showcased two new low-sugar drinks with adaptogens. The flavors, Pineapple Coconut Lemonade and Hibiscus Guava Passionfruit, were sweet and refreshing, boasting only 1 gram of sugar per 12-ounce can. With 5 calories per can, Pineapple Coconut Lemonade was formulated with lion's mane (Hericium erinaceus), bacopa (Bacopa monnieri) and L-theanine to potentially help "stay focused and restore" during physical activities like yoga and running. Hibiscus Guava Passionfruit, with 10 calories per can, is an energy blend infused with guarana (Paullinia cupana), 5-hydroxytryptophan (5-HTP), ginseng (Panax ginseng) and gotu kola (Centella asiatica), which was crafted as an afternoon mood boost.

Functional, nonalcoholic spirit and wine brand Three Spirit US touted plant-based alternatives to alcohol blended with adaptogens, nootropics, botanicals and ferments. One of the company's three botanical elixirs, Livener, is the fruity option of the trio, with watermelon, pomegranate, black carrot, guayusa (Ilex guayusa), hibiscus, guava leaf, ginseng and schisandra (Schisandra chinensis).

Sayso, a women-owned premium cocktail company based in Brooklyn, New York, promoted market-leading, ready-to-make cocktail tea bags, which won them a $1,000 cash prize at Naturally New York's Fancy Pitch Slam during the event. Offered in four flavors—Rosemary Honey Moscow Mule, Skinny Spicy Margarita, Skinny Cardamom Paloma and Old Fashioned—the products have clean ingredients that are plant-based, low-sugar, gluten-free and non-GMO.

Premium sparkling soda brand Betty Buzz, founded by actress Blake Lively in 2019, offers a range of low-sugar, clean label beverages, including tonic water, ginger beer, Meyer lemon club soda, sparkling grapefruit and sparkling lemon lime. Though Lively originally created the beverages to be paired with liquor, company reps said the brand has repositioned itself as an all-inclusive beverage that can be consumed on its own as a better-for-you soda alternative.
The 48th Winter Fancy Food Show takes place Jan. 21-23, 2024, in Las Vegas; the 68th Summer Fancy Food Show occurs June 23-25, 2024, in New York.
Heather Carter is the associate editor of Food & Beverage Insider at Informa Markets. She has worked in B2B publishing for nearly a decade, covering a variety of topics, from tile and bedding to the food & beverage industry. Reach her at [email protected].
Subscribe and receive the latest insights on the healthy food and beverage industry.
Join 30,000+ members. Yes, it's completely free.
You May Also Like
---