Dine Diaspora aims to change the food system's narrative
Dine Diaspora aims to change the food system's narrative
With their revolutionary Black Women in Food Awards and other relevant programming, Nina Oduro and Maame Boakye's unique agency is putting the spotlight on industry achievers who have been long overlooked and undervalued.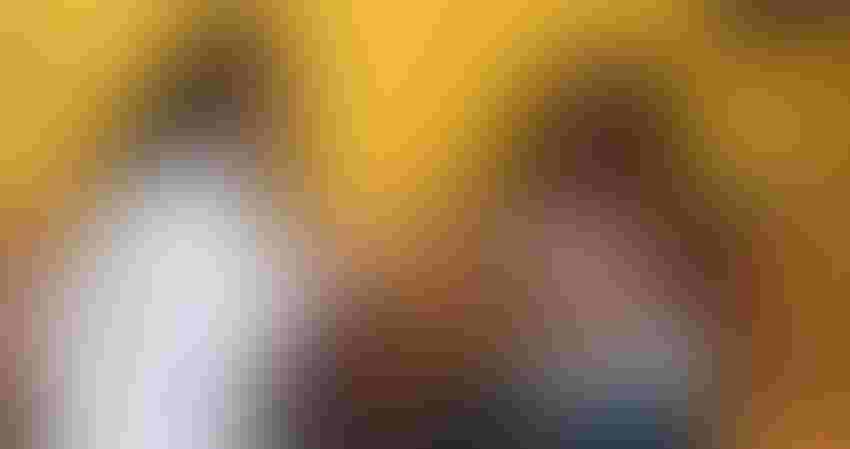 This article is a part of a special series highlighting women-owned businesses in honor of Women's History Month.
Nina Oduro and Maame Boakye did what every enterprising entrepreneur does before launching a business: They identified a void other businesses ignored and addressed it with a viable solution. In their case with Dine Diaspora, the social impact activists amplify largely ignored Black women's achievements in the food system on a global level.
Throughout the year, the duo hosts virtual as well as in-person networking events and panel discussions across the country that attract Black women chefs, restaurateurs, farmers, educators, product developers and others. While those events address the frustrating issues many Black women face as they navigate the industry, they're open to all.
Since Dine Diaspora's inception in 2014, Oduro and Boakye have also presented the Black Women in Food Awards (peruse 2023's winners at the link) as a virtual campaign. The flagship event occurs during Women's History Month and precedes a daylong summit and cocktail reception in Washington, D.C. That's when 31 women are recognized and celebrated in categories like "beverage master," "innovator," "trailblazer" and "game changer." That's 186 total women honored since the awards' inception.
Ahead of the Black Women in Food Summit, taking place April 22, we chatted with the founders about how their unique agency has evolved and its impact on the industry.
Food & Beverage Insider: For those who are not familiar with the annual Black Women in Food Awards, please explain its purpose and mission.
Dine Diaspora: The Black Women in Food Awards celebrate exceptional contributions to the food system made by Black women around the world. Each year, the honorees are announced in March during Women's History Month. This year marks the sixth year of the awards and 186 women will be honored. Beyond the awards, we invite the honorees to be part of a community to support one another through advice, resources and opportunities.  
How has Dine Diaspora evolved the Black Women in Food Awards since its inception?
It all started with our desire to help brands work with more Black women in the food industry. We started with the awards and leaned on the public to identify Black women who deserved recognition and amplification. This turned into a publicly shared list. We started with six categories and have now expanded to eight with the new Beverage Master and Corporate Champion categories. The expansion of these categories was essential because the food industry is ever changing along with Black women's roles within it. By ensuring that the awards adequately represent the diversity of the industry, it enables Black women's work to be seen and rewarded in the entirety of the space.  
Unlike many food industry awards, the Black Women in Food Awards are global in scope. Why is that so important?
The food industry around the world is entrenched with racism and sexism that manifests in different ways. By centering Black women's contributions to the global food system, we are combating narratives that seek to diminish their historic, current and future impact. Black women in the industry around the world need to see their efforts recognized and amplified as they continue to shape the way food is experienced at all levels of society.  
In addition to amplifying Black female chefs and restaurateurs, Dine Diaspora also honors Black female farmers, food scientists, F&B developers, activists and more. Why was it important for you to include them in the honors? 
It's common for people to think about the aspects of the food industry that they interact with more frequently like restaurants and chefs, however, the industry is vast and encompasses labor across the food value chain, from production to processing and waste disposal. Black women play critical roles across the value chain, and our awards are intentionally designed to be expansive in recognizing the variety of ways that Black women participate. This provides people the opportunity to access examples of Black women's contributions across the industry and ensures that the contributions of Black women are celebrated in a space where their work can sometimes be diminished or even erased. 
What other events does Dine Diaspora host throughout the year? How are these events determined and who attends?
Our upcoming Black Women in Food Summit is a key event that gathers Black women across the food industry and the companies that seek to invest in their personal and professional growth. In addition to this, we will have both in-person and digital events throughout the year that focus on learning and networking for food industry professionals. We are known for our book launch events, which are great opportunities to meet some of the top Black food talent in the industry. There are so many events, so the best way to stay in touch is to sign up for our newsletter to hear about them first. 
What impact do you believe these events are having on the overall food & beverage industry?
Events are where our company started, so they are dear to our hearts. They have impacted many people globally and domestically, and after eight years in business, people are always asking for more. Our Black Women in Food events, in particular, have had an impact on Black women growing their businesses in the food industry. Many attendees say that the content, resources and networking opportunities have been invaluable.  
Here is the entire list of 2023 awardees—as well as previous winners.
A lifelong Chicagoan, Audarshia Townsend is a veteran food and beverage journalist who serves as the content director for Food & Beverage Insider. She also appears regularly on local Chicago television news programs to discuss food and beverage trends. When Townsend's not on the eats beat, she's an avid yogi and meditation practitioner. 
Subscribe and receive the latest insights on the healthy food and beverage industry.
Join 30,000+ members. Yes, it's completely free.
You May Also Like
---