Global ingredients the star of the Winter Fancy Food Show
Global ingredients the star of the Winter Fancy Food Show
At Specialty Food Association's highly anticipated annual event, we sat down with experts representing some of the world's most sought-after and intriguing ingredients to learn more about them. From the supply chain to innovation to health benefits, each one boasted a unique story.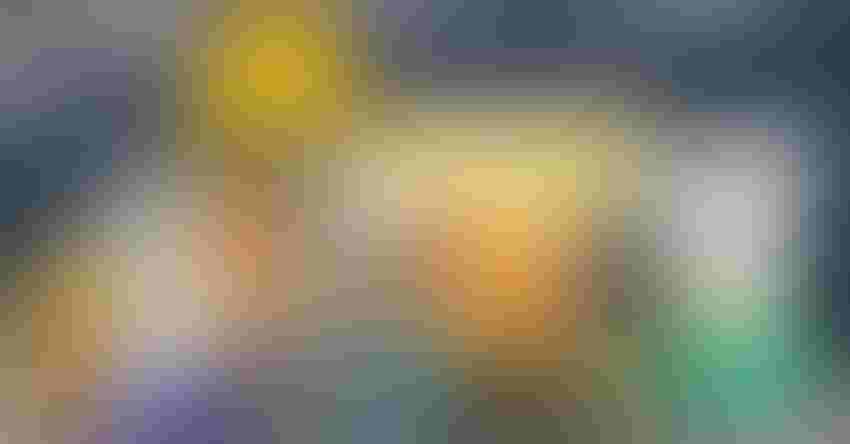 Often, we take ingredients for granted. They're in everything we consume, so it's important to consider all the work involved to make perfect products. From the supply chain (just how ethical was that key ingredient's journey from the ground to your hands?) to innovation to health benefits, each one boasts a unique story.
At this year's annual Winter Fancy Food Show in Las Vegas—amongst all the shiny new food and beverage products—many ingredient companies as well as smaller, family-owned CPG businesses aimed to tell these stories. Of note were representatives from various regions, countries and small U.S. family farms with boots on the ground, offering authentic backstories.
For example, there is Mike Seely's story of legacy with his family's third-generation mint farm in Clatskanie, Oregon. Seely Mint Farms was founded in the early 1940s in Fargher Lake, Washington, yet moved operations to Oregon because of the more favorable climate and soils along the Columbia River to grow single-cut, premium-quality heirloom Black Mitcham peppermint and Native spearmint. The mint the company raises is sustainably harvested and boasts a unique flavor only found at Seely Farms.
"A study was done several years ago finding that [most] complete essential oils companies use are modified," Seely stated. "They do it to increase their margins, so they're adding synthetics. I raise [our crops] the same way my parents and grandparents did, so it's a premium oil where we harvest it at 3% to 5% bloom, so the oil is balanced.
In 2007, Seely started selling handcrafted Seely Mint Peppermint Patties at his local farmers markets. The candies were an overnight sensation when he began selling them at area retail stores—and they eventually caught the attention of O Magazine.
"I just wanted to show people some cool things you could do with our essential peppermint oils," Seely explained. His farm also produces a complete line of mint confections, sun-dried mint leaf tea and mint soap. But as Seely's business continues to thrive, not all is good for the overall mint oil business in the country, he said, as many larger companies use synthetic mint oils in their products.
"From the 134,000 acres in 1997, this year there will be less than 20,000 acres [growing mint]," Seely said. "Within five to 10 years, we will probably be the last mint farm in the United States."
Milking macadamias is a form of upcycling
Forget everything you thought you knew about macadamias. They are native to Australia—though they're grown on most continents—and grow naturally without an irrigation system.
"We used to call it 'gentle farming,' which is now called regenerative farming," said Jim Richards, a longtime macadamia tree farmer who also serves as CEO for Milkadamia. Before his team launched the alt-dairy company, they were selling the macadamia nuts to other countries, who were "were immediately wrapping them in chocolate and selling them as candy," he said.
"We were growing this healthy, beautiful product and marketing it as candy," he added. "We weren't happy about it."
That's when Richards and a handful of farmers launched Milkadamia and decided to create a product with wellness and environmental narratives. According to the World Macadamia Organization, the nuts are loaded with "good fats," or monounsaturated fats, much like the avocado. They're also high in omega-3, -6 and -7, rich in nutrients, dietary fiber, essential vitamins and are naturally low in sugar and carbohydrates. They were ideal for the nondairy products Richards had in mind for Milkadamia, from alternative milk to the newly released milk tea to frozen treats.
The environmental narrative goes beyond regenerative farming, Richards said. It's too expensive to use whole, perfect macadamia nuts for Milkadamia's products; however, the odds and ends of the nuts were up for grabs. The imperfect ones—odd shapes, chips, crumbs, etc.—coming off the conveyor belt at the macadamia processing plant had been used as cattle feed. The team pivoted to use them as the main ingredient for Milkadamia products.
"We now capture them because it's perfectly good food," Richards said. They also use the broken macadamia shells to enrich the soil of the macadamia trees.
After two years of experimenting, the company developed macadamia milk out of the raw macadamia nuts.
"Roasting them didn't produce the taste we were looking for," Richards said. "We found that raw macadamia nuts were silkier, smoother." Their production also increased from two farms in Australia to now 12.
Bringing a refreshing taste of West Africa to the beverage market
Like macadamia nuts, the hibiscus flower may be found in other countries, however, it's native to the West African region. It's used in many ways, from seasoning meats and vegetables to enhancing supplements (hibiscus reportedly helps lower blood pressure), but Affouet Price preferred to use it in beverages.
The native Ivory Coaster longed for bissap, a traditional West African beverage made with fresh hibiscus, but she couldn't find it in Portland, Oregon, her new home. After introducing it to her American friends, she tweaked her mother's original recipe to reduce the sugar and founded Hibisbloom in 2019.
"I was passionate about sharing my culture," Price said. "Hibisbloom is our interpretation of the traditional hibiscus flower tea bissap. It's a premium hibiscus-based beverage and cocktail mixer." The hibiscus in each flavor is enhanced by natural vanilla, cinnamon and mint.
Though she was enthusiastic about her new venture, she admitted that it was difficult to make the beverage to scale because of the "shaky supply chain" and trying to find a co-packer who wouldn't alter her recipes.
"Hibiscus is still relatively new for manufacturers, and many do not know what they're doing," she said. "That's why I am involved [in the process] from A to Z. We own our recipes, so all the formulas are mine, and we created them with a lot of passion."
Sourcing hibiscus from West Africa also proved to be very expensive, but she was determined to make Hibisbloom as authentic as possible. She refused to use hibiscus from India or Mexico, two other major producers, because there is a distinct difference in taste, color and size, Price said.
"If you're a [hibiscus] connoisseur, you can just tell immediately," Price continued. "From one region to another, the crop will be grown differently. It will be processed differently, so that comes also with how people consume it.
"I could be biased, but I can tell if it's coming from Mexico or West Africa. The acidity level, the color concentration and the shapes of the flowers vary from one region to another. Also, the acidity is not as aggressive in West Africa."
How Casablanca's climate makes it prime for premium olive oil
"Morocco is very dry and as a result, our olive trees are very different from others across the globe," stated Othmane Aqallal, managing director, Atlas Olive Oils. "They're fueled by the purity of the desert. From these deserts, we have a special behavior of the olive tree. They need to resist rocky soil and temperature that can get up to 125 F. They have a special defense mechanism to survive."
That's why, he continued, it's important for Atlas to use every part of the olive trees, from the branches to the pulp to the actual olive oil. Sustainability for the company is common sense, plus it boasts a healthy halo.
For example, Atlas' newest product, Desert Olive Tree Pearls, is made from baby leaves of the olive tree, olive pulp and olive oil. "These pearls may be added to bread, salads, bruschetta, pasta, fish," Aqallal said.
Olive oil-infused charcoal is also produced by the company through the brand Olivette. "It's smoke free, spark free and chemical free," Aqallal said. "It's healthier because no smoke means no cancer-inducing particles inside the charcoal. You also get the real taste of the meat, no smoky taste."
Aqallal listed additional benefits of Moroccan olive oils. "[They] are high in polyphenols, or reducing agents. That's combined with other dietary reducing agents, such as vitamin C, vitamin E and carotenoids, referred to as antioxidants."
Vanilla is indeed a luxury ingredient
The next time someone attempts to dismiss vanilla as boring or plain, correct them. It's, in fact, the second most expensive spice in the world, behind only saffron.
Eighty percent of the world's vanilla comes from Madagascar, which is why Joanah Manantenasoa Palumbo founded Madagascar-based Bemarivo Vanilla in 2006. The best vanilla beans, she said, grow in the red soils of the mountains of the island country that's off the coast of East Africa.
It's premium, Palumbo said, because the vanilla "smells very sweet and very oily." This strain of vanilla needs a significant dry season, which is when vanilla flowers can be pollinated. Madagascar's two dry semi-seasons each year enable even more propagation.
For Palumbo, a Madagascar native, it wasn't all about profit. She realized an opportunity to bring economic empowerment to the country's farmers as well as clean water for their farms, solar power for villages without electricity and school supplies for children. Her company works closely with 40 farmers and ensures they get a fair price for their crops.
"We help the farmers become more economically self-sufficient," she said.
Subscribe and receive the latest insights on the healthy food and beverage industry.
Join 30,000+ members. Yes, it's completely free.
You May Also Like
---