5 big F&B trends to watch from SupplySide West
5 big F&B trends to watch from SupplySide West
From protein-infused "everything" to plant-based animal fats, our roving reporter encountered several major trends on the SupplySide/Food ingredients North America show floor.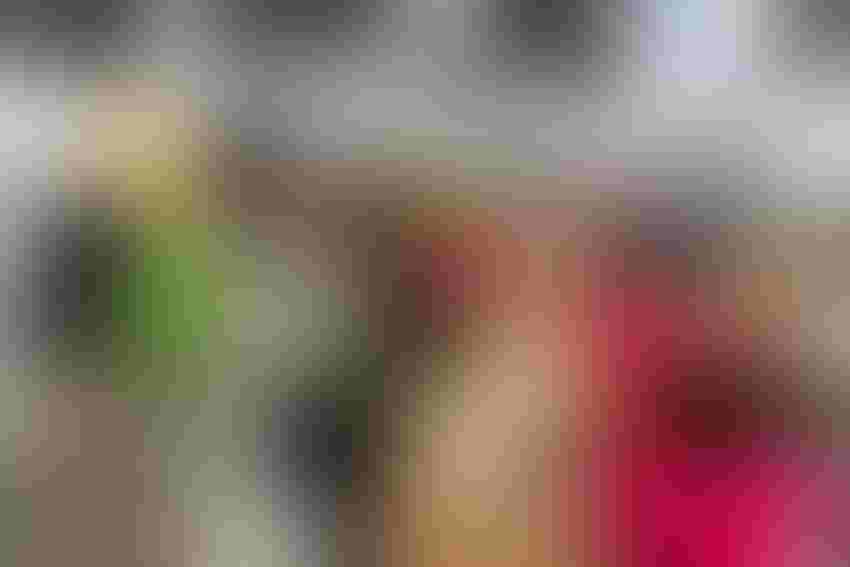 Bryan Beasley Photography
At a Glance
Plant-based oils are being used to create plant-based proteins that mimic the flavor and texture of animal fats.

Manufacturers are offering blends of natural sugar alternatives to meet needs of consumers concerned about aftertaste.

Protein is being added to a wider variety of foods and beverages, including pastries, coffees, and matcha teas.
The showroom floor at SupplySide West/Food ingredients North America 2023 was packed with familiar labels and ingredients that are in the process of major definitions. You may think you know protein or fermented foods, for example, but don't be so sure.
Here are the trends that exhibitors were getting asked about constantly at the largest food ingredient and supplement show in North America. They're also poised to grow even hotter in years to come.
Protein-infused
everything
The days of "protein" only referring to powders, shakes, and smoothies are officially over.
Protein-infused functional foods flourished on the show floor, with different sources being matched precisely to different flavors, meals and user-case scenarios. Danish dairy producer Arla Food Ingredients, for example, showcased a representative range of new "protein concepts," including clear whey for endurance-focused protein drinks, decadent protein-enhanced pastries (including savory-flavored protein shortbread cookies), and casein-enhanced coffees and matcha teas.
"Consumers are telling us that this is what appeals to them right now: taking something they eat or drink every day, and then just adding the protein to help them feel good," Sandra Soerensen, Arla's development manager, explained. "The protein adds an element of longevity and lean body mass, and [it] simply boosts the overall nutrition."
Fermentation for…taste and texture?
Consumers might historically associate the F-word with gut health, immune health, and "love them or hate them" foods like kimchi or kombucha. But a new breed of ingredients is building a different narrative: using the fermentation process to improve sensory experience of popular, "healthy" foods.
A prime example was a fermented pea and rice protein from MycoTechnologies, which when mixed with water, tasted nearly indistinguishable from a gourmet barista-style oat milk.
"Fermenting pea and rice protein can remove the bad, or 'off' taste, enhance nutrition, make it easier to digest, and just get rid of those nasty aromas," explained Myco Technologies' CEO Alan Hahn. "It changes the functional properties, but it also changes the sensory profile. That way, you don't have to cover it up with too much sugar, salt and fat. You can cut all that back by 30% to 50%."
Other novel fermented ingredients and foods featured on the show floor included fermented high-protein breads and a wide variety of meat substitutes.
Plant-based "animal fats"
There was no shortage of plant-based proteins being showcased and sampled in SSW's booths, yet producers said today's consumers are pickier than ever when it comes to flavor and texture. Too many have seen (or tasted) supposedly "disruptive" brands not living up to their promise. The answer, they said, was to embrace new uses of familiar plant-based oils.
One promising example came from oil manufacturers AAK, which showcased a prototype of a plant-based chicken nugget infused with coconut and sunflower oil to match the melting properties of actual chicken fat.
"It helps deliver the flavor a little better, and it provides juiciness and the 'bounce' of chicken," food scientist Megan Brazil, of AAK, explained. "But it also has lower saturated fat than a single coconut oil source, which is a health concern that we're increasingly hearing coming up on consumers' radar."
Beyond the same old sweeteners
Dozens of booths at SSW offered information and samples of individual natural sugar alternatives. Manufacturers, however, who can offer a range of sweetening options, blended to clients' specific needs, were especially popular. "We're actually getting a lot more traffic than usual, which is great," Brett Smith, from sweetener producer Icon Foods, said.
Why not only think in terms of monk fruit, erythritol or stevia? Smith said the brands he talked to have heard from consumers time and time again about the undesirable aftertaste and/or potential digestive distress that can come with relying on super-dosed single-source sweeteners, especially in daily-use foods like bars and drinks.
"Increasingly, we are asked to create blends that are unique to every client," Smith said. "If someone's concerned about the 'off notes' from stevia, we can pair it with a monk fruit so it's smooth and balances out. People are more open to that option now because it's a clean, no-sugar replacement that is also safe and research backed."
Icon and other sweetener brands also reported that they're utilizing a range of slightly sweet prebiotic fibers like inulin and fructooligosaccharides, in combination with other sweeteners. Not only does this increase fiber content for gut health—another huge theme of the year)—but it can also help products better manage lower overall sweetener content.
The new organic is "organic and fair"
Organic certifications are more popular than ever; nevertheless, increasingly, consumers see that label as just the start of the conversation. As such, food and beverage ingredient producers at SSW progressively provide a laundry list of sourcing information: not just how a product was created, but also by whom.
Global Organics' Aaron Iverson, who has been in the organic space for more than 30 years, said he hears from brands and consumers alike who want organic ingredients to reflect their human roots as well as their ecological ones.
"Increasingly, people treat organic like going to the doctor, who tells you, 'Don't drink too much, don't smoke, don't do this and this,'" Iverson explains. "Sustainability is like having increased awareness, like taking care of your mental and emotional health. And fairness is a huge one that people are asking for. It's about being compassionate: being well-minded towards our fellow people, and having good, positive relationships."
Subscribe and receive the latest insights on the healthy food and beverage industry.
Join 30,000+ members. Yes, it's completely free.
You May Also Like
---