Checking in from Winter Fancy Food Show
Checking in from Winter Fancy Food Show
Gourmet cheese dominated the annual three-day event from Specialty Food Association, but there was so much more to indulge and observe in Las Vegas. From awesome global flavors and products to a lively educational session on fermentation, the event highlighted some of the best food and beverage leaders in the country.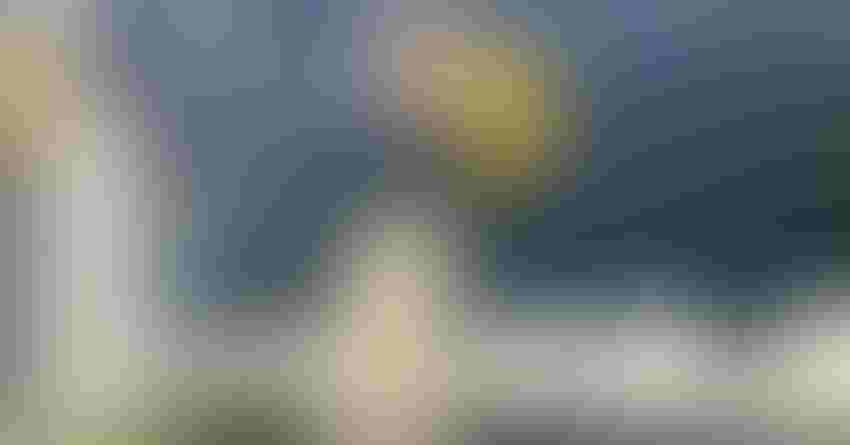 Cheese dominated the 47th annual Fancy Food Show, which, for its winter edition, took place at the Las Vegas Convention Center Jan. 15-17. According to veteran attendees of the event hosted by the Specialty Food Association, cheese is the largest single category of specialty foods, which is why the Dairy Farmers of Wisconsin had such a large presence. Cheese producers from Greece, Italy and California had a strong showing at the event as well.
Overall, the cheese producers presented traditional offerings. It was Greek giant Kourellas Dairy, which launched more than 60 years ago, who stepped out of its comfort zone to jump into the plant-based category with cheese analogs. Enhanced by coconut oil, the products are based on the company's best-selling goat's milk and sheep's milk cheeses and replicated for a vegan audience, said Kourellas director of sales Spiro Litsas.
"We saw that this category was expanding, so we jumped into the market," he said. "The coconut oil adds a fat content that you won't find in other vegan cheeses. That adds another level of flavor as well as better mouthfeel for the product."
The same sweet, nutty aroma and velvety texture found in Kourellas' famed feta may be found in the plant-based black truffle, smoked, and tomato & oregano cheeses. There's even a spreadable, plant-based feta that has successfully imitated the dairy product.
Here's what else caught our eyes on the first day of the show.
'Fermentation is not a trend'
There's nothing new about fermented food and beverage products. Long before it was in vogue, it was how people ate to survive. We're talking centuries ago, and the process was conducted in many forms by many different cultures, said the Fermentation Association's Amelia Nielson-Stowell during her presentation at the Big Ideas Stage. The issue, she continued, is that many American consumers are curious about the fermentation process, yet they're intimidated by it.
She tirelessly works to create messaging to convey to consumers that fermented foods are not only good for them, but they also taste good. Launched in 2017 and now boasting approximately 250 members, the organization consists of producers of fermented food and beverage products (from fermented vegetables and cheese to kombucha, wine and beer) as well as food scientists.
"That is really important to us," said Nielson-Stowell, a former newspaper reporter who now serves as editor of the Fermentation Association's publication. "It was the one area that we saw that wasn't being connected with fermentation. We want to connect producers to the scientists, so the Fermentation Association is run by a board made up of producers and science advisors." That includes a food scientist from the USDA and a Tufts University professor who is an expert on cheese and sourdough.  
With more consumers craving global flavors, producers have an opportunity to get creative in this space, Nielson-Stowell said. She's seeing an increase in fermented condiments because they want more than soy. Tamarind and gojuchang, for example, are trending upward.
Global flavors create culinary journeys for consumers
Global-forward products like fermented condiments serve as a gateway to more robust offerings with international flair. As more food and beverage founders feel comfortable amplifying their heritage to set their products apart from the pack, this category will always be exciting.
For example, Xinca, the first Salvadorian frozen food line in the United States, specializes in pupusa, thick corn tortillas stuffed with meats, refried beans, cheese or even squash flowers. For the cheese-and-loroco pupusa, the green loroco flower founder Cynthia Duran uses is native to El Salvador. It tastes like a milder spinach.
Another product, Naera, is from Icelandic food scientist Holly T. Kristinsson. She combines her vast food science background and homeland traditions to make this sustainable snack that uses 100% renewable energy. There is no baking, frying, free-drying or air drying to make the potato chip-like cheese crunch or seafood crunch.
And new spirit-free sensation Abstinence Spirits, founded in South Africa by Pierre Strydom and Stefan Coetzee, is zero sugar and calorie free. They use ingredients and botanicals from South Africa's Cape Floral kingdom to introduce new flavor profiles in no- and low-ABV cocktails.
No- to low-sugar applied to favorite foods and beverages
Throughout Fancy Food Show were tempting, decadent treats ranging from Moroccan chocolates to ice cream cones in unique flavors like matcha, strawberry truffle and Creamsicle. There were also products embracing no- and low-sugar formulations.
For example, Anna Vocino reengineered family recipes for her signature marinara, plus seasonings and salad dressings to be sugar free at her company, Eat Happy Kitchen. "We are always no sugar added, no fillers or any of those things that [some companies] sneak into the ingredients," Vocino said. She admitted that she had to screen quite a few co-manufacturers before she settled on six regional companies she could trust to make her product taste authentic.
Embrew Tea's concept consists of sweetened artisanal tea bags in various flavors. Founder Ashley Haywood adds a touch of smoked demerara sugar, granulated maple, honey granules, coconut palm sugar or organic sugar to each flavor. This is not sweet tea. It's just enough to bring out the flavors of the offering, from peppermint Earl Grey to lavender chamomile.
Jeff Gendelman left his corporate job as an investment banker to launch a low-sugar, plant-based snack in both shelf-stable and frozen treat formats. Dream Pops contain organic coconut sugar that's not overly sweet and low calorie in flavors like mint chip crunch, birthday cake and banana cream crunch.
Innovative beverages get a spotlight
The zero-sugar trend continues at Tastelli, a new concept of drinkable konjac jelly. Founders John Kim, James Moon and Jet Cessant met in grad school and decided to create a Korean-inspired snack that was healthier than much of the food they consumed. They're fun to drink (or eat?) and low in calories. The founders are working on kid-friendly snacks with a similar theme set to debut this spring.
An obsession with fungi, plus a passion for exotic teas, inspired food scientist Bashira Muhammad to create her own line of products combining both. The mycologist had long studied medicinal mushroom tea, but she wanted to make them more approachable for the average consumer. She uses mushrooms that protect immune systems, improve mental health, aid digestion and boost memory activity in tea flavors like reishi rose, maitake mint and berry brain.
And British-based Three Spirit is from three pals who simply wanted great cocktails without the booze. Meeta Gournay, Dash Lilley and Tatiana Mercer and their team of formulators spent years experimenting with plants and botanicals to conceive three spirit-free spirits that are low in sugar, plant based and full of functional ingredients. Ginseng, apple cider vinegar and lion's mane mushroom are only a few of feel-good ingredients going into these elixirs.
Subscribe and receive the latest insights on the healthy food and beverage industry.
Join 30,000+ members. Yes, it's completely free.
You May Also Like
---