Business Bites: Advisory board created to study fungi, Americans embrace precision fermentation, GoodSAM honored at 2nd annual Anthem Awards
Business Bites: Advisory board created to study fungi, Americans embrace precision fermentation, GoodSAM honored at 2nd annual Anthem Awards
On this week's plate: Plant-based food manufacturer Meati Foods forms an expert committee to study mycelium; a new collaborative report notes precision fermentation advancements in the F&B industry; CPG snack brand GoodSAM Foods wins award for sustainability efforts; and more.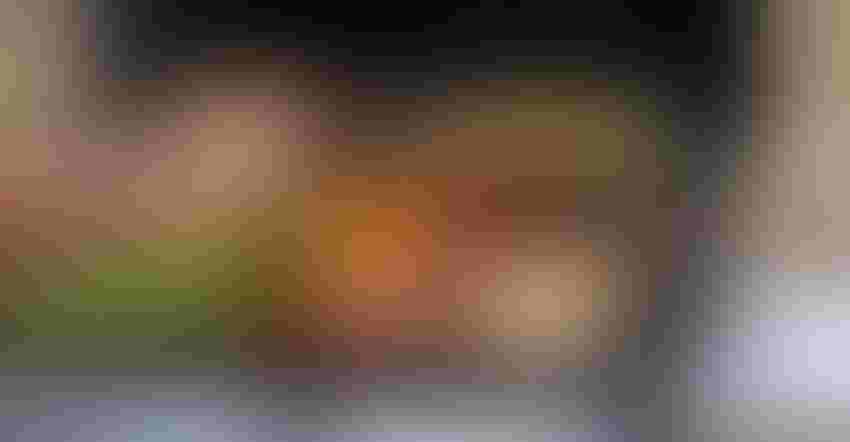 Plant-based products continue to gain momentum with new ingredients, innovations and a host of experts looking to put their spin on them. Up next is Meati Foods, a producer of animal-free protein alternatives, which recently formed a committee of top industry leaders to study the health benefits of mycelium (root-like fungi), while food tech startups like ChickP Protein are introducing new dairy-free alternatives to popular cheeses. Find out more, as well as what other F&B companies are doing, in this week's column.
Meati Foods creates science advisory board
Recent studies have shown that mushrooms are considered as next-generation healthy food components, which are chock-full of high-quality proteins, fiber, vitamins and minerals (Molecules. 2021;26[9]:2463). Plant-based food manufacturer Meati Foods, which utilizes mycelium to create its products, recently formed the Meati Science Advisory Board (MSAB) to further educate consumers. Consisting of many notable scientists in nutrition and food science, MSAB will research the full spectrum of potential health benefits offered by the mushroom root—also known as mycelium. Here's the complete list of the board.
"Meati was founded on a commitment to evidence-based solutions that are good for people and the planet," Justin Whiteley, Ph.D., CTO and co-founder of Meati, said. "We're thrilled to have the support of Drs. Schmitz, Holt, Keen, Siegel and Munafo as we create a category of food that delivers for people what is finally an easy choice and without compromise."
New research highlights rising acceptance of food technologies
Consumers are realizing that food production must evolve from traditional (and animal-derived) farming methods, according to the new report, "Fermenting the Future: The Growing Opportunity for Products Made with Precision Fermentation," released by The Hartman Group, in partnership with Cargill and Perfect Day. The joint report—which explores how science and technology are helping advance the F&B industry—surveyed more than 2,500 U.S. adults and found that more than three-quarters (77%) of those familiar with precision fermentation are likely to purchase products made using the innovative technology. The results also showed that more than half (61%) of Americans believe science and technology are our best hope to address climate change, with a similar number believing that technological innovations can make food more sustainable (60%) and healthier (56%). Cargill representatives noted that "most consumers are familiar with fermentation in a broad sense," but need more information about how the technology is being used to produce specific ingredients for food and beverages. Fermentation is also the focus of Food & Beverage Insider's digital magazine for March. Read it here.
GoodSAM recognized by Anthem Awards for commitment to sustainability and social responsibility
Health-minded snack food brand GoodSAM is leading the charge for product sustainability and transparency—a critical mission as businesses are taking more responsibility than ever to drive social change. The company was awarded bronze in the second-annual Anthem Awards for its sustainability, environment and climate business strategy for product, innovation or services, further cementing its high standards after obtaining a B Corp Certification in 2022. The company is making regenerative agriculture and sustainable snacking more attainable to consumers while being a responsible partner for indigenous communities and small farms. All the products in the feel-good snack line are direct trade, non GMO, vegan, gluten free, keto friendly and contain no added sugar.
Dairy-free cheese continues to grow
Nondairy cheese analogues are continuing to gain traction. Food tech startup ChickP Protein Ltd. used its patented chickpea isolate to create new prototypes of chickpea-powdered cream cheese and firm cheese, which the company said matches dairy cheese in appearance and flavor. The cream cheese formulation combines the isolate with a handful of ingredients, including water, coconut oil and starch, via fermentation with lactic acid bacteria. The firm cheese variation, developed to taste and feel like cheddar cheese, is also produced using fermentation.
Columbia University explores potential of 3D-printed food technology
3D printed food technology is revolutionizing food industry manufacturing—and desserts, too. Engineers from Columbia University's Creative Machine Lab, headed by professor Hod Lipson, Ph.D., have created a 3D-printed system that makes cheesecake using edible food inks like peanut butter, Nutella and strawberry jam. A 3D alternative to traditional processed foods may provide better nutrition control, using high-energy lasers to tailor heating, making it more cost effective and sustainable. With the help of this technology, more customized foods may be created, with an improvement in food safety and regulation of nutrient content. Jonathan Blutinger, Ph.D., a postdoctoral fellow in the lab, highlighted that the customizability of 3D food printing makes it particularly suitable for the plant-based meat sector, where texture and flavor must be precisely designed to mimic real meats. "The study also highlights that printed food dishes will likely require novel ingredient compositions and structures, due to the different way by which the food is 'assembled,'" Lipson said in a press release. "Much work is still needed to collect data, model and optimize these processes."
Heather Carter is the associate editor of Food & Beverage Insider at Informa Markets. She has worked in trade publishing for nearly a decade, covering a variety of topics, from tile to bedding.
Tedi Delashmet is the content producer for Food & Beverage Insider at Informa Markets. Her experience includes feature writing and production, as well as an internship covering Chicago's culinary landscape. She is based in Los Angeles and expresses her love of storytelling through Hollywood's creative outlets.
Like what you're reading? Be sure to subscribe to Food & Beverage Insider's weekly newsletter so you never miss a "bite." Click here to subscribe or reach out to Heather Carter at [email protected] to learn more about being featured.
Subscribe and receive the latest insights on the healthy food and beverage industry.
Join 30,000+ members. Yes, it's completely free.
You May Also Like
---