Business Bites: Delta-8 THC food copycats warned, new food safety documentary, sustainable pasta line by Giada De Laurentiis
Business Bites: Delta-8 THC food copycats warned, new food safety documentary, sustainable pasta line by Giada De Laurentiis
On this week's plate: FDA and FTC issue warning letters to six companies selling copycat food products containing delta-8 THC; Netflix announces food safety documentary based on popular book; celebrity chef and author Giada De Laurentiis launches new pasta line crafted in Italy; and more.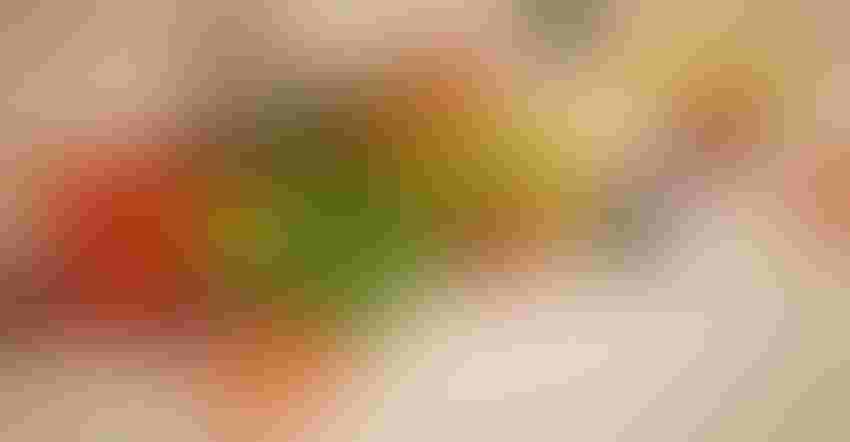 Federal agencies are cracking down on companies manufacturing and selling copycat food products infused with delta-8 THC, a popular psychoactive cannabinoid found in Cannabis sativa. Food safety is also taking precedence on Netflix this summer, with a new documentary debuting in August that investigates the ins and outs of the U.S. food system. Learn more in this week's column.
FDA, FTC formally warn 6 companies selling delta-8 THC food copycats
Cannabis has not been welcomed with open arms since it entered the food and beverage industry some time ago—and it's still facing increasing scrutiny from FDA and FTC. On June 29, the federal agencies issued warning letters to six companies—Delta Munchies LLC, Dr. Smoke LLC (also known as Dr. S LLC), Exclusive Hemp Farms/Oshipt, Nikte's Wholesale LLC, North Carolina Hemp Exchange LLC and The Haunted Vapor Room—for illegally selling "copycat food products" containing delta-8 THC. The main concern about the products, per FDA and FTC, is they can easily be mistaken for traditional snacks like candy, cookies and chips, and potentially ingested by children or "taken in higher doses than intended." In June 2022, FDA warned consumers about the consumption of food products containing delta-8 THC, citing more than 125 adverse event reports (AERs) between Jan. 1, 2021, and May 31, 2022, involving children and adults who accidentally consumed the products. The recent warning letters outline specific violations of the Federal Food, Drug and Cosmetic Act (FDCA) related to adding delta-8 THC to conventional foods, including their advertising that may violate Section 5 of the FDCA, which prohibits unfair or deceptive acts in or affecting commerce, including practices that present unwarranted health or safety risks. FDA requested written responses from each company before the end of the month about how they plan to address the violations and prevent any recurrence.
New documentary about food production in the US debuts in August
Netflix is known for its edge-of-the-seat documentaries, and it's adding another one to the lineup this summer that may hit close to home for many Americans. Based on the book "Poisoned: The True Story of the Deadly E. Coli Outbreak that Changed the Way Americans Eat" by Jeff Benedict, the new Netflix exclusive "Poisoned: The Dirty Truth About Your Food" investigates some of the findings detailed in Benedict's book. Originally announced in November 2022, the documentary previewed at the Tribeca Film Festival in June and will be available globally on Netflix on Aug. 2. According to the streaming platform, the documentary is "a shocking indictment of the food industry and its regulators."
Celebrity chef and author Giada De Laurentiis launches pasta line
With 20 years of television under her belt, Italian-born celebrity chef Giada De Laurentiis is now focusing most of her efforts on the formulation of authentic Italian food. At Summer Fancy Food Show in New York in June, the Food Network veteran and New York Times bestselling author unveiled her new pasta line, the very first product for her online marketplace Giadzy. The eight types of organic pastas, with unusual shapes not commonly seen on retail shelves, are handcrafted in the Abruzzo region of Italy using spring water from the Majella mountains and organic semolina flour grown at the base of the mountains. Unlike traditional, industrially processed grains, this particular type of Italian semolina flour can be traced from field to factory, according to De Laurentiis, and is farmed with eco-friendly practices. The Roman native partners with small family farms throughout Italy to produce her pasta products, with sustainability at top of mind, as she noted in her keynote at Summer Fancy Food Show. The new pasta line will be available exclusively on Giadzy on July 23.
Potato ice cream hits the market
Plant-based ice cream is growing in popularity, but not many manufacturers are utilizing root vegetables. Dutch ingredient manufacturer Royal Avebe is doing just that. Known for its potato-based solutions for plant-based dairy and meat, the company is entering the alt-dairy ice cream industry with its new potato-based ice cream. The frozen treat was crafted using the company's potato-derived ingredient Perfectasol, which replaces modified starches and hydrocolloids.
Annual PLMA Private Label Trade Show returns to Chicagoland this fall
Store brands have grown into a $230 billion industry in the United States, offering "boundless opportunities for retailers, manufacturers and suppliers," according to Peggy Davis, president of the Private Label Manufacturers Association (PLMA). This sentiment inspired the 2023 theme for the nonprofit's Annual Private Label Trade Show, taking place Nov. 12-14 at Donald E. Stephens Convention Center in Rosemont, Illinois, right outside of Chicago. The event, featuring everything from children's snacks to pet food, will showcase more than 2,500 exhibitors. Around 5,000 attendees are expected this year, including small and large retailers, manufacturers, importers and exporters from all over the world. Click here to register.
Heather Carter is the associate editor of Food & Beverage Insider at Informa Markets. She has worked in B2B publishing for nearly a decade, covering a variety of topics, from tile to bedding to food & beverage products.
Like what you're reading? Be sure to subscribe to Food & Beverage Insider's weekly newsletter so you never miss a "bite." Click here to subscribe or reach out to Heather Carter at [email protected] to learn more about being featured.
Subscribe and receive the latest insights on the healthy food and beverage industry.
Join 30,000+ members. Yes, it's completely free.
You May Also Like
---