Business Bites: Padma Lakshmi promotes drinkable yogurt, Nestlé expands plant-based portfolio, fermented canola oil straw combats plastic pollution
Business Bites: Padma Lakshmi promotes drinkable yogurt, Nestlé expands plant-based portfolio, fermented canola oil straw combats plastic pollution
On this week's plate: Culinary veteran and Bravo "Top Chef" host Padma Lakshmi goes back to her roots with probiotic yogurt beverage; Nestlé and Elmhurst 1925 unveil new plant-based offerings; WinCup creates biodegradable straw; and much more.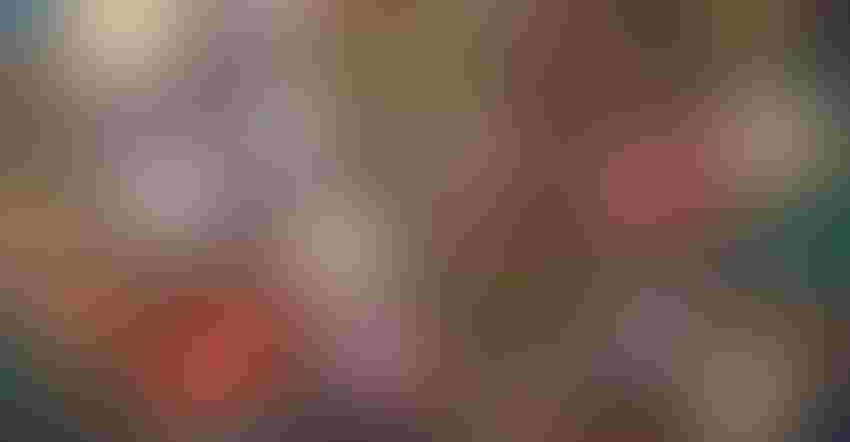 So many products, so little time! We recently chatted with Padma Lakshmi, the new spokesperson for a yogurt drink inspired by Indian tradition. She appeared at Natural Products Expo West, which was booming with other neat offerings—many of which were plant based. Read more about these innovations as well as relevant F&B industry news below.
Culinary star Padma Lakshmi's new Indian yogurt beverage
The popular "Top Chef" judge made an appearance at the annual Natural Products Expo West show, which recently took place at the Anaheim Convention Center, to debut 7-ounce grab 'n' go bottles of DAH! lassi. That's a drinkable blend of yogurt, water, spices and fruit popular in India. Food & Beverage Insider Content Director Audarshia Townsend spoke with Lakshmi about how the classic Indian drink is a probiotic wonder. "It has 15 billion [CFUs, or colony-forming units, of] probiotics [per serving] because of a proprietary strain originating from India," Lakshmi explained. "They're live. That helps optimize all the other probiotics in [the drink]." DAHlicious Organic, which developed the lassi, has been recognized several years in a row by New Hope Network's Natural Food Merchandiser for Beverage Category Innovation.
Nestlé showcases oat and faba bean milk
This major player is claiming its stake in the plant-based category. Nestlé introduced Natural Bliss Oat Milk, which incorporates faba bean protein. By blending oats and faba, the dairy-free milk yields 5 g of protein per serving. "[Faba] beans are a great source of protein … While developing the product, we selected the [faba] bean variety that would bring the most complete nutritional elements to the recipe," Christoph Bolten, head of the Nestlé Institute of Food Sciences, said. There are a variety of faba beans—available in small, medium-sized and large seeds— around the world, and they are a major source of protein, fiber, vitamins and minerals (Compr Rev Food Sci Food Saf. 2021;20[1]:401-428).
Elmhurst 1925 launches dairy-free sour cream at Natural Products Expo West
Plant-based dairy manufacturer Elmhurst 1925 drew a crowd at its booth during Natural Products Expo West—and deservedly so. The company unveiled its new dairy-free sour cream, which rivaled its dairy-based counterpart in terms of taste, texture and mouthfeel. The sodium-free product, packaged in a squeezable pouch, was crafted using six ingredients, including oat milk and hemp protein. It utilizes the company's trademarked HydroRelease technology, a process that uses water to separate the components of nuts/grains/seeds before reassembling them as an emulsion, which the company said maintains the full nutrition of the source ingredients without added gums or emulsifiers.
A small (but mighty) solution to plastic pollution
While 10 states in the United States have already banned single-use plastic bags in an attempt to lessen plastic pollution, plastic straws—which have been replaced with paper straws and other alternatives by various F&B companies over the last few years—may be next on the chopping block. Foodservice products manufacturer WinCup Inc. is aiding this effort with the creation of phade, a marine biodegradable, compostable straw. The plant-based straw, which only takes 58 days to break down compared to petroleum-based plastic straws that take more than 200 years to degrade, is composed of polyhydroxyalkanoate (PHA), a new biopolymer derived from fermented canola oil. The eco-friendly alternative has the same look and feel as a traditional plastic straw, but with none of the guilt. The company has sold 1 billion phade straws to date—enough, if lined up, to reach halfway to the moon.
Proposed bill could ban Skittles, Pez and Sour Patch Kids in California
Some of the childhood favorite candies that have been around for decades could potentially be banned in California if a proposed bill is passed through the state legislature. Bill AB418, which was introduced in February 2023 by California Assemblymember Jesse Gabriel, would prohibit the sale, manufacture and distribution of food containing titanium dioxide, red dye 3, potassium bromate, propylparaben and brominated vegetable oil—additives present in Skittles, Pez and Sour Patch Kids, which are used to extend shelf life and improve taste and color. The ban, if passed, would go into effect on Jan. 1, 2025.
Heather Carter is the associate editor of Food & Beverage Insider at Informa Markets. She has worked in trade publishing for nearly a decade, covering a variety of topics, from tile to bedding.
Tedi Delashmet is the content producer for Food & Beverage Insider at Informa Markets. Her experience includes feature writing and production, as well as an internship covering Chicago's culinary landscape. She is based in Los Angeles and expresses her love of storytelling through Hollywood's creative outlets. 
Like what you're reading? Be sure to subscribe to Food & Beverage Insider's weekly newsletter so you never miss a "bite." Click here to subscribe or reach out to Heather Carter at [email protected] to learn more about being featured.
Subscribe and receive the latest insights on the healthy food and beverage industry.
Join 30,000+ members. Yes, it's completely free.
You May Also Like
---