5 food and beverage trends to watch in 2023
5 food and beverage trends to watch in 2023
As 2023 kicks into gear, we identified five of the top trends to look out for in food and beverages, with "next-generation plant based" leading the way.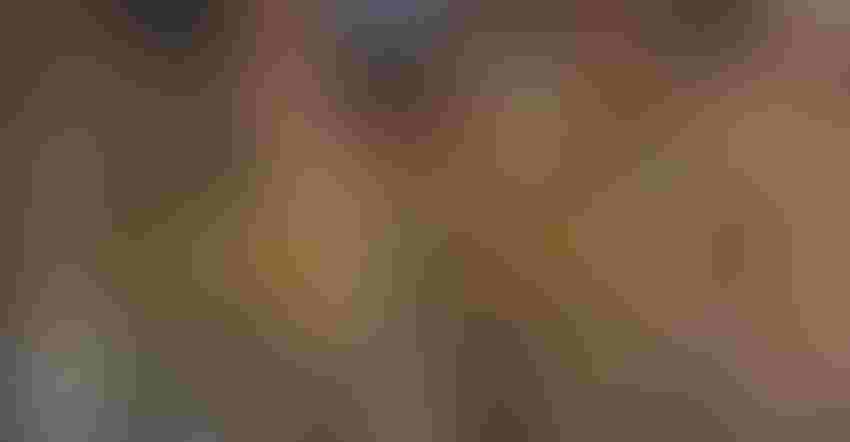 In the food and beverage industry, standards are constantly emerging and changing, although many carry over from year to year—and plenty circle back after periods of obscurity. With so many hot topics emerging and older ones gaining traction, we've narrowed in on five trends you should anticipate this year.
Next-generation plant based
For quite some time, plant-based alternatives for meat and dairy products have been on the rise and evolving at a rapid pace, which is why it's No. 1 on our list. It's what we like to call "next-generation plant based." According to ADM's 2023 Global Consumer Trends report, more than half (52%) of global consumers now consider themselves flexitarians—the union of "flexible" and "vegetarian"—people who are incorporating more plant-based options into their diet while being cognizant of their meat intake. As more people embrace both animal- and plant-based proteins, many ingredient companies are developing more options.
While the plant-based trend isn't new, the continued growth it has experienced over the last five years is substantial. According to food and beverage analytics company Spoonshot, interest in alternative foods—alt-dairy, alt-meat and alt-seafood—increased 262% between Jan. 2016 and April 2022, largely driven by perceived health benefits, concerns over animal welfare and sustainability. Companies are still far from perfecting the taste and texture of alt-seafood products; however, Spoonshot said the food industry can expect the most innovation from this category, as more products come out of the pipeline.
Transparent supply chain
While consumers are on the search for better-for-you foods and beverages, they are also eager to learn where exactly everything comes from. Simply put, long lists of ingredients are turnoffs for consumers, who now crave less-processed foods with more natural ingredients that are familiar. According to proprietary ADM Outside Voice research, nearly 70% of consumers said simple, recognizable ingredients influence their purchasing decisions, while two-thirds (66%) said they are looking for labels with the shortest ingredients list.
With this "transparent supply chain" trend comes interest in supporting innovative farming technologies and other advancements that are going to help lessen our carbon footprint and extend the planet's life span, such as regenerative agriculture, vertical farming, crop rotation and plant breeding.
Globally, almost three-quarters (73%) of consumers indicated they have positive feelings about companies that are transparent about where and how products were made, raised or grown, according to Mintel's Global New Products Database of CPG launches in 2022.
Sustainable packaging and sourcing
Sustainability is at the forefront of almost every industry as of late—with a spotlight on the food and beverage industry. More consumers are paying attention, specifically to company sustainability initiatives, which include everything from recyclable packaging to new economies being created in underserved areas.
Big-name brands like Coca-Cola and General Mills, for example, have spearheaded initiatives to create recyclable packaging for their products, while also working to sustainably source some of their ingredients and create tangible goals for the upcoming years. Many F&B companies—not just the large players—are concentrating their efforts on creating a more circular economy, such as Pacific Ridge (PacRidge), a company that focuses on fully integrated regenerative farming.
"Consumers are increasingly looking for products that are grown, processed and packaged in the most sustainable ways possible," PacRidge CEO, Ken Grenier, said. "That demand impacts the entire supply chain, from seed to shelf. Farmers want to know what's selling and how best to steward their land. Retailers want to be able to trace a product's quality, nutritional value and carbon footprint. And as demand for plant-based products increases, the manufacturing processes around those products become increasingly important." He added that for his company, technological innovation is about creating a sustainable supply chain founded in regenerative farming and ancestral care for the planet's resources.
More than 40% of global consumers have become more trusting of environmental claims made by products and brands over the last two years, FMCG Gurus' 2022 Route to Sustainability global report found, further demonstrating the importance of sustainability initiatives.
Continued focus on wellness
Over the years, F&B fads have come and go, but one thing has remained the same: a focus on health and wellness. The majority of consumers continue to make healthy choices at least some of the time, and nearly half said they are choosing healthy foods more often compared to 2020, indicating the perceived association of healthy eating and a strong immune system continues to influence consumer choices, according to Mintel's 2021 US Better for You Eating Trends Market report.
CPG companies are also seeing this resonate with consumers, as more people are seeking better-for-you foods to incorporate into their diets. "Plant-forward eating is moving forward in full force from a trend fostering imitation meats to real plants and veggies," Mehek Khera, founder and CEO of Niramaya Foods, said. "Whether our customers are top-tier health enthusiasts, doctor-recommended plant eaters or have families with growing kids and protein requirements, they all want food that is good for them. We are seeing Indian-inspired cooking becoming a lifestyle and not just a spice route to the plate."
Global flavors
With the rise of hot chicken, spice-infused cocktails (and spirit-free creations), and global flavors that pack the heat, consumers are drawn to spice. Proprietary research from Mintel found two-thirds of Americans are interested in sweet and spicy sauces.
Interestingly, almost three-quarters of global consumers said they like food and drink products with new and unusual or exotic flavors, per FMCG Gurus' 2021 Flavor, Color & Texture Trends report. The global market research firm asked consumers who said that they like new and unusual/exotic flavors why this is the case and found that overall, the most popular answer was a desire to try new flavors from around the world.
"We've been thrilled to see how adventurous people have become in the past couple of years," said Ethan Frisch, co-founder of Burlap & Barrel, a single-origin spice company that sources spices directly from farmer cooperatives and small farms. "Our recent launches of spice blends from Ghana, Puerto Rico, Turkey and France have been very well received, with home cooks looking to connect with new-to-them global flavors and culturally specific cuisines from around the world. Ironically, I think Covid-19 lockdowns and travel restrictions have inspired people to 'travel' by exploring other cultures through food from their own home kitchens."
Consumers are also more willing to make one-time impulse purchases if food and beverage flavors are innovative in flavor/taste, according to Innova Market Insights. The market research firm drew from its proprietary global consumer surveys to forecast the top 10 F&B industry trends for 2023, which showed this to be especially true of younger generations such as Gen Z and Millennials.
Heather Carter is the associate editor of Food & Beverage Insider at Informa Markets. She has worked in trade publishing for nearly a decade, covering a variety of topics, from tile to bedding. Reach her at [email protected].
Subscribe and receive the latest insights on the healthy food and beverage industry.
Join 30,000+ members. Yes, it's completely free.
You May Also Like
---