Alt-seafood, cheese makers abound at Plant Based World Expo North America
Alt-seafood, cheese makers abound at Plant Based World Expo North America
The two-day event highlighted innovations from more than 200 global companies, from plant-based meat and seafood products to nondairy cheeses and inclusions.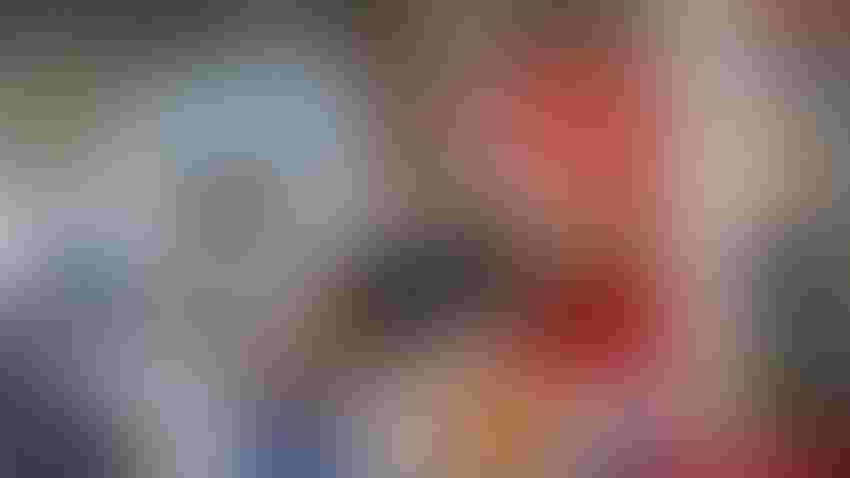 Plant Based World Expo 2023
At a Glance
The plant-based food industry has experienced rapid growth over the last few years, especially in retail and foodservice.

There is a growing focus on fungi and microorganisms to create plant-based meats and cheeses.

Plant-based seafood is also expanding, with companies developing products that mimic flavors, textures and appearances.
The plant-based food industry is booming. That was one takeaway from the Plant Based World Expo North America, held Sept. 7-8 at Javits Center in New York.
The 100% plant-based B2B industry event, which serves as the official trade show of Plant Based Foods Association (PBFA), welcomed exhibitors from more than 200 global companies and thousands of attendees. A variety of new innovations were on display and an array of educational sessions were offered, which touched on a range of topics, from trending food ingredients to popular applications in retail and foodservice.
During the second day's keynote, Rachel Dreskin, CEO of PBFA, said consumer demand for plant-based food products "has never been stronger." She cited recent research conducted by the organization, which showed significant growth in e-commerce and foodservice and a 10% increase in sales of plant-based foods since 2022. Further research should be done, however, to determine how to craft the right products, she said.
"We know a bunch of things, but we need to dig deeper to continue to tailor our messaging and learn how to create the right innovative products," Dreskin explained.
Ben Davis, content chair and strategic advisor at Plant Based World Expo North America, echoed Dreskin's comments and stressed the importance of consumer awareness. "There needs to be better messaging," he said. "I know it's a really important initiative of Plant Based Foods Association and their new sister organization, Plant Based Foods Institute, which is doing a lot of research around what it actually is that consumers want."
Fungi
Mushrooms are one of the top trending ingredients in the plant-based space, according to Davis, with a diverse array being used in different ways to create what the industry calls "center-of-the-plate proteins." There was a panel discussion about mushrooms, which highlighted their versatility and how they're positioned to change the food industry.
Ubiquitous mycelium and microorganisms are also being utilized via precision fermentation to create alt-meats and cheeses, which were abundant throughout the expo hall. For example, MyForest Foods Co., founded in 2019, uses indoor vertical farming to mimic the environmental conditions of the forest to grow mycelium and produce whole cuts of alt-meats in less than two weeks. The food tech company showcased its newest creation, MyBACON, which mimicked the look and taste of traditional bacon.
The Better Meat Co., a food tech company founded in 2018, created a proprietary mycoprotein via fermentation for use in food products known as Rhiza. The company partnered with Epogee to develop a plant-based foie gras using Epogee's plant-based fat alternative EPG.
Nondairy cheese
Made using a variety of plant proteins and technologies, nondairy cheeses were also in abundance. Selfish Cow, which launched in 2022, offers a range of plant-based cheeses featuring chickpea protein, potato protein and konjac (Amorphophallus konjac).
Kerry, which produces dairy and nondairy cheeses, has its finger on the pulse when it comes to achieving the taste, texture and mouthfeel associated with traditional dairy products for plant-based options. The company crafted a Chick'n + Cheeze slider that featured Plenti, a whole-muscle, high-moisture plant-based chicken alternative topped with a plant-based cheese slice. The chicken emulated its animal-derived counterpart, as did the meltable, plant-based cheese that provided a dairy-like taste and mouthfeel.
Crafted using a proprietary blend of pea and sunflower proteins, Ohio-based Never Better Foods' Better Than Cream Cheese was another standout product, with the tanginess of dairy-based cream cheese.
Alt-seafood
Though beef and chicken alternatives were plentiful—made using everything from pea protein to jackfruit (Artocarpus heterophyllus)—alt-seafood products were the star of the show. Handfuls of companies displayed their iterations of plant-based sea life, including fish, crustaceans and even mollusks.
Women-owned The Plant Based Seafood Co., which creates all types of plant-based seafood, showcased its Mind Blown crab cakes product made using a combination of wheat and pea proteins. Awarded the best-tasting vegan seafood products at the event, the crab cakes delivered on both flavor and texture.
PLNT, a plant-based food brand of Future Food Group offering a wide range of alt-meats, unveiled its new crab and salmon products. The plant-based crab, made using wheat protein, was used in a crab cake that emulated its crustacean counterpart; the salmon fillet, made using pea protein, also embraced the shape, color and texture of its fish counterpart. Based in The Netherlands, PLNT recently partnered with Segev Food International Inc. in New York to offer products to the U.S. market.
Women-led startup, Jinka, founded in California in 2021, displayed plant-based tuna in a variety of formats, including a sushi roll. The tuna, made using soy and wheat proteins, is offered in three flavors: Original, Lemon & Dill and Spicy. The company also showcased plant-based squid, which utilizes pea protein and yam powder, and tasted similar to its ocean-dwelling counterpart.
"I think that we'll continue to see the emergence of new ingredients that have benefits that maybe we hadn't been thinking about in the past," Davis said. "Now, it's really about finding all the right solutions in a practical and grounded way."
Subscribe and receive the latest insights on the healthy food and beverage industry.
Join 30,000+ members. Yes, it's completely free.
You May Also Like
---