Tracking some of our favorite trends at Expo West
Tracking some of our favorite trends at Expo West
The Food & Beverage Insider team attended the annual Natural Products Expo West show with one goal in mind: Find out what's next in everything from beverage innovation to upcycling.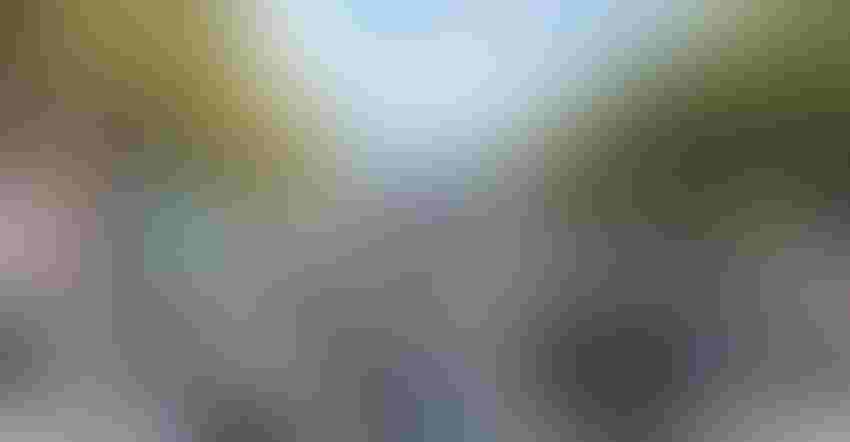 Bryan Beasley Photography
Heywell co-founder Ashley Selman chats with Audarshia Townsend, Food & Beverage Insider content director, at Expo West.
The Natural Products Expo West show wrapped up in early spring, yet its impact will stick around for seasons to come. For the Food & Beverage Insider team, the weeklong experience (including scoring an awesome one-on-one interview with "Top Chef" star judge Padma Lakshmi) will help shape how we cover some of the biggest trends in the industry.
Here, you'll find our observations, from enticing, global flavors to innovative dairy-free options and, of course, the upcycling craze.
Global offerings take center stage (Audarshia Townsend)
One of the most significant, yet under-the-radar moments at the show was when Jake Deleon, founder of award-winning Filipino brand Fila Manila, launched Founders Heritage. It serves as a collective voice for independent CPG brand owners who promote indigenous foods and ingredients from their homelands.
"I figured out that when meeting a lot of founders in [food and beverage] spaces like the Natural Product Expo East and West shows, usually in the global flavors cuisine category, we all had the same story," Deleon said at the show. "Recognizing that authenticity in today's market, consumers are craving that. They want to know the stories behind the brand. They want to know how deep a brand goes, and that it's not just another corporate vehicle. That was the inspiration behind the founding of Founders Heritage."
Deleon has already assembled almost 20 members, many of whom exhibited at the show. There's Niramaya, a plant-based, female-owned Indian brand. Wild Orchard Regenerative Teas originated in South Korea. Saucy Lips is Mexican focused. And GoTeff donates a portion of its proceeds to empower women and children from the founder's homeland in Ethiopia.
In addition to these founders' great heritage-focused stories, they all boast stories of sustainability. Whether they're practicing regenerative agriculture, empowering underserved communities or resolving supply chain issues, their products are primed to do good for all.
Beverages that quench every thirst (A.T.)
Of the more than 3,000 exhibitors at Expo West, a grand portion of them were dedicated to beverage innovation. There was something for every possible taste, according to Webb Girard, senior director of research & development at Culinex.
"We're seeing a lot of progression from when sparkling water first kicked off five, six years ago," Girard observed. "We're getting into unique branding like Liquid Death, which does a crazy job of catching someone's attention and being a little cutting edge [with its products]. Also, probiotic and gut health trends are still in play, plus sugar-free and low-sugar options. We're getting more into the 'refined' LaCroix beverage age."
Indeed, there were distinct beverage trends in every category, and as expected, flavored sparkling water and nonalcoholic drinks led the pack. Most interesting was the battle between booze-free ready-to-drink (RTD) beverages acting as analogues—or mimicking traditional cocktails—and those spirit-free beverages deliberately not wanting to taste like alcoholic drinks. For example, brands like Mingle and Heywell boast wellness ingredients like hibiscus, blackberries or ashwagandha with very low sugar. Meanwhile, Mixoloshe offers low-sugar products, yet features flavors like Orange Old Fashioned and Tropical Smoky Margarita.
Red-hot emerging CPG brands (Heather Carter)
There were hundreds of emerging CPG brands making waves with new F&B introductions at the event. For example, You Need This—which has taken the plant-based snacking space by storm—offers churro puffs, veggie straws and grain-free tortilla chips. Made with a plant-based flour blend (cassava, carrot, cauliflower, butternut squash), all three products are non-GMO and gluten free.
Also, with a range of plant-based foods, from pizza to ice cream (with lupin bean protein), Wicked Kitchen was founded by two chefs on a mission to provide sustainable options for meat eaters and vegans alike. The company's new plant-based fish, presented in a fried format with tartar sauce, mirrored real fish in taste, texture and flakiness.
The Froot Thief's real fruit "whips"—a play on traditional fruit snacks—are packaged as one 9-foot-long strip rolled up like a lasso. Suitable for infants and adults, the all-natural fruit strips have 1 cup of fresh fruit per serving and "no added nasties" (e.g., sugar). Also, Hooray Foods' plant-based bacon, which is free from soy and gluten, was created to mimic traditional bacon—marbling and all. It crisps up like its animal-derived counterparts, with a portion of the calories and salt, and no cholesterol.
Finally, founder Blake Sorensen has a serious nut allergy, which led to the creation of Blake's Seed Based. With a mission to make allergy-friendly snacks from seeds, fruit and chocolate, the company's birthday cake crispy treat (made with pumpkin seeds, sunflower seeds, flax seeds and vegan marshmallows) hits it out of the park.
A dairy-free takeover in the plant-based sector (H.C.)
While plant-based products were prevalent throughout each of the exhibit halls at the Anaheim Convention Center, the dairy-free booths were especially crowded, signaling strong interest in the sector. Here are a few brands that caught my eye with their palate-pleasing products:
Elmhurst 1925, which introduced a dairy-free sour cream made to emulate the Daisy brand, according to company representatives. A new introduction that joins its established line of plant-based milks, the sour cream alternative was rich and creamy like traditional dairy, with a thick consistency you'd expect from sour cream.

Avafina Organics showcased Queen Cheese and Chiaviar on toast, and created a vegan rendition of the popular cream cheese and caviar appetizer seen around the world. With a tangy bite from the plant-based cream cheese and crunchy-yet-soft complement from the chia-based caviar, the amuse-bouche was the perfect midday snack.

Planet Based Foods added a new offering to its lineup of plant-based meat products. Naturally high in fiber, the new hemp-based vegan ice cream is available in eight flavors, including acai, coconut key lime and matcha.
These chocolates are "functional" (Tedi Delashmet)
Chocolate boasting better health benefits and responsible sourcing is becoming increasingly popular. They were in abundance at Expo West.
Several ingredient companies and brands highlighted organic ingredients in their products, including ADM, who introduced a chocolate square with hazelnut, specifically formulated to address women's health needs during perimenopause and menopause.
Heavenly Organics also featured chocolate honey patties made with fresh honey from wild bees in remote parts of India that have not been exposed to pesticides, pollutants and antibiotics. Companies are crafting products that combine high-quality and eco-friendly elements, while still maintaining tasty flavor profiles, catering to vegan, non-GMO, keto-friendly and naturally sweetened options.
Upcycling brands are up, up, up in 2023 (T.D.)
There has been a steady growth in consumer demand for products with sustainability claims, and products that are marketed with sustainable claims are increasing at a quicker rate than those without. The Upcycled Food Association showcased the potential of upcycled food at the Expo, setting up a booth styled like an old-fashioned grocery store. This included items from brands like Cajú Love, which produces meat substitute products from upcycled cashew fruit, and Amai, who displayed a circular food system with upcycled grain cups that are vegan, non-GMO and preservative free. With the invested interest in sustainability from the time of harvesting, processing, packaging and disposal of products, products made from organic, all-natural, eco-friendly and upcycled materials were displayed prominently. 
Audarshia Townsend is the content director for Food & Beverage Insider. Heather Carter and Tedi Delashmet are the site's associate editor and content producer, respectively.
Subscribe and receive the latest insights on the healthy food and beverage industry.
Join 30,000+ members. Yes, it's completely free.
You May Also Like
---